'The Amazing Race': Dutch treat
The Chippendales are faced with a game-changing decision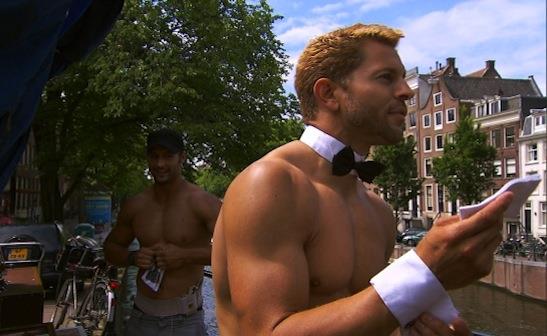 Russia: Thanks for everything. At 7:32 p.m., Jaymes and James are the first team to depart and head immediately for the airport, carrying the flag of the Netherlands—which looks sort of like the flag of France, if you tip it on its side. Their directions? Fly to the capital of the country depicted, and make their way to its central train station. We're going to Amsterdam. "This race means a lot to us—we have people that rely on us," James says, in that way you know something sad is coming up, which will either make the team's victory even sweeter or defeat even sadder. "My dad is dealing with cancer, and I don't think you can effectively deal with something like cancer when you're working 60 hours a week." Very, very true. If we needed another reason to root for this cheerful, chipper team, we have it. 

Trey and Lexie are just a couple minutes behind the Chippendales—which is a good thing for them, as running into the other team at the airport means that the Texans get a second opinion (following a hesitant "Is that ... France?" from a bemused Russian when presented with the flag) on their destination. "We're going to Paris!" Lexie squeals. "Thank God you guys ran into us," Jaymes says. 
Just behind them are Nadiya and Natalie, who make the tough choice of convincing a ticket agent to allow them to book a flight with a very narrow layover—just an hour, in Rome, en route to Amsterdam. It's the kind of thing that could easily bump them out of the race, but they go for it. ("Miss, pleeeeease," is how the convincing goes.) Jaymes and James scoop up the last two seats on a direct flight to Amsterdam, getting in just after the twins, while the Texans settle for a flight connecting in Lanarca that arrives 90 minutes after the first flight. 
Meanwhile, back at the previous Pitstop: Abbie and Ryan leave, at 5:28 a.m.—which means they checked in an unbelievable 10 hours behind the first-place team. "We're just hoping the U Turn isn't on the other side of this flight," Abbie says. They're still confident they'll live to see another day, because the Beekmans are another three hours behind them. "It's like serving a sheep to slaughter," Ryan says. 
While Abbie and Ryan reluctantly agree between them to connect in Frankfurt—where they missed their flight to Moscow a couple episodes ago—the front three teams conspire against them. They agree that the leading team will U Turn Abbie and Ryan—and then the next team will U Turn the leading team, effectively throwing it away. Result? Abbie and Ryan get U Turned, and if there's a team behind them, Abbie and Ryan won't be able to U Turn the trailers. "Once we get into Frankfurt we're gold," Ryan says confidently, ignorant of all the scheming around him. 
While Josh and Brent arrange a flight to Amsterdam via Oslo that gets in three hours behind the Texans, Abbie and Ryan book two successive flights into Frankfurt, in an attempt to ward off any flight-connection bad luck. This plan should work. But it doesn't. They're for some confusing reason not allowed to check in for the first flight, and then the second is grounded due to a mechanical issues with the deicing system, and they're transferred to another plane. "It's almost comical," Ryan says. "If it wasn't $2 million, I'd be laughing. I'm about over Frankfurt right now." 
In Amsterdam, the twins arrive with a lead on the Chippendales, which gives them a chance to go for the Fast Forward. They're instructed to travel to the Van Gogh cCafe, board something called the Floating Dutchmen, and eat five herring each in seven minutes—otherwise, they'll return to dock, and have to wait 10 minutes for the next sailing before they can give it another go. There is a lot of shrieking about the fish and discussing how disgusting the entire thing is before they finish the task. "Give me a fishy kiss," one of them says. "Smell your hands!" the other says. They're directed to Ransdorp, where a Dutch girl welcomes them to the Netherlands. They're first. 
James and Jaymes, forced off the Fast Forward, are running second, and their first task is to travel an Amsterdam canal by boat. "How cool is this, dude?" James says. "We're going to enjoy the calm before the storm." They're up to the Detour: Back in Time or Organ to Grind. For the former, they need to create a "tableau vivant," as Josh will later put it, of Dutch master Rembrant's famed "The Nightwatch." For the latter, they'll need to dance on the street to the tune of an organ and collect 30 Euro. No prize for guessing which these two go for. "We had our little Chippendales cuffs and collars," Jaymes says, presenting a decision that is greeted with a huge thumbs-up from the judge. Jaymes enthusiastically raises his cash, finishing up with a final 10 Euro "donation." They're sent to the gardens at the Museum Geelvinck for their next clue—and the U Turn. 
Back at the airport, Josh and Brent finally arrive in Amsterdam—almost simultaneously with Abbie and Ryan, who are beyond resigned to the fact that the airport-connection gods have again conspired against them. These four now have their own private race going on. Josh: "[Abbie and Ryan] are the only racers we've seen in the last three or four legs." Ryan still isn't worried, taking it as a foregone conclusion that they'll beat the farmers: "They seem resigned to the fact that they've gone as far as they realistically could go," he says, reasoning that even if they are U Turned, they could, in turn, U Turn the Beekmans. Together, they head into the city. 
Back at the U Turn, Jaymes and James confront their moment of moral confusion. Throughout the episode they've been discussing what they should do when they get to the U Turn—if they will or will not follow through on the plan to U Turn Abbie and Ryan, whom they consider friends. Ultimately, blood proves thicker than water. "What means the most to me is to go home and take care of my family—I dream about it every night, just coming home and being able to say, 'Don't worry, I got it,'" Jaymes says. "We need it more than you guys do. My parents are more important to me than Abbie and Ryan. I'm sorry." 
Having taken a bullet for the rest of the teams, the Chippendales head for the Roadblock: ditch vaulting, a classic challenge, last poorly performed in season 12. "All you need is courage," one of the Dutch women says. And indeed, James makes it across with little difficulty. They're second. Trey and Lexie follow right behind, and Trey similarly has little trouble with the ditch vault. They're third. 
The trailing two teams do the Rembrandt task together, and then show up to the U Turn mat—where Abbie and Ryan realize that they have to do the Grind the Organ task as well. But instead of U Turning Brent and Josh, they can't U Turn anyone, since Trey and Lexie U Turned the Chippendales, throwing away the second U Turn. It's like a "Survivor" blindside has momentarily been transported to our own, better show. Everyone is stunned, most of all Ryan and Abbie: "If it were Trey and Lexie, we would have been, like, 'Called it,' but [the Chippendales]—it blew us away," she says. Josh is momentarily stunned into almost throwing away their advantage and accompanying Abbie and Ryan to their second task, but Brent talks him out of it: "Somebody has to step on the mat first," he says. "What do you think they're going to say, 'No, you go ahead'?" Josh, grumbling, allows himself to be talked into actually continuing to play the game instead of immediately giving up. Abbie and Ryan, alone, head off for the organ grinder challenge, which seems to conclude with Abbie collapsing in the arms of a sympathetic Dutch woman. "We had a horrid day," Abbie says .
Josh fails to collapse in a muddy heap above the ditch, so they're fourth. He's extremely bummed out that they're the reason Abbie and Ryan are going home, even if it means they're safe. "Would you like me to eliminate you and leave Abbie and Ryan in the race?" asks Phil, as Brent nods vigorously, in that "That's what I've been trying to tell you!" way. This means that Abbie and Ryan are out—basically for making the same decision that the twins made. "We've had a rough three legs," Abbie says. Ryan: "It's not only once in a lifetime—it's once in a hundred lifetimes," Ryan says. Losing two million bucks must feel that way. 
Did James and Jaymes make the right decision? Tell us on Facebook and on Twitter.

"The Amazing Race" airs Sundays at 8 p.m. ET/PT on CBS.

It would have been too funny if Trey and Lexi ended up in Paris, but good guy Jaymes had to put a stop to that.  I really like those Chipps, and I am rooting for them to win now that James and Abba are gone.  I was talking to a coworker at DISH who thinks it will come down to them and the twins racing for the grand prize.  I nearly missed the show last night because of my daughter's youth group, but thankfully I watched it with Primetime Anytime.  I love how my DISH Hopper records everything on during primetime on the four major networks without setting a million timers because I know my favorite shows will be there when I get home.  I want to feel bad for Abbie and Ryan, but they ruined any chance of that when they were talking about backstabbing the Beekman Boys with the U-Turn.
Are you sure you want to delete this comment?