'Dancing With the Stars: All Stars': 30/30 vision
Melissa Rycroft and Tony Dovolani take the lead in the finals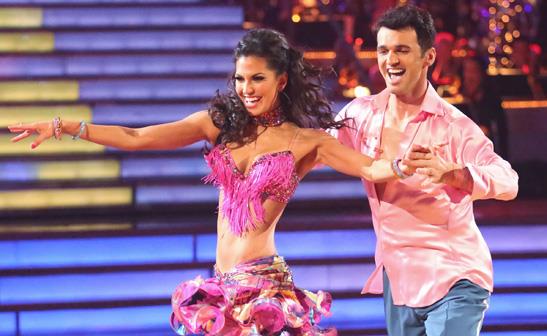 The first half of the finals did not disappoint! All three stars danced well, though Shawn was docked quite a bit by the judges for performing an illegal lift. Melissa finished the first two rounds with a perfect score, and Kelly is only trailing her by half a point.
Bing: More about 'Dancing With the Stars: All-Stars' | Videos: Watch clips and more
The third round will consist of an "instant" dance, though the stars know it will be one of three styles of dance, so they've been able to prepare a bit.
Photos: See season highlights
Here's how each of our three finalists did in the first round:
Kelly Monaco
Kelly's paso doble was both intricate and intense. Val had her spinning like a top, and the crowd loved it! Len said it was her best dance, and Bruno praised both her passion and her lines. Carrie Ann told Kelly how proud she was of her progress, though she pointed out a slight stumble Kelly made. A great first round for Kelly, especially since she finally saw that 10 paddle.
Kelly's freestyle routine involved a long intro with Kelly in a swing and Val playing the violin, but once it got going it was a lot of fun. Much of the dance was a tribute to the routine from the end of "Dirty Dancing." They even did the lift at the end. Cheesy? Of course, but it was quite a crowd pleaser. Len liked the lift and the salsa portions of the routine, and called it "spellbinding." Bruno was also a fan, and Carrie Ann praised Kelly's artistry and the chemistry between her and Val.
Paso doble: 29.5/30
Freestyle: 29.5/30
Score: 59/60
Melissa Rycroft
Melissa's samba was supercharged! She and Tony were totally in sync, and Melissa looked like she was having the time of her life. Bruno was thrilled with her confidence and Len praised both her rhythm and her technique. Melissa's perfect score was absolutely no surprise.
Melissa's freestyle routine started out with some complicated lifts, and only got more intense once her feet touched the ground. It was obvious watching the routine that ballet is Melissa's real love. Bruno pointed out the quality of Melissa's lines, and Carrie Ann praised her for taking a risk, calling the routine a jackpot. Len was impressed by the passion Melissa showed. Once again, Melissa's perfect score surprised no one. It's up to the voters now.
Samba: 30/30
Freestyle: 30/30
Score: 60/60
Shawn Johnson
Shawn's quickstep was jaunty and full of the expected gymnastic flips, though not as many as we've seen in some of her and Derek's routines. Unfortunately, there was a lift in the routine, and Len felt Shawn and Derek didn't spend enough time in hold. Carrie Ann and Len were quite grave, and Bruno was apologetic, but the consensus was that Shawn and Derek had broken the rules.
Shawn's freestyle was about what you'd expect: larger than life and full of tricks. She didn't have a balance beam on stage, but she might as well have. It was more a case of Derek keeping up with Shawn than Shawn keeping up with Derek. The crowd loved the routine. Carrie Ann said the routine was incredible, and Len called it "a medley of Derek and Shawn's greatest hits."
Quickstep: 27/30
Freestyle: 30/30
Score: 57/60
Who won the over the judges: Melissa
Who won over the crowd: Kelly
Who needs to step it up: Shawn
"Dancing With the Stars" airs Mondays and Tuesdays at 8 p.m. ET/PT on ABC.