'Nashville': Bittersweet celebration
With tensions high, everyone was taking everything out on the wrong people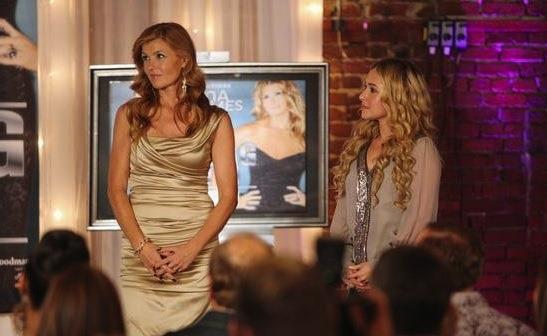 The ladies were rocking their tour, but Juliette was feeling ignored. Rayna was more focused on Liam than her during their performance of "Wrong Song" and thanks to their #1 hit, Calista from Countless Records was courting Rayna. On the flight back to the big Edgehill party to celebrate their success, Juliette got in a few jabs at Rayna. Turned out, she was on edge because her mother had a big court date coming up.
Bing: More about 'Nashville' | Watch clips and full episodes of 'Nashville'
Deacon was supposed to speak for Juliette's mom in court, but then he read Carmen's story, "Ax Falls Hard on Guitarman Deacon Claybourne." He'd protected Scarlett's honor by not saying what happened with The Revel Kings, so Carmen had reported Cy's lie that he'd been kicked off the tour because he'd fallen off the wagon. Juliette was forced to take the stand in Deacon's place. She said she hoped her mother's sobriety sticks and that was about it. That didn't convince the judge, but another date was set for after her rehab stint. Deacon gave Juliette a hard time, as well as some support. She again invited him on tour, but he was thinking of going off the grid. First, however, he was going to hit the big party with Juliette's mother as his date.
Want more TV? Like us on Facebook and follow us on Twitter.
Rayna was happy to be in her PJ's serving pancakes for her girls, but Teddy wanted to talk about where they were going. She didn't have answers. Later, Teddy took care of the girls, while Rayna received Calista. Calista was horrified Rayna had been forced to team up with that "prefab prima donna" Juliette and was interested in Rayna because Liam had sent her their tracks. Breaking up was hard, she argued, but that didn't make staying right. Loyal Rayna was reluctant to walk away from Edgehill, even after she heard how great the offer was. Frustrated at her hesitation, Liam shot, "Think of Edgehill like your marriage: The only way to get through it is by fantasizing about someone else."
After that, Rayna went to check on Deacon. He was posting a For Sale sign and gave her much attitude. He was sick of her breaking up with him and clearly still smarting over the fact that she'd married Teddy right after dropping him at rehab all those years ago. She teared up as she recalled all the times she'd tracked him down, fearing he was dead; reminded him it had been his fifth stint in rehab and swore she'd never lost faith in him. She was exasperated over having yet another tense encounter with him, so he told her to take off.
Of course, she had that winning smile in place for the big party. The press cooed over her and she was even getting along with Teddy. Then Marshall came over to congratulate her and Liam scoffed that the label head didn't have the money to keep her from leaving. Marshall countered by revealing Liam was going to get an "imprint" if she signed with with Countless. Rayna was not pleased he'd made a deal behind her back. Liam saying he'd saved her career didn't help his case.
"You don't lie to your partner," she scolded.
"Yeah, tell that to your husband," Liam responded and it was buh-bye, Liam. Rayna broke their partnership.
When she got home, Teddy asked if she had something going with Liam and winged about raising their girls while she's off galavanting on the road. Breadwinner Rayna quashed that by reminding him she hadn't called the cops or divorced him for what he'd done. He admitted he was just frustrated after watching everyone try to win her over, when all he wanted was to win her back. He reminded her how destroyed she'd been after Deacon and that all she'd wanted was someone solid. "Wrong choice, right reason. Maybe that's how we ended up together," he sighed.
Juliette's night didn't go much better. The event banner had Rayna positioned in front of her; a blogger asked what it was like to write with the Queen of Country; and the big speech came from Teddy, which meant Rayna got an extra nod there, as well. When Avery tried to make small talk with her, she barely noticed him acting like her equal. All she could see was her mother bumbling around the room. When her mom introduced herself to Rayna, Juliette broke away to interrupt and vent her frustration out on Mom.
Deacon never showed. He was at home, pouting and ignoring his calls. He started to call his sponsor, Coleman, but balked. When Juliette stormed in, his guitar was destroyed. "Your too miserable to be drunk," she noted. He needed to get back on the road and back on the program. When he admitted he'd not only gotten sober for Rayna, but also stayed sober hoping to get her back, Juliette huffed that Rayna was the opposite of what he needed. He turned his pain on her, asking why she was showing him so much concern when there was another addict she should be taking care of.
Juliette took his advice and apologized to her mom. The were both proud of each other's successes. Juliette cried and admitted her mother's opinion meant something to her.
Gunnar's family drama was physicalized by the crappy guitar he was struggling with since his brother had sold his Gibson. Scarlett said their songs would bring the money to replace it. She also suggested they sing their music at Winter Fest. Gunnar said it "wasn't her thing," because Avery was playing. Avery had tons of hot gigs lined up, thanks to Marilyn. Scarlett couldn't help but go to one, but she also couldn't take being there. She turned away and ran into J.T., who invited her and Gunnar to team up with his band (aka Avery's former band).
Scarlett ran to share the news with Gunner, but he'd just gotten a call from his brother's parole officer. Jason was MIA. The officer asked if they'd stopped in any pawnshops and warned that Jason was a fugitive. Gunnar took it out on Scarlett. She left in tears as a barback brought out Gunnar's guitar. Jason had dropped it off. Gunnar was apologetic and ready to rock when Scarlett arrived at rehearsal with J.T.'s crew.
Avery was cruising in his hot convertible when his song came on the radio. He was on cloud nine… until he heard another song in the distance. He rolled by Scarlett, Gunnar and his old band jamming in a garage. Ouch.
After all the drama in Nashville, it was back to the tour for Rayna and Juliette. At the airport, Rayna told Teddy choosing him had never been the wrong choice. Now, they had to choose their future. One thing she knew she wanted from that future was her own label. She told her manager she'd stay with Edgehill if Marshall gave her that - and her own plane. Grumpy Juliette said they were waiting on one more passenger - then Deacon came running! It was hard to tell if Teddy was worried or pissed. As for Rayna, her jaw just dropped.
"I'm not here for your band," Deacon said as he plopped down with Juliette.
Get the 411 on the music in this episode on the Nashville website.
"Nashville" airs on Wednesday at 10 p.m. ET/PT on ABC.