'The Voice': The top 12 take the stage
From here on out, it's all about the votes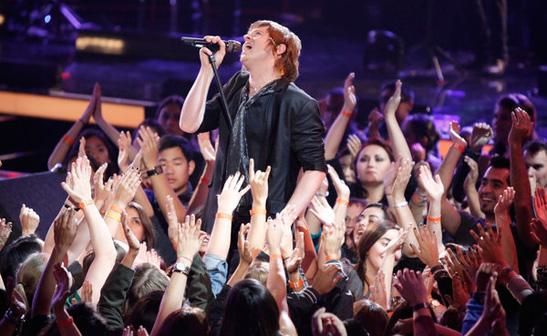 By John Kubicek
The madness is over -- let "The Voice" begin! After an exhausting three-night, five-hour event last week, "The Voice" is settling into its regular routine for the rest of the season: two-hour performance shows on Mondays and one-hour results shows on Tuesdays.
Bing: 'The Voice' | Photos: See more of the action from Season 3 | LNOTV: Watch recaps
There's no more stealing, no more saving, no more anything from the coaches. From here to the end, it's all about the votes. The bottom two will go home Tuesday, regardless of team. This means, theoretically, one coach could be out of the competition by next week.
More: 'The Voice' on Buddy TV | Video: Watch clips and more

Who will shine? Who will fall? Will Carson Daly make Christina Aguilera feel like an idiot for saving Adriana over De'borah? I'm just kidding about that last one. We all know Adriana's singing will do that by itself.

This is "The Voice"!

Wardrobe Watch: I can't decide who's showing off more cleavage: Cee Lo Green or Christina Aguilera. Seriously, Xtina is in nip-slip territory. And who's that dude on the end with a long-sleeved, button-up shirt? Oh, it's Adam Levine. I didn't recognize him without seeing the tattooed arms.
Michaela Paige: "Blow Me (One Last Kiss)" by Pink
As always, we start with a song "Glee" has covered (just last week). Her trademark mohawk is gone, but her rock-star attitude is not. She's a great performer for someone so young. It's fun and cool, and I'm definitely a fan.
Dez Duron: "Can't Take My Eyes Off You" by Lauryn Hill
Now is the part where you can hit the mute button and just admire the beauty on the stage. But if you leave the sound on, you'll realize Dez is actually a pretty great crooner and sings it very well. Don't underestimate this guy just because he's hot; he can totally sing. He might not have the amazing vocal tricks and massive range of some singers on the show, but he's still good. And Xtina pumps up his appeal even more by saying he's also sweet with a heart of gold, to make the ladies swoon even more.
Adriana Louise: "Good Girl" by Carrie Underwood
Say hello to this season's punching bag. Part of me feels bad that Adriana is getting bad vibes from people who think De'borah deserves her spot, but then I remember that De'borah does deserve this spot. That makes it hard to remain objective while watching her performance. So does the fact that she rubs her mini-Xtina stank all over this song, yelling and adding runs and doing all the things I generally dislike. Xtina tries really, really hard to school America about how hard it is to sing like that. Shut up, Xtina, no one cares, and Adriana is gone tomorrow.
Want more TV? Like us on Facebook and follow us on Twitter.
Cody Belew: "The Best" by Tina Turner
This is the Cody I want all the time, taking on big, diva songs that should only be covered by people like Mercedes on "Glee" or Jennifer Hudson. Cody is a big, black woman. Hot Jeremy Davies (as I sometimes call Cody) is awesome on the stage, although I think he should win a Vegas act and not a record deal.
Amanda Brown: "Spectrum" (Say My Name)" by Florence + the Machine
How can you not love her? Every week she does something totally outside the box and unexpected, and this is one very ambitious song. She owns the entire performance from a platform, although some of it seems to get away from her. I think Amanda has found her limits with this song. Xtina wants to know who Amanda is as an artist. I kind of agree, because everything she does is so different, but I also think Xtina is really trying to sandbag the other coaches' singers with her comments.
Bryan Keith: "Back to Black" by Amy Winehouse
His voice has plenty of soul, and it shows in this song. He does a "cool, modern-day, raspy Sinatra" thing, as Xtina says. He's just really good, and the coaches seem to think Bryan has surpassed Amanda on Team Adam.
Cassadee Pope: "Behind These Hazel Eyes" by Kelly Clarkson
This is the Cassadee I've been waiting for. She rocked it, hit some amazing notes and looked like a real lead singer for a kick-ass rock band. There's depth and emotion to this performance, and it's definitely my favorite of the night, so far. She is certainly an underdog rising strong in this competition right now.
Trevin Hunte: "When a Man Loves a Woman" by Percy Sledge
From the moment you heard what song he was singing, you knew he would kill it. Which he does. This kid is just an amazing singer. The only slightly negative thing I could say is that I'm getting a serious Joshua Ledet vibe, and that didn't work out so well for him on "American Idol." Maybe he's peaking too soon. But you can't argue that he's certainly at the peak.
Melanie Martinez: "Cough Syrup" by Young the Giant
Holy crap, for the first time ever, I don't hate the girl with the bow in her hair. This is a great song for her because it's modern and vulnerable, and her unique style fits it perfectly. It's not all artsy for the sake of being artsy; it's actually done for a reason.
Nicholas David: "The Power of Love" by Huey Lewis and the News
Maybe it's the hair, but I just don't get his appeal. Also, it's impossible for me to hear this song without imagining Marty McFly skateboarding to school. Vocally, I think this may be his weakest performance. He seems to be trying too hard to keep up with the song. The coaches are a lot nicer than they should be, probably because he's so unlike everyone else.
Sylvia Yacoub: "My Heart Will Go On" by Celine Dion
What? Who in the world would dare sing this song? There are moments of potential where, as Xtina suggests, she tries to make it a little Beyoncé-esque. But then she gets into the big parts, and they swallow her whole. Unless you plan on totally redoing it (I can imagine Mackenzie Bourg doing something wild with it), this is a song you should never touch. The coaches seem to agree that she just shouldn't have done this song.
Terry McDermott: "More Than a Feeling" by Boston
This is comfortably in Terry's wheelhouse. I feel like week by week he's just recording a soundtrack for a movie set in the '80s starring Will Ferrell and Ben Stiller. He's just a classic rock star.
That does it for the performances. Apparently there's a new rule that if someone's song is in the top 10 for iTunes, then their iTunes votes will be multiplied by 10. At least I think that's what it is. There are so many different ways to vote, I can't keep them all straight. Texts from Georgia will count 2.5 times more than others, and if you have more than 2,000 Facebook friends, your Facebook votes will be multiplied by 6 then divided by 5, then they'll add 2,236 and subtract your birth year. And if your name is Barry, your votes will not count.

So who's going? My money is on Adriana and maybe Nicholas.
BuddyTV: Videos: Watch performances by the top 12
BuddyTV: Don't miss another episode! Keep up with your favorite shows, like "The Voice," using the BuddyTV Guide app!
"The Voice" airs Mondays and Tuesdays at 8 p.m. ET/PT on NBC.