'The Bachelor': And then there were two
The departing bachelorette offers a master class in doing so with dignity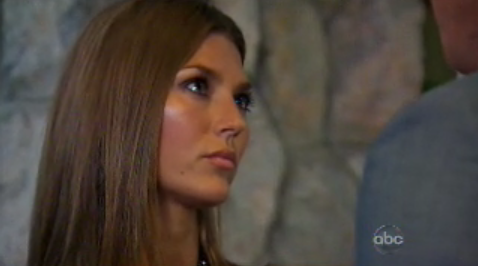 It's not often that we get to use the term "dignity" on this show -- but indeed, our departing bachelorette gets to deploy some in her final moments. Of course, we'll get to that in a moment -- because first, we have three dates and our last rose ceremony of the season, all in the extremely, ridiculously beautiful Krabi, Thailand. 
We spend an absolutely insane amount of time recapping Sean's feelings for the remaining three women. In short: Lindsay's fun ("I thought Lindsay could be crazy ... and not a good crazy"), he's super into Catherine ("I could easily picture Catherine and I cuddled up on the couch after a long day with kids around"), and he has an intense relationship with AshLee ("Probably the strongest relationship I have"). Somehow, the show manages to stretch this into about 30 minutes of preamble. Stop wasting our life force, show. 
Tonight begins properly with our first date, with Lindsay. She and Sean together seem like a man and his very agreeable golden retriever. Like, that is not even a gender-specific relationship -- Sean has a lot of golden retriever characteristics. This is to say that their relationship seems chiefly non-verbal (think: smooching), is filled with enthusiasm for each other, and doesn't seem likely to break into dark discussions about their feelings at any moment (of course, Sean has Ashley for that). I really like Lindsay, and her recovery from "girl in the wedding dress" to a front-runner is one of the show's all-time best comebacks. But they really don't seem like they have much to say to each other, right? 
All of our dates tonight are vaguely the same: There's time to swim, a challenge (Lindsay gets to eat a bug), and then the fantasy suite. Before we get there, Sean has some questions for her: Is she ready to move to Dallas? She is, in fact. But what if she weren't? That's one of the weirdest aspects of the show -- it's like whoever got the starring role gets to call the shots in terms of where this potential, actual real-life couple would reside. In real life. On Emily's season, Sean seemed ready to move to Charlotte; now, the expectation is that his fiancee would relocate to Dallas. It's bizarre. 
Lindsay's big challenge tonight is admitting to Sean that she's in love with him, and it gives us our funniest moment: Right as she's about to spit out the words, a troupe of Thai dancers skips in. Awwwkward. She manages it, though, and after a tiny bit of hemming and hawing they retreat to the fantasy suite. 
Next is AshLee. Poor AshLee. Don't you get the feeling that the producers constantly asked her questions like, "What is your biggest childhood fear?" "What does abandonment feel like for you?" "Can you use a metaphor to describe your relationship with Sean?" I don't even think it's her fault -- I truly believe she's at heart a people-pleaser and did what she could to give them what they wanted. 
What Sean wanted was for professional organizer AshLee to cede him some control -- so he contrived a date that involved swimming through what seemed to be a pitch-black cave to reach a private island on the other side. "Is it deep?" she asks Sean nervously. "It's deep," he says. "And it's dark. You're just going to have to hold on to me." AshLee has another metaphor for this: "When you're with the person you love, [it's like] you're going down this dark alley." When they finally arrive at the beach, AshLee just can't stop the verbal assault on Sean's heart: "I don't think there are two human beings that belong together more than him and I." Well, we'll see. After even more hemming and hawing, AshLee also accepts the fantasy suite invitation: "You know where I stand, and I know where you stand, so ... yeah," is how she puts it. 
Catherine's up last tonight, and Sean seems visibly relieved to get to hang out with his "nerdy" friend again. But is it for real? "I wonder if she can truly see herself settling down in Dallas...." (That, again.) Catherine's less focused on the practicalities for the moment: "Kissing Sean in the rain is probably the sexiest thing I've ever done." Soon, she'll call him hunky, and we'll all want to un-hear that. But he is so into her: "I just feel like Catherine gets me more than anyone else," he says. He asks her what sort of life she sees with him, five years in the future: "We would obviously be married," she says. "I'm pretty traditional when it comes to relationships and that kind of thing." She apologizes for her catty sisters and does and her own hemming and hawing over the fantasy suite: "I want to be sure I'm still seen as a lady." She goes for it, anyway: "I fell in love with Sean today," she says. "I know that we're meant to be together." 
OK, then. Sean tells us (and Chris Harrison) that he's made up his mind -- but guess what? Chris has videos from each of the women, and who knows? Maybe one will change his mind. Or maybe one will be edited in such a way that it totally telegraphs who loses tonight and makes her look totally unstable? Maybe? 
Lindsay's video is pure Lindsay: fun, sweet, not hugely substantial. Catherine's is slightly more forceful. And then there's poor AshLee. Watch Sean watch the video and it's immediately clear who's going home tonight. And who wants to bet money that she wasn't the only bachelorette who cried on tape -- but they made sure to include all of her less-composed moments? OK, so no doubt, AshLee's emotional investment has been off the charts -- but we're still getting an edit of her that constantly reinforces that. I definitely think she was invested; I definitely don't think she was unstable. 
That, anyway, is exactly how it goes, after a disclaimer speech from Sean: "This week does bring up painful memories for me [from Emily's season, when he was sent home after hometowns]. I was blindsided by it. I didn't see it coming. My worst fear is that the same is going to happen today. It kills me inside that I might break your heart." 
Safe to say: AshLee did not see it coming. But she stomps off with such magisterial grace -- even if she was way too into him, it's hard not to admire her as she leaves. "Just stay here," she says as he trails behind her; ignoring that, Sean tells her he wants her to go home with closure. In return, she offers the iciest death glare this show has ever seen. 
Sean goes on: "I thought it was you from the very beginning. I thought our relationship ... there was a lot of intensity there. This was honestly the hardest decision I've ever had to make. I think the world of you. I don't want you to ever doubt that." And AshLee just stares him down, and leaves with barely another word. 
So it's all true: AshLee got way too invested, too fast. And in her car interview, when she says that this wasn't all "about laughter and joking and having fun" -- that's probably exactly why she went home. She's clearly still healing, and in a place where just being open to an idea of something coming into her life is all she can handle. And the fact is that if she's not having fun with Sean (and it didn't look like she was, really), he's not her dude. But she'll get there. Maybe as the next bachelorette? Who would you rather spend next season with: her or Des? 
"The Bachelor" airs Mondays at 8 p.m. ET/PT on ABC. We'll be back with all the drama, tears, cocktail dresses and inappropriate touching anyone could handle.