'American Horror Story': For whatever, it's birth
'Asylum' keeps exploring evil's roots, while offering one more huge reveal, in 'The Coat Hanger'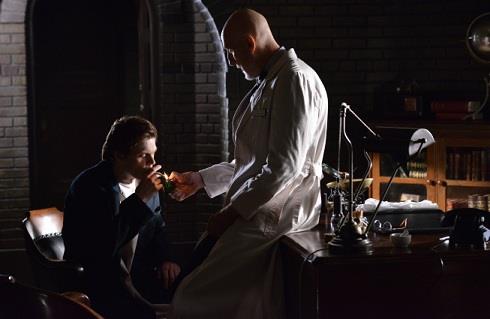 Last week's "American Horror Story"
 offered viewers a chance to breathe, and maybe even cheer. Lana and Kit cornered (and bound and gagged) Dr. Thredson, Jude thwarted Mary Eunice and Dr. Arden's plan to let Ian McShane's psycho-Santa have his way with her, and Arden himself got spooked by his first encounter with those pesky extra terrestrials.  All told, it appeared some "Asylum" characters were beginning to slay the monsters from their past and present in order to redeem their future, while other menacing figures were just confronting evils even they couldn't comprehend.
Well, ya know what they say: One step forward, several absolutely devastating backward strides into utter despair and hopelessness. Or at least that articulates the prevailing numbness after making it out alive from tonight's episode. The title refers to a certain twisted, contorted piece of metal wire that Lana attempts to take a pair of lives with. Until Sister Mary Satan intervenes.
But without further, "Hey, Pinhead can talk rather eloquently when she's part of some altered-state scenario involving a pregnant, reincarnated Grace," here are the five most significant things we picked up on while Briarcliff's inmates ironed out their issues in "The Coat Hanger."
WE TOLD YOU SO
Granted, it was
part of an astray observation
, but we're feeling pretty smug this week about accurately forecasting Bloody Face's identity as the spawn of Thredson and Lana. At least we're fairly positive it was a pinpoint assessment. Nor should we really be over the moon about how said zygote was conceived. Technically, we can't be 100 percent sure that grown-up BF (at last revealed in the episode's bookends as a returning, disheveled Dylan McDermott just learning to ply dear daddy's trade) resulted from Oliver's assault of Lana. But given the failure of her self-administered abortion (or was that really just the devil's doing?), it seems sad and unavoidable that McDermott's "Mr. Morgan" boasts Ms. Winters' and Dr. Thredson's shared DNA. But, judging by his sloppy table-work on Teresa and mish-mash cutting up of that poor hypnosis counselor, he didn't quite inherit papa's surgical acuity. 
SPEAKING OF THREDSON, HE'LL PROBABLY GET CAUGHT, RIGHT?
Nearly every theory about "Asylum" turning points requires a skeptical caveat. Still, between Kit's hidden tape of Thredson's confession, son-of-Bloody Face's concession about his bloodline and the overall sentiment that Lana has to get some vindication, all signs point to Dr. Oliver Knife-Twist at some point getting brought to task for his crimes. Just like Dr. Arden aka Hans Gruper will eventually be put on trial for his crimes in both Auschwitz and the Massachusetts institutional system. Or one would hope. It's a likelihood that more blood will be shed and bodies will mount before the season finale, just before Briarcliff falls into legend and disrepair until Bloody Face's kin and assorted copycats stir up trouble decades later. Part and parcel, even those driven to terrible acts with capacity for redemption (e.g. Jude, Mary Eunice), rather than the loonies simply born that way (hello, Arden, Thredson and the gang), are already halfway doomed. But c'mon, string-pullers: Throw us a bone and at least make sure the world knows Dr. Creepy Pants was the real serial killer!
THE MONSIGNOR IS AN IDIOT
Or a coward. Or an ineffectually power-hungry boob. Whatever you prefer. He's also probably the least compelling major presence in Briarcliff. Over the course of "Asylum," he zags from self-righteousness to naivete, unknowingly opening all manner of Pandora's boxes. All that could be fascinating, but Joseph Fiennes plays Monsignor Timothy with a one-dimensional earnestness that's just plain frustrating. That's on top of his overly actor-y diction, which is somehow even more distracting than this season's deluge of New England accents. We all knew what was coming soon as he took those cuffs off Leigh for baptism. Timothy had long since blinded himself to the truth right before his eyes, refusing to acknowledge how he'd tainted any path to Rome. But as he stared out groggily from the elevated cross he'd been nailed to (nice one, Leigh), the good Father at least recognized Frances
Conroy
's Dark Angel, and appeared poised to receive his own act of mercy.
SO, SANS MONSIGNOR, WHAT'S THE DEVIL TO DO?
This is all assuming Timothy doesn't opt to defer the Dark Angel's grace, survives his ordeal without post-trauma symptoms and continues his missive toward papal appointment. But it sure did seem as if Sister Mary Beelzebub planned on riding that golden-steed Monsignor all the way to Christianity's highest office, ultimately insinuating herself and bringing the world to its ungodly knees. If not that, then what in the devil's name is Satan's end objective at Briarcliff? As we know, it can't be the food.
KIT IS AN IDIOT
Kit may, as Dr. Arden suggests, prove crucial to the overall goings-on at Briarcliff when the viscera settles. But up to this point, he's been a pretty dopey fella who's either crazy, psychopathic, completely innocent or your garden-variety color-blind romantic with a heart bigger than his brain of special interest to little green beings. Of course, as Arden discusses with Kit over a glass of scotch, those creatures aren't so little, and certainly not green. We'll buy Dr. Arden-Gruper SS' theory of alien eugenics experiments and need to keep Kit alive. And without a doubt, he's a persuasive bastard. But, Kit, really? After Lana spared Thredson's life and further endangered her own so you could get that confession, you're just gonna up and participate in Arden's
"Flatliners"
-esque near-death experiment in the hopes that you and your captive wife can reunite aboard a spaceship? Maybe it's
Evan Peters
' colorless portrayal (we want Tate!), or the show's keeping its deus ex machine close to the vest, but talk about having your head in the clouds.
HONORABLE-MENTION OBSERVATION
Has anyone else wondered aloud if Lana's story is loosely based on Grace Collier's nightmarish experience in
"Sisters"
?
"American Horror Story: Asylum" airs Wednesdays at 10 p.m. ET/PT on FX. And don't forget to check back here every Wednesday after each episode for the five things we learned that week, and feel free to share your thoughts and reactions in the comments below.