'New Girl': Schmidt & Nick celebrate 10 years of living together
A party, Port-O-Potty and proposal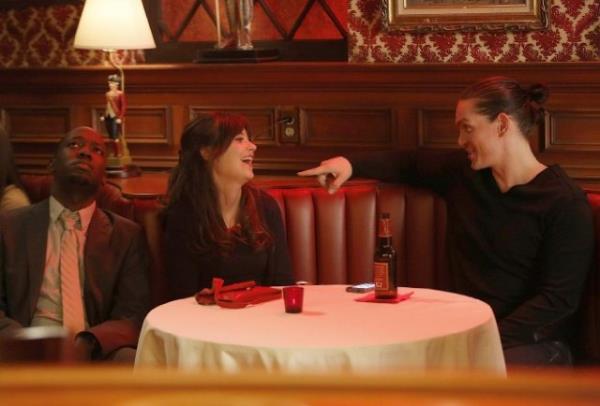 An entire episode dedicated to a party being thrown to celebrate ten years of heterosexual, friendship-fueled living together? Not since "Seinfeld" has a series been so bold as far as what it builds 22 minutes around. Yet, when it's "New Girl," the setting and/or episode synopsis is negligible; so much can happen and so much did.
Bing: Steve Howey  |  Satya Babha   
It begins simply enough, with Schmidt announcing the party to celebrate his ten years with college roommate Nick, flashbacks to previous parties shown (Fat Schmidt, I am happy to report, returning) and Cece asking Jess – rhetorically, of course – "Why are we friends with these guys?" Nick, per usual, is far less enthusiastic, particularly about celebrating such a thing and repeatedly asks Schmidt why he is so hell-bent on doing so. Schmidt evidently thinks this question, too, is rhetorical, yet, sadly, it is not.
After Jess confesses to Cece at the apartment that she can't stop thinking of Nick's mouth on hers, she decides that she wants the next one on there and pronto. He turns up at Nick's bar, in the form of football star Jax McTavish (the always-amusing Steve Howie, who spent many years already playing a football player on "Reba"). Despite Winston's protestations, Jess joins them in their booth and sweeps Jax off his feet in no time. Meantime, Schmidt gives Nick balloon and Port-O-Potty duty for the party. Nick announces an anxiety attack.
Want more TV? Like us on Facebook and follow us on Twitter.
The sharp left in this week's episode comes when Cece's arranged marriage is revealed to be something Shivrang (a charming Satya Babha) is actually taking quite seriously. En route to "TinFinity" (the name of the party and the episode) he relays to Cece that since both of their parents have signed off on it that they should "do this thing." Not quite the proposal Cece has expected her whole life; in fact, she goes so far as to tell her would-be suitor that when she was proposed to she expected to realize it was an actual proposal. She asks him to not put it like that and they leave for the party, where Schmidt attempts to dissuade Shivrang from even staying, thanks to the cow they plan on serving.
In other "TinFinity" news, otherwise described by Schmidt as a "masculine garden party," Schmidt is both surprised and disgusted at Nick's Port-O-Potty purchase. He is surprised because he didn't expect Nick to take his duties seriously at all, or even be capable of anything, and he is disgusted by the mere look of the putrid 60-dollar toilet. Fortunately, he had already gone the distance and rented a luxury Port-O-Potty. This leads to an argument as to how two roommates who began as equals wound up not so equal. Is it because Schmidt lost all that weight? Or because Nick lost his way?
Whatever the reason, both Nick and Schmidt lose something by episode's end. For Nick, it's Jess ... temporarily. She has flung herself at a welcoming Jax. After giving Nick one last chance at showing emotion, she is off to get Jax's mouth on her mouth. Sadly, it is drenched in tears as he divulges how much he likes her. Seems Jax is good at emoting; too good.
But what Schmidt loses is heartbreaking. Shivrang grabs the microphone just as Schmidt's mixed tape is about to play to commemorate his year's together with Nick (interestingly, he chose a Queen tune to kick off the set) and proposes to Cece. It is surprisingly touching, largely to Cece, who happily accepts. A dismayed Schmidt disappears from the party, with Jess following suit after Jax follows Shivrang's proposal with a declaration of love for Jess and introduces her to partygoers as his third wife.
But, Jess is too late if her goal was to hide in shame alongside Schmidt; Nick beat her to it. And the very thing he mocked all episode long, and during many episodes prior – Schmidt's alarmingly one-sided friendship – proves to be not so one-sided. Nick says all the right things, with Schmidt even pointing out that what he has just done is what the party is all about. They are still equals, ten years later. As for "New Girl" ... well, it is without peer.
 "New Girl" airs Tuesdays at 9 p.m. ET/PT on FOX.