'Nashville': Hitting the road
'Me and happy, we don't get along too good.'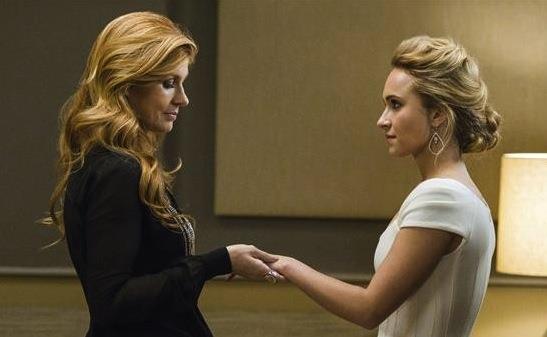 Rayna was burning up the studio as she recorded her part of the duet "Wrong Song," but spoiled pop tart Juliette was MIA. That's because she was busy consummating her marriage to Sean! 
Bing: More about 'Nashville' | Watch clips and full episodes of 'Nashville'
Being a newlywed and finally getting some action didn't stop Juliette from hightailing it over to the studio when she got a reminder about her recording date. Rayna made it clear she was anxious to start their tour. Juliette wondered why, since Rayna hated her, and snarked about Rayna's husband's scandalous campaign. Rayna wasn't getting riled. She calmly let Juliette know she wasn't important enough to hate and reminded her that she wasn't exactly immune to scandals herself. With that, the tour was a go. 
Sean's parents, meanwhile, were not thrilled to hear about the marriage, but his mother said they'd respect it as long as they had a real church wedding. With the tour kicking off on Sunday, it was going to be a rush. Sean's mom pulled it all together, making it clear she was the boss and warning that she expects a lot from Sean's wife. She also asked after Juliette's mom. Juliette made excuses, saying she couldn't come, but later, Sean surprised her by setting up a visit to the rehab clinic. He was under the impression Juliette wanted him to meet her. "Isn't that what you told my mom?" he asked. It was not.
Juliette went alone to see her mom, who balked at the wedding news. She warned vows wouldn't fill the hole in Juliette's soul or quiet her demons. Juliette was ready to have "a real family" and growled that her mom just couldn't stand seeing her happy. Her mom wasn't so sure that's what she was seeing. After that, Juliette was itching to get out of town, but Sean had to work. She looked miserable snuggled on the couch with her new husband.
The tour wasn't eliciting great energy, either. Sean was upset Juliette hadn't discussed it with him and even more upset to learn he and his new wife would only cross paths for two days over the next two months. 
Rayna's record producer Liam also felt shafted. She still wanted to do her album, but just couldn't stay in Nashville. Teddy didn't take it any better when she dropped the news that she was hitting the road for five months Sunday - and taking the girls. She couldn't leave them with her toxic family. Teddy swore he'd fight her, but later, he told Tandy he wasn't sure he should. Upon hearing the news, Lamar and Tandy showed up unannounced at Rayna's to stage an intervention. Lamar was again quick to wave Maddie's real paternity over Rayna's head. She kicked them out of her house and then stormed into one of Teddy's meetings. Teddy was furious to learn Lamar was using Maddie. He knew all about it and finally stood up to his father-in-law.  
Rayne was impressed. She loved Teddy, but neither of them had been happy for years. Still, she'd realized she couldn't drag the girls into their drama. She decided they'd handle this tour like every other, with the girls meeting her on the road whenever there was a school break and Skyping with her regularly. Teddy was relieved. He said that the tour was "the perfect cover, both publicly and privately."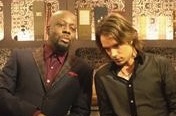 In Atlanta, Avery was enjoying the good life with Domino, but said he owed his childhood bandmates one more show before he dumped them. "You don't owe nobody nothing but me," Domino snapped, so Avery went back to Nashville and gave the guys the news. His BFF J.T. threw a punch and called him a fame whore.
Avery's visit with Scarlet didn't go any smoother. She was sullen and grouchy because she and Gunnar were fighting over her writer's block and his attitude. When Avery again apologized for the way things had gone, Scarlet shrugged that if they hadn't broken up, he wouldn't have gotten signed and she never would have done anything but marry him. Then he told her he was still "ruined" when he looked at her and things heated up. After some hot sex on the couch, Avery was called back to the studio. He invited Scarlet to join him, but things took a turn when she heard he'd abandoned his childhood pals. "You leave your keys and you get out," she sniffed.
Avery went back to the studio, where he worried Domino was making his music sound too dirty. He was jumpy and it only got worse when he saw a YouTube video of Scarlet singing with his old band. After he'd dumped them, J.T. had planned to cancel their show. Instead, Scarlet offered to stand in as their frontwoman - and she of course rocked it! J.T. suggested they make it a permanent thing, but she was anxious to get back to her own music. She worked on some lyrics and brought them to Gunnar. He was happy to see her, thanks to Hailey. Bent on getting a promotion, she'd told him to get over whatever was going on, because he and Scarlett were better together than apart.
Want more TV? Like us on Facebook and follow us on Twitter.
Poor Deacon. For a guy on a rocking world tour, he was a little too interested when he heard about Rayna's tour. He was having trouble falling in step with the Revel Kings and was clearly shirking the spotlight. It seemed like his old friend and hottie rock reporter Carmen Gonzalez was more interested in doing a story on him than the band. She also seemed interested in reconnecting. She told him she was glad he'd survived his crazy years and wondered why he'd never settled down. 
"Me and happy, we don't get along too good," he shrugged.
Deacon finally gave his lead singer the right amount of rock, but still didn't seem happy. He and Carmen went back to his hotel for a romp and during pillow talk, she called him out for acting edgy. She tried to talk about the car accident that took their friend Vince's life, but he told her to lay off and distracted her with kisses. Later, Deacon stared out his window looking miserable. Then he stared at the Guitar Player Magazine that featured him on the cover and dropped it into the trash.
As Rayna said goodbye to her family, Sean waited for Juliette at the altar. Of course, a host of paparazzi was also waiting outside the church. Dolled up in her white dress and veil, Juliette road her limo to the airport and got on a plane.    
Get the 411 on the music in this episode on the Nashville website.
"Nashville" airs on Wednesday at 10 p.m. ET/PT on ABC.
Are you sure you want to delete this comment?