'The Bachelor': And then there were 13
Women make their moves while our returning favorite flames out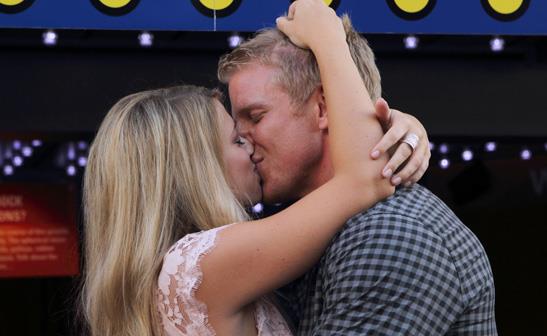 It's week three, and Sean's still working out. When not doing lateral pulls, he tells us that he's surprised to be feeling feelings for so many of these women so early in the game, which is what literally every bachelor/ette says at this point of every season. Meanwhile, away from Sean's private gym, Chris Harrison gathers the women to pass out the first date card. Robyn hopes the message is (a) for her and (b) reads: "Let's ditch these bitches and fall in love for real." LOL. At least one of these women has a sense of humor this season. But alas: It's for Lesley M., the Washington smarty-pants and second-chance kisser from last week's cocktail party. "She's just one of those girls I get along with so well," Sean says. 

Lesley's hoping for a "trip," but that's not what Sean has in mind for the night's first date. Instead, we're headed for the Guinness Museum in Hollywood, where Sean's dad is the improbable holder of the record for the quickest drive between the 48 contiguous states: 97 hours, 7 minutes. However awesome it would be if these two immediately set off on a cross-country trip to break that record (and honestly, we'd rather have Robyn and Kacie and maybe Chris Harrison and a lemur in that car?), that's not today's goal: Instead, it's to break the 10-year-old record for the longest kiss, which has stood at three minutes and 15 seconds. "I think it's safe to say that this date has the potential to go down in the record books," Sean says. Indeed: He seriously is the most sincere bachelor in this show's history, and that is not always such an amazing thing. The Guinness Records minder gives them the rules, which are basically limited to "your lips must touch throughout the entire attempt." Lesley's a little meh on the entire thing: "It's an intimate and special moment that's not so intimate and special [in front of a crowd]," Lesley points out. It's funny that she brings up the crowd on the street, which I guess is more immediately noticeable, if actually much smaller and less judgmental, than all of us watching at home. "You don't want crowds around you at all times chanting." Sean is less bothered: "The hardest part was trying not to laugh because our lips were going to come unsealed." Chris Harrison is left to make jokes in the crowd ("He's starting to cop a feel now," he says to a woman in the audience who admits "it's a little awkward now") because everyone realizes that watching two people kiss for three minutes is both a little boring and a little creepy. They break the record. At drinks later, Lesley says that her parents have the dream marriage, and Sean suggests that maybe he's the guy that she could have that kind of relationship with. "Do you think you can develop real feelings for me in this setting?" he asks her, and Lesley's, like, sure, of course, whatevs. It's really, really boring to watch. Lesley gets the rose, ensuring us of many more sincere, boring conversations. 
The night's second date is the 12-person group date (including, among others, Robyn, Kacie, last week's one-on-one date Desiree, and Tierra), and we'll be playing volleyball. High-stakes volleyball: "It's the most important volleyball game I'm ever going to play," says Taryn, who we're going to bet is definitely, definitely right. Losers go home, winners go to cocktails, and for that reason alone it's as intense a volleyball game as we're going to see on prime time TV outside of the Olympics. It actually is a pretty tight game of at least
middle-school-qualit​y
volleyball, and six women (including a frowny-face Tierra) go back to the mansion. 
Cocktails are marginally more interesting, thanks to the developing tensions between Amanda and Desiree—and randomly, Kacie, who for some reason decides to insert herself into their argument. Amanda is, to give Desiree credit, incredibly weird, both around the women (when she just sort of glares) and around Sean, whom she treats like the interviewer at a job she really, really wants: "If we were to get married, I would bring such a light, airy atmosphere," she tells him. It's embarrassing, and even more so because all the other women can overhear them. When she comes back to the group, though, she's totally and wrongly convinced that she's about to win the rose—for her personality alone: "It has nothing to do with volleyball. Nothing," she tells the group. Small victories, Amanda. 
This is all more than Kacie can handle. "We're doing this on my terms now," she tells Sean, marching him away from the group. "I feel like I've been punched in the face," Kacie says, and proceeds to break down the weird but really not that intrusive tension between Amanda and Desiree. Sean's confused, though, as are we all: "Why are you saying something to me?" he says, speaking for all of us. No one likes a tattle tail, Kacie. "I'm stuck in the middle, so I have to tell you what's going on," she says. It's actually even more awkward than whatever bizarreness was going on between Amanda and everyone else. Sean's not having it: "I want you to act like Kacie, not like this crazy person that I'm seeing." And that is how a plan completely backfires: "This is a night I'd prefer to rewind and start again or completely forget," she says. Black horse Lindsay, whom the rest of the women had completely forgotten about, gets the rose.
What follows next is a just flat-out weird interlude that's part and parcel of these early episodes, when the women will do pretty much anything to get a bit of attention. Tierra, whom, you'll remember, was not one of the winners of the volleyball game and so has spent nearly no time with Sean this week, has decided to "fall" down some stairs, an injury that leaves her sort of moaning—especially once Sean shows up, but decidedly less so once paramedics arrive and strap her onto a board to take her to a hospital. Meanwhile, AshLee waits for her one-on-one to begin: "She will go as far as she can minus the hospital," AshLee says. Meanwhile, Sean is comforting Tierra: "You should fall down the stairs a little more often," he says. Tierra, agreeing: "Maybe Sean will come over." Well, that worked out perfectly. 
Once Tierra has finally been dealt with, AshLee and Sean leave for their date—a better one than Lesley's if not quite as glamorous as one where AshLee gets to walk into a store and pick out all the jewelry she wants to take home. Instead, they'll be escorting two young woman active in a children's health organization on a trip to Six Flags. The girls, who consider each other BFFs, have never met, and it's easy to see that they are soulmates: "I love listening to them," says Ashlee, as the girls chat excitedly. It's actually pretty sweet. 
That wholesome vibe keeps up at cocktails, where Sean and AshLee talk through family stuff. "I definitely want as many children as my husband and I decide," she says. She also wants to adopt: "I feel like there's so many children who don't get adopted past the age of two or three because everyone wants babies," she says. "I was adopted at six." Before that, she says, she had been treated poorly by a foster family: "[But] I'm not bitter, I'm not broken, I wasn't sexually abused. I mean, how lucky was I?" Sean actually cries when she tells him the story of meeting her father. Guess who's getting a rose?  
At long last, we come to the final cocktail party, and it's so fraught with tension and Sean-pulling that it's no fun to watch—primarily because it's impossible to have any sort of interesting conversation when the women keep poaching Sean. The only woman who seems to have anything like a good time is Sarah, whom Sean surprises with her actual dog, who's delivered in a limo. Kacie, on the other hand, is probably having the worst night, given the fact that she freaked out on Sean—who was clearly on the fence about her being on this side of the friend zone anyway. She tries to explain herself, and Sean gives her a fairly hard-hearted response: "I feel like we turned a corner at the photo shoot day, and I felt like we took a couple steps back the other night." 
This turns out to be an understatement: At the rose ceremony, Sean hesitates before handing out his first rose, and calls Kacie out of the room. The women are a-twitter: "He could send her home or personally give her a rose," Lindsay explains. Sean is leaning toward the former choice: "We hit it off immediately in New York for a reason," he says. But it's not happening. "I have way too much respect for you to make you stand through another rose ceremony," he says. "I just know in my heart that I think we're better off as friends." Note to future bachelorettes: Never, ever, ever bring up household drama to the dude. You never, ever, ever win that fight. In the limo, Kacie tears up, but generally holds it together: "Last time I left here with no regrets, and this time there are regrets," she says. "That's something I'm going to have to live with." 
We move on to the rose ceremony proper: Everyone—including Robyn (who looks to get a one-on-one next week), Tierra, Amanda, and Desiree—gets a rose but Taryn and model Kristy. They cry. "I didn't open up myself and I'll have to figure that out," Taryn says. "I might not be sweet enough for him." Taryn, pumpkin pie with chocolate syrup and caramel might not be sweet enough for Sean. And as for Kristy: "I hope that my chance for love will come some day." Love, yes. Your shot to lead "The Bachelorette," no. 
Are you sure you want to delete this comment?