'American Horror Story': Rude awakenings
Inmates and administrators alike face devastating realities in 'I Am Anne Frank, Part 1'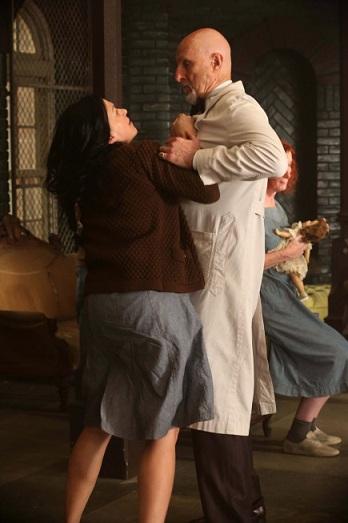 Last week
on the increasingly unsettling "American Horror Story: Asylum," us viewers, and our our poor inmates, were confronted with all manner of monsters: Mutated, flesh-eating humanoids in the woods; a demon-possessed Sister Mary Eunice slashing jugulars with rusty scissors; two would-be homicidal pranksters forced to stare down the real Bloody Face; and, of course, Dr. Arden's penchant for recreational kidnappings and amputations. 
"Asylum" is not for the meek, and the fictional Briarcliff institution is an increasingly Godless place. This last point seems to be the primary focus of tonight's potentially controversial installment, "The Diary of Anne Frank, Part 1," which confronts the evil that real-life
monsters—power-monge​ring
men, skeletons from our past and closed-minded societal mores—can do.
It wasn't a perfect episode, and in fact was at times either problematic or melodramatic. But, as always, there was much to absorb and consider once its 40-plus minutes were up. So without further, "I'll swallow your soul!" here are the five things we learned from "The Diary of Anne Frank, Part 1":
YEAH, HOLOCAUST STUFF IS TOUCHY
It's unlikely "Diary of Anne Frank" will stir up too much scandal, given the show's innate theatricality. But you can understand how a portion of tonight's audience might have found certain characterizations in questionable taste. Franka Potente (
"Run Lola Run"
) enters Briarcliff claiming to be the real Anne Frank, having survived and lived in secret to avoid demystifying her influential memoir. She also experiences a
"Marathon Man" moment
 when encountering Dr. Arden, whom she accuses of being a former Nazi war criminal and torturer of women in Auschwitz (as depicted in black-and-white camp flashbacks). Sister Jude is skeptical, but she loathes Dr. Arden. Plus, the evidence against him mounts, especially when detectives come inquiring about a prostitute who claims to have escaped the not-so-good doctor's clutches and found his SS paraphernalia. The episode concludes with Anne and Arden (or whomever they really are) squaring off in his operating room, a gun in her hand, bullet in his leg and hideously disfigured Shelley pleading for a mercy kill. The whole storyline, nevermind as a two-week arc, is audacious, and makes for provocative drama. But the decision to bluntly reveal Arden's past as a
Dr. Mengele
 proxy feels unsubtle at best, indelicate at worst. As for Anne, her appearance could be another one of Satan's manifestations for all we know, meant to further manipulate Jude and Arden toward mutual annihilation. We'll wait until "Part 2" before casting judgment, but this is certainly the closest "AHS" has come to not merely using history as its own lesson, but possibly trespassing on material that's just too raw. 
THE DEVIL YOU KNOW (KNOWS YOU ALL TOO WELL)
Sister Jude, and
Jessica Lange
's portrayal, continue to be the preeminent pair of reasons for tuning in. Next in line might be Sister Mary Eunice's emergence as devil incarnate and Jude's primary antagonist. But she could also be regarded as the emotionally volatile Briarcliff administrator's greatest ally. Over the past couple weeks, we've observed as Jude confronts her own sins (running over that young girl 15 years ago, for starters) and begins to see the truly wicked—the Monsignor, Dr. Arden et al—for what they are. In the process, she's developed a slightly less tyrannical approach with her inmates, even appearing sympathetic to both Anne and Kit. In one terrific scene, Jude and her Mother Superior walk the grounds, discussing male clergy's stubborn pigheadedness (no doubt a metaphor for our current macro-political gender dilemma) and the deepest healing qualities of faith. Satan definitely has the Sister where it wants her, but she might prove grittier and more redeemable than even Beelzebub imagined.
DO NOT MOCK DR. ARDEN'S ERECTILE DYSFUNCTION
As Shelley discovered last week, side effects of doing so may result in attempted rape, kidnapping, drugging and involuntary amputation. Or, to paraphrase Dr. Arden, clipping one's wings. In "Diary," Shelley undergoes further unthinkable experiments, and we at last witness firsthand just how Dr. Crazypants transforms wandering inmates from committed state property to feral cannibals. And all because she cracked wise at his miserable phallus. Geez, Jude's Mother Superior was right: These men have serious impotence issues.
AVERSION/CONVERSION THERAPY SUCKS
Just when Lana thinks she's caught a break, her fantasies of escaping and launching to journalistic fame with a Briarcliff expose come tumbling down. Dr. Thredson (played with just a smidge too much retro camp by
Zachary Quinto
) convinces her to undergo aversion/conversion therapy and "cure" her homosexuality. Only then, Thredson summarizes, can he can deem her clinically sane and end this sordid nightmare. Unfortunately, his little ruse necessitated a legitimately humiliating series of tactics, including commanding Lana to pleasure herself while fondling a male inmate and conditioning her to vomit at the sight of alluring women. "My bad," he essentially conceded when the experiment failed, while still promising to bust her out. If we were Lana, we'd take a cue from Grace and be careful who we trust.
WAIT, MAYBE THIS IS ALL THE DEVIL'S DOING
Let's think about this: Kit thinks he was abducted by aliens who probed his body and eviscerated his girlfriend, but after learning the truth about lover Grace's murderous ways, begins to doubt his own sanity; Dr. Arden is a nutbag ex-Nazi whose passions include sexual sadism and playing God, and who may in fact be Bloody Face; Sister Jude spends her life judging, shaming and inflicting corporal punishment against people who she  deems un-pure, despite (and because of) her own sketchy record as a floozy and manslaughteress; and even the Monsignor's hands are dirty with Arden's blood, and lord only knows what other atrocities. Who else could have conspired to get all these people in one dank, terrifying building amid stormy Northeastern nights? It's like
"Clue,"
only if our deadly murder mystery were curated by the Prince of Darkness himself. We'll soon discover the truth and consequences and distinguish between hallucinations and authentic revelations, but don't be surprised if a fiendish imp with fiery eyes has been pulling the strings all along.