'New Girl': Jess has a breakthrough with a student
Who may or may not be a murderer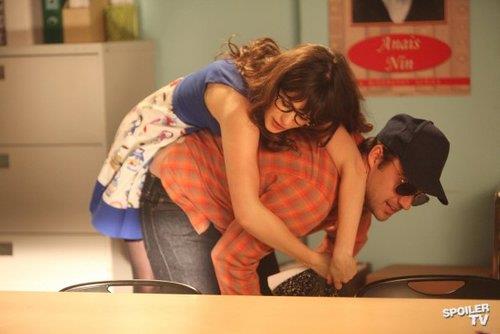 This week's episode, the ingeniously titled "Pepperwood" (and that's not sarcasm), is actually a case of the secondary storyline trumping over the main one. It all starts with the gang gathered in the kitchen, Jess entering enthusiastically, as she has had what she deems a breakthrough with a student, punctuating the announcement with an impromptu "breakthrough dance" that manages to include some miming. And thus, the Annoyance Jar is introduced -- and Jess contributes some cash. After much cajoling amongst the group including Cece who is over, we're introduced to the secondary storyline and that is, Winston's "pogo." Yep, he has a habit of brushing his ... ya know ... into everyone else, and the latest victim is the visiting Cece. Duly mortified, Winston flees the scene.
Bing: "New Girl" Theme Song  | Catch-Up     
Not long after the pogo incident happened, wannabe writer Nick decides to read Jess' "breakthrough" student's short story and is stunned at the excessive use of the word "stab." He is certain the man is a cold-blooded killer and creates the persona Julius Pepperwood, a private investigator from Chicago, to attend Jess's class to keep an eye on Edgar, the student in question. After spying on – and stealing – Edgar's doodle book, he winds up at Edgar's house, along with Jess, only to discover he lives with his mom (or at least, that's what we think), which Pepperwood cites as further evidence. He and Jess catch Edgar dragging what appears to be a body bag from his van and dumping it in his shed.
Meanwhile, as Winston apologizes to Schmidt for the mishap with Cece, Schmidt lets it slips that Winston's "pogo" is something the others have clearly talked about before. This compels Winston to let Schmidt know he has a pogo of his own, thus causing Schmidt to demand to know what it is. Is it his caterpillar eyebrows (freakish by episode's end)? Nope, it's his "clickity-clacks." That's code for his toenails, which Schmidt will clip by the 22nd minute, comically noting he has now gone down a shoe size.
Want more TV? Like us on Facebook and follow us on Twitter.
On the other side of town, Pepperwood heads back to Edgar's shed while Jess has a one-on-one with her former prized pupil, and in a scene seemingly lifted from "Three's Company," she winds up back at the shed herself, only to uncover she and Nick got everything wrong. Edgar is not a killer and that's not even his mother he is living with. It's his lover. As for what is in the bag he dragged from the van ... well, that's evidently something Edgar and his Mrs. Robinson use in the bedroom.
In the end, everyone learns their "pogo." Jess being is know-it-all to, Nick worries everyone to the point that they sneak vitamins into his food and money into his pockets, and Cece is, well, just hot. Yep, that's hers, even while she relentlessly tries to come up with a better one, like having a baby voice or being a smart-ass, neither of which stick. But, Schmidt's is gone, and Winston earns yet a new one after another grazing, this time with Nick. As he runs off he sounds as if he is farting. The credits roll as Jess acts out Winston running and farting simultaneously. Pepperwood's one and only case is closed, though I suspect we may hear from him again.
 "New Girl" airs Tuesdays at 9 p.m. ET/PT on FOX.
Are you sure you want to delete this comment?