'The Vampire Diaries': Brother against brother
Alliances shatter as Rebekah triggers a game of cat-and-mouse in Mystic Falls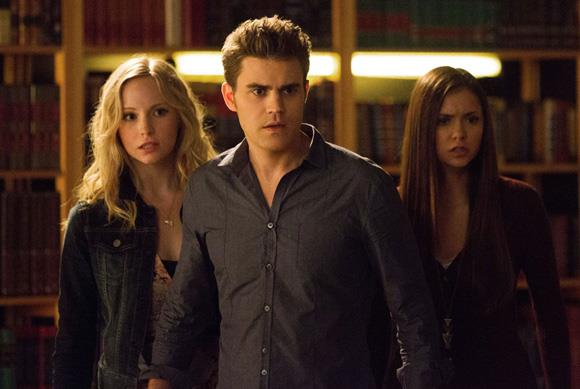 When we last left Mystic Falls, Elena was no longer sired to Damon, and Tyler had managed to unsire Klaus's hybrids, too. But when Klaus got word of that, he took them out, one by one, all 12 of them – foiling Hayley and Shane's plan, too. And then, unable to find Tyler, he killed his mother, Mayor Carol Lockwood, instead.


This week, on the winter premiere of "The Vampire Diaries," a stone-faced Tyler sat surrounded by his friends as Sheriff Forbes eulogized his mother. "How does a community stay strong after losing its leader?" she asked. But Tyler, unable to take the lies about "the terrible accident" that cost his mother her life, stormed out of the room. Elena followed – but not console. No, she had thought she'd witnessed the return of Rebecca. How could that be? Instead, she found April, crying. "I know you're a vampire," April said, right before Rebecca knocked Elena out.
Bing: More on "The Vampire Diaries" | "The Originals"
Caroline snuck out, too, to call Stefan, who was on a solo drinking bender. She told him she only had time for one spiraling hottie, and that would be Tyler, since his mom died.
Elena awoke in the school library, April hovering near by. She tried to convince April that Rebekah was bad news, but April was solidly Team Rebekah.
Damon was at the lakehouse, supervising – and sulking – as Jeremy trained by beating up Matt (the volunteer). "You're a badass," Matt said, defeated. When the boys ordered pizza – complete with a cute blonde delivery girl – Damon confiscated it, intending to starve them until they shaped up. Then he listened to Elena's "I miss you" message on his phone, again. He told them to take a few laps around the lake, sulked some more, then Klaus showed up, annoyed, demanding to know how many vampires Jeremy had killed so far. Nada. "Twelve, that's a number. That's how many my hybrids I slaughtered with my sword," Klaus declared. "Three. That's how many days it took to quell the urge to kill your brother after he knowingly watched as I walked into a death trap. One. The number of purposes you serve. You are here to grow Jeremy's mark, so I'll ask again. How many vampires has he killed?"
Zero, Damon declared, then shot Klaus twice in the chest. Of course it wouldn't kill him.
When Stefan's phone rang again, it was Rebekah. "I'm back, dagger-free, and I'm holding Elena hostage," she told him. "Just thought you should know. See you soon." So he called Caroline and told her their new mission.
Meanwhile, Sheriff Forbes filled the new Mayor – Bonnie's dad – in on the whole vampire situation. When Bonnie met him for lunch, he started laying down laws, saying, "This whole town could use a few more rules."
Back at school, Stefan spied Rebekah and texted Caroline to show with the dagger. But apparently, Rebekah had already found her – and the dagger. 
She led him to the library, where Elena, April and Caroline waited. He took a seat, compelled not to make move. Detention anyone? All sullen, very "Breakfast Club." 
Then Rebekah played teacher, quizzing them on their history. She asked about the vampire hunters, the map, the cure. And then she asked Stefan what went wrong, since he'd found the hunter's sword, which should have led him straight to the cure. "I'm missing something," Rebekah said. "What is it?" Silence from Stefan and Elena. Then Caroline erupted: "They broke up, okay?"
"I'm confused. I thought Elena was your epic love, Stefan," Rebekah mocked. And then Stefan said it: "She slept with Damon."
Rebekah pressed on, and Stefan said it was a sire bond. But Elena, compelled, told Rebekah: "I didn't sleep with Damon because of the sire bond, I slept with him because I love him." Ouch.
Having gotten what she wanted, Rebekah moved on: the cure. So Stefan told her about Shane.

Speaking of Shane, Bonnie was in his office at the University, venting about her dad. Shane told her she'd learned all he could teach her. "Happy graduation," he said, handing her a necklace made of human bone, one worn by the 2000-year-old original witch. Then he sent her packing. As she left, she passed by a familiar face. Cole. The Original. She ran back to Shane's office, but he was gone, his chair shattered.
At the Lockwood mansion, Tyler finally picked up his cell. But it wasn't Caroline. It was Rebekah. She told him that she had his girlfriend. "Maybe you have a better shot at saving her than you did your mother."

At school, Rebekah had more guests: her brother Cole – and Shane. They took Shane into the janitor's closet and attempted to compel him to confess where the cure was. But Shane, all-knowing, knew how to keep them from compelling him. So Rebekah told Cole to take care of it the old fashioned way: "Beat him up until he tells you."
Night settled in at the lakehouse, and Klaus and Damon chatted by the fire. Again, Klaus pressed on the whole ZERO vampires killed thing, pointing out there was a whole town of people around waiting to be turned into sacrificial vampires. He noted the reason Damon had ignored that idea: Elena. Now Klaus, he had no such problems. He'd already handled the situation. On cue: the pizza girl, still flush with blood, arrived at the door. No pizza, though.
Back in the library, a bored Rebekah demanded they all play Truth or Dare – with Elena up first. "I dare you to tell Stefan the truth about Damon," she pushed. Compelled, Elena spilled: "When I'm with him, it feels unpredictable, like I'm free." And so Rebekah asked how she felt with Stefan. "I feel like I'm a project, like I'm a problem that needs to be fixed. I think I make him sad, and I can't be with him because when he looks at me, all he sees is a broken toy." Elena said she still loved him, but she wasn't in love with him.
Then Rebekah asked Stefan, also compelled, if that hurt. When he said yes, she said, "Welcome to the last 900 years of my life."

That's when Tyler showed up. And Rebekah came up with a new game: run from the werewolf. She compelled Tyler to turn. She wanted to be the one who found the cure, and they were just competition. Shane would help her find it. They could all fend for themselves. "If I turn I'll kill them," Tyler said. And Rebekah said, "Yes. You will."
At the Lakehouse, Matt found his phone – and the hungry blonde pizza delivery vamp found him. She attacked, but Jeremy was right behind her with a stake, and Damon walked in just in time to witness the hunter's mark growing stronger.
Bonnie was at school, too, and ran into April, who told her she knew everything – and that Rebekah had everyone compelled. Bonnie said Shane couldn't be compelled, and started a protection spell, knowing he'd be tortured until gave up the information about the cure. As Cole drowned the man in the sink, April choked as if it was she who was being drowned. What was the connection? Bonnie came out of her trance to help her, confused.

Breathing again, Shane, meanwhile, was telling them that they could have the cure – he just wanted Silas.
"Silas does not exist, he is a fairytale made up to scare children into eating their vegetables," Rebekah said.
Plus: Want more "Vampire Diaries"? Check out our episode guide. 
But Shane said he knew where he was buried, and he knew the spell to wake him. Sacrifices had already been made – the council, the 12 hybrids. "Once I raise Silas," Shane said, "Silas will raise the dead. He will bring back every last soul who died on his behalf."
Cole, impatient, couldn't trust it – he stabled the man. And in the science lab, April was bleeding, too, gasping her last breaths.
Rebekah was livid. "You killed my only chance at finding the cure," she spat. But he told her that they couldn't revive Silas. "Silas on the loose would be hell on Earth." He had the White Oak stake, and he was in charge now. They stormed out.
That's when Shane awoke, removing the stake from his chest as if it ain't no thing. "Bonnie," he said.
In the library, Tyler throbbed with pain, turning despite himself. The others all made a run for it – but no vamp-running, per Rebekah's orders – hiding behind metal doors, Stefan and Elena working together to keep the wolf out.
They heard noises, and found Bonnie and April in the lab. April suddenly revived, too, and Stefan ordered them to get out of there.

And then he and Elena were alone again. She told him they had to talk about it. No time, though. Rebekah was back. "Why are my least favorite people always the most durable?" Then she suggested the unthinkable. She could make them go all "Eternal Sunshine of the Spotless Mind." "I can compel him," Rebekah said. "I can make him forget every bit of love he has for you. Give you both a clean slate. Just say the word."

"Do it," Stefan said. "Erase it all. Every memory."
But Rebekah laughed. "I refuse to make you forget her the way Klaus made you forget me," she said, mean. Then she turned to Elena. "But at least you know how he really feels." Then she told Stefan: "Consider your eternity of pain my revenge, Stefan." And so Stefan walked away, not stopping as Elena called to him.

Still wandering hopelessly, Caroline finally found Tyler lying naked in the gym. He said he was sorry. "This whole thing, this is all my fault," he said, finally breaking down. "I should have saved her."
Back in his office at the University, Shane told a visibly traumatized Bonnie that Cole was going to be a problem. But she reamed him instead, saying she almost killed April. "That's because you don't realize the extent of your abilities," he told her. She told him she wouldn't do black magic. Shane told her expression wasn't good or bad – but it had no limits. How she used it was up to her. He would help her. "You're the key to everything."

Damon, as he so frequently did, found himself digging a grave. His phone rang. Elena. "Stefan knows about us," she told him. Ouch. He told her that Jeremy was fine. That he would buy him an ice cream. He had to go. But she stopped him. She said: "It's the most real thing I've ever felt in my entire life: I love you, Damon. I love you."

For a minute, he couldn't speak. Then he told her he would get the cure for her. But he'd have to do things she wouldn't like. He told her to get in her car, right that moment, and come to him. Then he smiled up at the sky.
Want more TV? Like us on Facebook or follow us on Twitter. 
At the Salvatore house, Stefan welcomed Rebekah. He told her Shane wasn't dead. He told her Bonnie did a spell, Shane was fine. That's when Rebekah told him about Shane's agenda – that sacrifices, the mass deaths. Bonnie. Shane was going to be more trouble than they thought. They'd have to team up: "I hate my brother, and you hate yours," Stefan said. "But Damon's got Jeremy, Klaus has the sword, and Shane has Bonnie. You and I are left with nothing. You said it yourself: whoever finds the cure first gets to decide what to do with it. So what do you say? Want to be partners?"
In the end, April – hell bent on the truth – told Mayor Bennett and Sheriff Forbes that it was Professor Shane who'd convinced her father to start that sacrificial fire. "It's about time this whole town started telling the truth."

At a seedy bar downtown, Klaus drank alone until Damon, Jeremy and Matt arrived. There were bodies all over the place. No, not dead. Soon to be undead. Jeremy balked, saying Damon had said they'd be going a different way. But Damon just grinned that wicked grin. "I thought about it," he told the boys, just as the newbie vamps began to stir. "But then I realized his idea was better."
"The Vampire Diaries" airs Thursdays at 8 p.m. ET/PT on the CW.