'American Idol' top 9: A hard night's daze
Gals eclipse guys again, but few do any favors for the Beatles songbook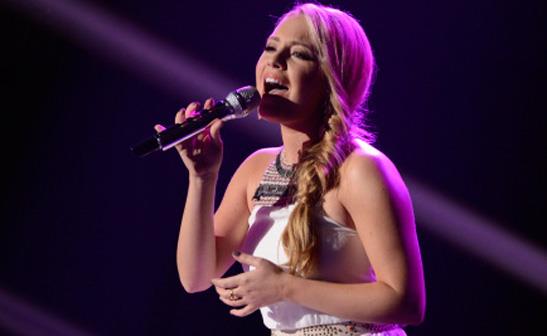 Where there's a 'Will' there's a way: Janelle Arthur's version of the Beatles' 'I Will' Wednesday showed she just might be something more than a country kewpie doll.
Once upon a time the Beatles were the most exciting, revolutionary rock 'n' roll band in the world. I mention this because you could not possibly deduce that fact from the "Idol" Beatles salute Wednesday.
Bing: More about 'American Idol' | Video: Watch clips | Photos: See highlights
Heaven help us if what we saw in any way reflects the lasting legacy of the Beatles. The top 9 hit just about all the safest choices – "Let It Be," "Long and Winding Road," "Yesterday," "With a Little Help From My Friends." They leaned heavily on the McCartney (seven of nine), choosing his least-edgy material to boot. And of course they went for ballads (again, seven of nine, if you count the borderline "Eleanor Rigby" in the ballad camp). I swear, the producers could stage an AC/DC week and these singers would find a way to turn it all into ballads.
Turning to the actual events as they unfolded, the first bit of news was that Carly Rae Jepsen will attempt to alter her one-hit-wonder destiny by premiering a new song, "Take a Picture," on the "Idol" finale. While we wait, breathlessly, a Coke campaign will allow fans input on the song's final lyrics and staging, and will provide plenty of reminders (there were at least three mentions Wednesday).
The second bit of news was discouraging, as Aubrey Cleland won the national plebiscite to join the summer tour, leaving the much less predictable Charlie Askew in the cold. It was an ominous vote, signaling that fans want an added dose of conventional ballads to supplement the steady diet they're already assured of.
Finally, the contestants proper took over the spotlight, with Kree Harrison being saddled with the unlucky opening slot. To her credit, she sang a non-ballad, "With a Little Help From My Friends"; to her discredit, she did it in the over-familiar, over-dramatic Joe Cocker style (he was a past master at ruining a song forever; see also "The Letter"). That version risks the singer being drowned out at any moment by the corps of background vocalists (six, in this case), and it did happen at times, although Kree's ultra-powerful voice managed to withstand the challenge and wail. It seemed a disappointing beginning, all in all, but turned out to be, sadly, one of the highlights. The judges all loved it, scattering their usual superlatives. Oddest comment was Nicki's contention that it didn't sound like the original, which is technically true, because it sounded just like the Cocker version.
Burnell Taylor chose "Let It Be," which he said he'd never heard, which means he'd never seen "Idol," "The Voice" or "X Factor," on all of which the McCartney inspiro-ballad is a staple. It didn't really show; he sang this most exhausted of Beatles tunes competently – certainly not the worst version but pretty monotonous. Nicki, who got to lead off the commentary (the judges' speaking order rotated all evening, a smart production move), said he "caressed it like it was a newborn baby." Randy said he made it his own, Mariah thought it was "heartfelt" and "genuine," and Keith found it "soulful."
Amber Holcomb made probably the most interesting choice, though it wasn't exactly "Helter Skelter" or even "She Loves You." "She's Leaving Home," after all, is a ballad, but it's not one of the more commonly covered. She caressed it with numerous embellishments, some needless but more of them effective. But the judges were not entirely enthralled. Randy thought it started slow and unsure, while Mariah questioned whether Amber really knew it. Keith (launching a running joke for the night) said it was his favorite Beatles song and that she made it fresh, but Nicki, after praising the "unmatched" vocal, said Amber appeared uncomfortable with the song.
If Amber seemed uncomfortable, we need a much stronger word to describe Lazaro Arbos' relationship with "In My Life." Another ballad, of course, but again a little bit outside the utterly predictable lane. Lazaro drove it straight down the middle of the cabaret highway in a starkly forgettable version. The judges came down on him like a ton of brickbats. The only way the ultra-diplomatic Mariah could put a positive spin on it was to commend him for his "bravery" in doing a Beatles song, perhaps forgetting that the entire concept for the episode was for everyone to do a Beatles song. More perceptively, she thought the arrangement was too cluttered and the key was too low-pitched. Keith expanded on that point, while Nicki dwelled on Lazaro's newfound lack of confidence. Then Randy capped the assault by calling the performance Lazaro's "worst ever, out of tune from beginning to end." A visibly upset Lazaro teared up, which might not have been the worst thing he could have done under the ripe-for-sympathy circumstances.
It was up to Candice Glover, once again, to inject a little life into the proceedings, which she did. "Come Together," eccentric as it is lyrically (as Candice emphasized in pre-performance footage), is a predictable Beatles pick (four previous "Idol" versions), but she evoked Tina Turner (who also covered it, a few decades pre-"Idol") and overpowered the lines she didn't comprehend in an abstract exercise of soulfulness. Keith was enchanted by her "rock chick side," but the other three, while heaping praise on her vocals, each had tiny reservations, recognizing that this wasn't Candice's absolute best.
Paul Jolley's "Eleanor Rigby," on the other hand, may have been his best, at least until the end, when he started belting it like Broadway Boy again. The song choice could hardly be called adventurous, but like "In My Life," it strayed just far enough from the utterly predictable to pique a little interest. It did not meet with much judicial approval, however. Nicki called it "very safe, bland and forgettable." Randy thought Paul seemed disconnected from the song. Mariah liked the belting but urged him to convey as much emotion when singing softly, and Keith didn't like the falsetto ending.
Angie Miller wrenched the evening's tone back to the banal, choosing the most-covered Beatles song, "Yesterday." Jimmy Iovine advised her to keep it simple, so she delivered a version seemingly designed for a future episode of "VH1 Divas Salute the Beatles' Ballads," lavishing huge, inappropriate vocal flourishes on the song and turning it into a supper-club ordeal. Not a discouraging word from the judges, though – Randy even thought it was nicely "pulled back," and Mariah found it "respectful." Nicky was impressed by the high key Angie chose, but Keith thought she might have been slightly distracted by too much advice.
"Yesterday," for all its past covers, hasn't been overdone on TV singing contests, but "The Long and Winding Road" sure has. Devin Velez's attempt to add a little soul to it didn't contribute anything significant to a song that always sounds pretty much the same, and it was a disastrous choice for a singer who desperately needed to show he could sing something other than ballads. Mindful of his bottom-two finish last week, the judges were kind, especially Mariah, who never ceases to be amazed by Devin and his ability to sing "so many types of music" (as long as they're ballads). Nicki, who scored her second extended bleep from the Fox censors, was also entranced by how truthful and committed Devin was. Keith, on the other hand, felt an emotional connection was missing from the "laid-back" rendition, and Randy, though generally enthusiastic, warned Devin not to overuse his "R&B swagger."
Janelle Arthur, who sang early last week, was privileged to close the show, and it sounded as if it would be another sleeping pill. "I Will" isn't an extremely well-known McCartney song, but it's right in that "Let It Be"/"Long and Winding Road" pocket. But Janelle, incorporating a subtle country spin to keep the song from sounding too sickly, delivered her best vocal to date. Keith noted the country contribution, and Mariah thought it was elegant. Nicki called Janelle a "beautiful swan goddess" and celebrated her "subtle, angelic tone." Randy called it one of the best of the night. And, though it was as much because of the evening's overall mediocrity as Janelle's impressive treatment, he was right.
Ticket to ride: The combination of Janelle's prime position and a surprisingly sensitive vocal gave her a big status boost.
Help!: Lazaro will need tons of it from his fans after losing the patronage of the previously supportive judges. But sometimes an unexpected battering from the judges provokes the fans to rally behind endangered contestants in big numbers.
What did you think of Wednesday's episode? Connect and sound off on Facebook and Twitter
"American Idol" airs Wednesdays and Thursdays at 8 p.m. ET/PT on FOX.