'American Idol' auditions: Baton average .900
Louisiana supplies country and soul singers, judges are harmonious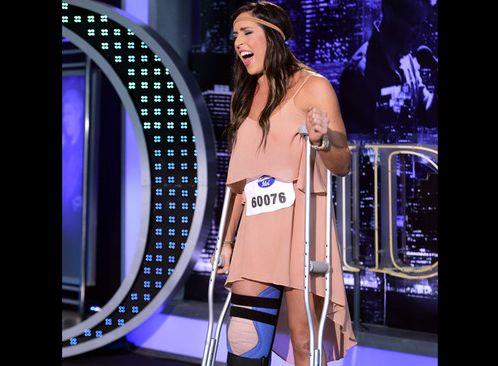 Coming through at crutch time: Megan Miller doesn't let a little thing like impending surgery keep her from her 'Idol' audition. Both the audition and the surgery (immediately afterward) were successful.
It's one of the most welcome events in any "American Idol" season: the first one-hour audition show. It eases the overload of singers, cuts down on the ludicrous stunt artists and reduces the filler the producers use to pad out the two-hour editions. This season it enabled the show (at least temporarily) to take the focus off the squabbling judges – who were quite well-behaved, apart from a grimace here and a sour expression there – and put it back where it belongs: on the "Idol" mission, finding standout singers.
Bing: More about 'American Idol' | Video: Watch clips | Photos: See highlights
And Baton Rouge, La., provided some, starting with Miss Baton Rouge herself, Megan Miller, on crutches owing to a recent accident but still able to belt Etta James' "Something's Got a Hold on Me" convincingly. Socially challenged Charlie Askew was loud and overbearing on Queen's "Breakthru," but sang Eden Ahbez's "Nature Boy" (left-field choice extraordinaire) sweetly and snagged the second golden ticket. (Should they have handed out red stickers instead, reflecting the English translation of Baton Rouge?)
Maddie Assel made it three in a row with an elaborate "Oh, Darling," one of those lesser Beatles songs that works well in auditions because its stark simplicity leaves a cappella vocals nowhere to hide. A montage of losers, including a gentleman in a chicken suit, restored a little balance, but Paul Jolley's sterling version of a dull Rascal Flatts song, "I Won't Let Go," captivated the panel once more.
It took the prodigiously strained efforts of Christopher Barthel, nicknamed "Mushroom" by moniker queen Nicki and proclaimed a "fun guy" (fungi, you know? Guess you had to be there) by Keith, to earn a full-audition no from the judges. He had Adam Lambert's vivacity on "If I Had You," but not a scrap of his talent.
"Idol" may need a ratings doctor more than any other kind of specialist, but the show got an actual MD, third-year resident Calvin Peters, who tackled the challenging Maxwell song (that's kind of a redundancy) "Whenever, Wherever, Whatever" with surgical skill. (And points to the producers for playing "I Don't Need No Doctor" under his exit; the musical beds were unusually clever Thursday.)
A quick combo of Michelle Montezeri singing Gloria Jones/Soft Cell's "Tainted Love," Breanna Steer coming from the deep left-field seats with Ann Peebles' "I Can't Stand the Rain," and Brandy Hoband performing nouveau audition favorite "Hell on Heels," by the Pistol Annies, added three more shiny tickets to the total. Dustin Watts kept the country theme going with Garth Brooks' "She's Every Woman," and dazzled every judge.
I'm not a fan of the producers attempting to overtly dictate a favorite, as they did when they had Ryan preview Burnell Taylor as a "game-changer," but the Katrina victim might well be. He fit the established show-closer mode (sad back story, top-notch voice) perfectly, crushing "I'm Here" from "The Color Purple" and becoming the last of 10 winners (out of 35 total) who got airtime during the hour.
Next stop Wednesday is San Antonio, but before that I'm going to spotlight a couple of the night's winners who have major advancement potential, and a couple who I think might be more likely to flame out early.
Prospect heights: Burnell Taylor for sure, but his ceiling will probably be a bit lower than last year's somewhat-similar Louisiana contender, Joshua Ledet. Also, look out for Megan Miller, who might be even stronger on two legs.
Short-haul of fame: It's hard to envision Scotty McCreery-level success for country singers Paul Jolley and especially Dustin Watts. But then Tate Stevens won "X Factor" in December, and these guys are his vocal equals and are younger to boot. But I'm not convinced they can match him for personality.
What did you think of Thursday's episode? Connect and sound off on Facebook and Twitter
"American Idol" airs Wednesdays and Thursdays at 8 p.m. ET/PT on FOX.