'Glee:' New directions for The New Directions
The glee club loses its rehearsal room and starts disbanding while Rachel and Kurt take on NYADA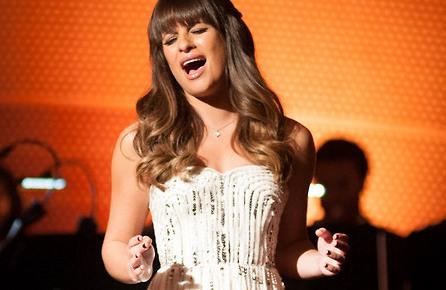 During last week's episode of "Glee," Rachel and Kurt celebrated Thanksgiving sans family in New York while the glee club competed in Sectionals. Because Marley hadn't been eating, she faints during the middle of their performance of "Gangnam Style."

Bing: More on 'Glee' | More on Whoopi Goldberg
This week's episode picks up exactly where they left off – Marley is carried to the music room with a panicked and concerned glee club behind her. As everyone struggles to find her a juice box, Santana accuses Kitty of turning Marley into a "rexi" and being a "crazy, evil bitch." Mr. Schuester encourages everyone to get back onstage before they are disqualified, but Sue saunters in and announces that the Warblers have already won the competition. It's the first time in New Directions history that they've lost Sectionals, and Marley erupts into tears.
In New York, Blaine has informed Kurt about the New Directions' loss.  Rachel wonders if she should call Finn, but decides against it. Kurt is currently focused on getting accepted into NYADA, and asks if Rachel has been given a "golden ticket" to perform in the Winter Showcase. Only ten students are invited each year by Carmen Tibideaux (Whoopi Goldberg), and go on to eventually win Tonys and Oscars. Rarely are freshman chosen, so it's a big surprise when Rachel receives a hand-delivered invitation.
Because the glee club's competition season ended with their loss at Sectionals, Sue commandeers the music room into a space for the cheerleaders, or "Sue du Soleil." She and Finn tussle over the Nationals trophy (both gripping an end of it), and head towards Principal Figgin's office. Will is also back in the principal's office, and unfortunately for the New Directions, Figgins confirms that there is no longer space for them to rehearse and Finn is forced to hand over the keys to the music room.
In Sue's office, she has a heart to heart with Becky and admits that she doesn't feel victorious but strangely empty inside. She's concerned about what could happen to the glee club with their dreams dashed: Tina would be a drug mule, Artie would sell his legs to science, Blaine would perform at bath houses and Brittany would be a finance major at Brandeis. Sue wishes there were something to relieve her guilt just as Piano Man walks in (he talks!) and thanks Sue for setting him free as he HATED the glee club kids.
In the music room, Will and Finn break the news to the group – no more glee club until next fall. Angry, Tina blames their loss on Marley and tells her she's no "new Rachel Berry." Finn reminds them it's not over because they have a holiday concert to prepare for. Kitty, Artie and Tina are against it since it will feel like a "pity party," but Finn encourages them to carry on as if this were their swan song until next year. Sam then wisely asks, "What about those of us who won't have a next year?"
Brittany finds a trail of cereal on the ground which leads to Sam holding a glass of milk. He brought her breakfast because it's Tuesday – Brittany forgets to eat breakfast on Tuesdays because the first few days of the week confuse her. Sam then confesses that he's into her because she understands him, Brittany admits she thinks Sam is awesome because his impressions are hilarious. Sam is disappointed he never got to do a love ballad with Brittany, so he cues up the band for a duet with her of C. Carson Parks' "Somethin' Stupid." They lean in to kiss but Brittany pulls away – she's nervous of the backlash from the lesbian blogging community.
In the dance room at NYADA, Rachel is still getting picked on by dance instructor Cassandra July (Kate Hudson). Cassie challenges Rachel to prove that her time hasn't been wasted on Rachel, and the two have a dance-off to Chicago's "All That Jazz." Rachel admits she's not as good of a dancer as Cassie, but is a better singer.  She decides to use her voice rather than her dance skills to win the Winter Showcase.
Later, Carmen gets paid a visit by Kurt in her office. He asks if she received his application for the next semester. Apparently his audition tape was an acoustic version of Wham's "Wake Me Up Before You Go-Go." Carmen acknowledges that Kurt has talent but shows no vulnerability or heart, and dismisses him.
Back at McKinley, the glee club members (without a glee club) have taken on other extracurricular activities – Blaine and Tina have joined the Cheerios while Artie is in the marching band. Ryder and Jake are on the basketball team, Wade joined the floor hockey team and Joe is part of the Interfaith Paintball League (where Christians, Muslims and Jews can shoot at each other safely).
The group confronts Finn about moving on: Tina insists it's the healthy thing to do. Finn is rightfully angry, telling Artie he looks ridiculous in his marching band outfit. He was able to procure a 9:54pm rehearsal time on Friday night, and Marley chimes in that she'll be there. Tina snarkily exclaims that they would all be there if Marley hadn't done a "face plant" during Sectionals, and the group disseminates except for Finn and Marley.
In the hallway, Brittany flirts with Sam, asking him to join her in a VIP booth at Breadsticks. She tells him that since Santana has left, Sam is the only person who can make her smile. Sam wonders about the angry lesbian bloggers, but Brittany reassures him that they will understand. The two kiss, and Sam does his best Forrest Gump impression which makes Brittany laugh.
In the NYADA auditorium, Carmen welcomes the audience to the Winter Showcase, emphasizing how special each of the performers is.  The first student begins with a ballet routine, while Rachel paces outside. Brody walks up with a cute pep talk about being "the best of the best," but Rachel is confident and says she's "got this." She kisses Brody, just as Kurt rushes down to meet them, announcing that Rachel is next.
Rachel is introduced to the stage, and appropriately belts out Barbra Streisand's "Being Good Isn't Good Enough" in typical Rachel Berry fashion. The crowd gives her a standing ovation, asking for an encore. She acquiesces with her favorite Christmas song, "O Holy Night." While she sings, we see Finn at McKinley sadly packing up the glee club trophies. The audience gives Rachel another standing ovation, and Carmen declares it was "superb" before informing Kurt that he will be performing next after the intermission.
What did you think of Rachel's performance? Tell us at MSN TV on Facebook and Twitter.
Kurt is expectedly astonished and freaking out. As he runs through possible numbers with Rachel, she encourages him to do "Being Alive" from "Company." Kurt is concerned he doesn't have his props or gold pants, but Rachel insists he doesn't need them and to dedicate the song to himself. He introduces himself on stage, acknowledging that he's auditioning for the role of "NYADA student." At the end of the performance, the crowd cheers as a tear trickles down Kurt's face.
Alone in his room, Finn receives a call from Rachel who wanted to hear his voice. Finn tells her that the glee club lost and everyone has given up, but Rachel tells him glee club isn't only about competing.  Finn then asks Rachel how she did with her competition. Rachel won! He's thrilled for her, and she tells him that even if the glee club never won, it's about the love of music, the camaraderie and the romances. She makes him promise not to let the glee club give up on their dreams, including his.
Marley arrives in the auditorium at 9:54 and tells Finn she's found a place for them to rehearse. Finn drafts an email to the club while "Don't You Forget About Me" plays in the background, hoping to inspire them with the news of Rachel winning the Winter Showcase. He then asks them all to meet him for rehearsal at 5pm after school.
We see that Marley's "secret rehearsal space" is outdoors, and it's snowing. She apologizes to Finn for being naïve, insecure and self-centered. Finn begins singing Crowded House's "Don't Dream It's Over" and is joined by Marley. Eventually, Tina and Blaine arrive, followed by Sam, Brittany, Artie, and the rest of the glee club.
In New York, Kurt has received his NYADA letter…and he got in! 
'Glee' airs Thursdays at 9 p.m. ET/PT on FOX.