'Girls': Father away
An unsupportive dad explains Jessa's personality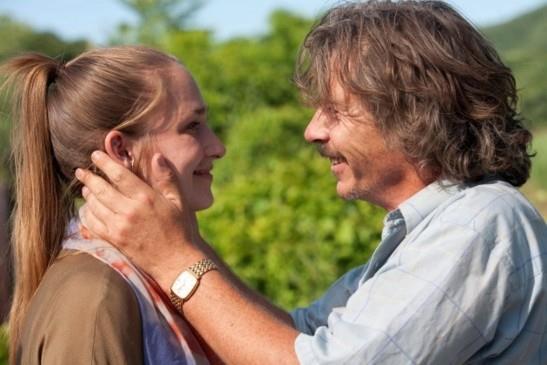 Some characters only seem complex until you learn their back story. In Sunday's episode, "Video Games," Hannah (Lena Dunham) and Jessa (Jemima Kirke) travel to Pougkeepsie to see Jessa's nearly estranged dad (Ben Mendelsohn). The guy is a passive-aggressive man-child who never reaches out to her. But the other day, he sent a text with random letters that Jessa interpreted was an invitation to visit instead of, as Hannah points out, a butt text.
Bing: 'Girls' | More on Lena Dunham
Jessa thinks her dad wants her to get along better with Petula (Rosanna Arquette). But what Jessa won't even admit to herself is that she needs consoling after her broken marriage, and closure on her daddy issues before starting anew with someone else. But once again, daddy doesn't deliver.
Petula -- who began dating Jessa's dad at the last rehab her dad attended, where she was the masseuse -- is happy to meet Hannah. She informs her that she was manifested by prayer as "cushion" between her and Jessa, who doesn't like Petula probably because she believes things like this. (If you don't get why she's called Petula, you need to brush up on the definition of "petulant.")
Hannah meets Frank (Nick Lashaway), Petra's adult child. She can't decide if he's a loser or "attractive in a loserly way." Frank's hunky friend drops by and invites Jessa out for the evening. But Jessa declines because she's there to see her father.
Oops, dad has plans because Jessa didn't call until the last moment. He can't get out of them, even though it's revealed that it's only a lecture. He explains that he's canceled on her six previous times, so how was he to know she would even show this time. He's resentful of her, too.

Want more TV? Like us on Facebook and follow us on Twitter.
Jessa rides with the hunky guy, Hannah is stuck with Frank as they inhale whip cream propellant in a convertible. Then Jessa covers Tyler's eyes as he drives. (Her suicidal edge has never been so evident.) Hannah orders the car stopped and gets out at a graveyard to freak. Frank kisses her and they do it. Eight seconds later, it's over. Later, Frank confronts Hannah for using him for sex. He admits that it was his second time. (The first was with a girl named, umm, Rihanna. Really?) Hannah also faces angst from Jessa for misinterpreting this adventure as a sexcapade.
Finally, Jessa confronts her dad. He has no idea how much time she's spent waiting for him, how painful it is that he left her and her mom so casually, and how he can't maintain a decent relationship with her.
"You think I can rely on you?" he asks.
"You shouldn't have to," she responds. "I'm the child! I'm the child!"
Dad apologizes and asks her to stay for a big meal of bangers and mash. (They're British.) He drops her and Hannah at a grocery store he can't enter because he's fighting with the manager. Then he doesn't pick them up because that's what he does. They eat the food themselves and walk back.
Back at the house, the apple falls right on the tree. Hannah finds a note, from Jessa, reading "See you around my love." At the train station, by herself, Hannah calls her own parents to thank them for being supportive and a fight begins over what she needs and what kind of mood she's in.
"Girls" airs Sundays at 9 p.m. ET/PT on HBO.