'Dexter': Strange bedfellows
Isaak makes nice with Dexter, who drives him to an early grave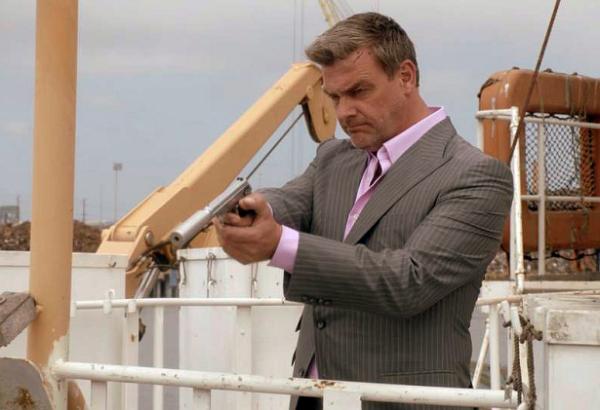 The Koshka Brotherhood sends two fresh killers after Isaak in "Helter Skelter," the episode airing last night. But their target does something unconventional. He shows up at his mortal enemy's apartment, asking for help staying alive.


"Even a man dangling from a clip will reach out a hand to his worst enemy," Isaak (Ray Stevenson) tells Dexter (Michael C. Hall).


Bing: More on "Dexter" | More on Michael C. Hall


Dexter is more predictable than Isaak, however. He refuses the offer. So Isaak makes it one he can't refuse. He has Hannah (Yvonne Strahovski) kidnapped. Under the watch of his bodyguard, Jurg (Andrew Kirsanov), she is kept chained to the floor of some vanquished enemy's apartment, where she is instructed to eat cereal and not watch any reality television. (No!)


Immediately, Dexter figures out that if he visits one of two area shooting ranges using the same ammunition as one of the assassins, then the guy will end up in the stall next to Dexter and can be easily killed with a knife in his back. (Damn, Dexter's good!)


Later, Dexter leads the other assassin back to the Koshka freighter, where Isaak waits for him in a different way than the assassin expected. After making the kill, however, Isaak suffers a mortal wound at the hand of that jerk George (Jason Gedrick).

Isaak's dying wish is to be buried alongside his beloved. So Dexter fires up the Slice of Life and takes them to the spot on the ocean where he dumped Viktor's body. Immediately and conveniently, Isaak dies.


What does that mean for Hannah's fate? Well, by this point, it's sealed. Jurg proves an unsuitable captor for Hannah. She convinces him to venture out to the garden to fetch green tomatoes for her to fry up. (Duh!) Being a regular toxic Julia Child, she fries them up with enough crushed red pepper to make him choke, whereupon she conks his bald noggin with a blender and he dies -- but not before he stabs her.


Surprisingly, it's Deb (Jennifer Carpenter) who shows up to save Hannah -- although you know she doesn't want to. (She claims she's just doing her job, but is she doing it for Dexter?) Deb warns her brother off Hannah for the umpteenth time: She is a killer. You will never be safe with her. Yada-yada-yada.

Want more TV? Like us on Facebook and follow us on Twitter.


Meantime, the crime scenes Dexter keeps getting called away from the action to investigate are beginning to display a pattern and obviously foretell his next victim. The Phantom, as he is dubbed, is an arsonist who enjoys standing at his kill sites, watching the flesh melt off his victims. Dexter already knows his identity, as do we. The screen time given a creepy new arson investigator is enough of a clue. But Fire Marshall Bill is already declaring victims suicides that Dexter knows are not.


Isaak and Dexter aren't the episode's only unlikely bedfellows. LaGuerta (Lauren Velez) pays a visit to Tom Matthews (Geoff Pierson), the former Metro commanding officer she forced into early retirement. It's about the Bay Harbor Butcher investigation she's personally reopening (and that will inevitably lead back to Dexter). Tom is on her list of Metro staffers with boats.


Tom knows secrets about the people on her list, for sure. However, he won't reveal them until she reinstates him -- at least long enough for him to get his pension bump. So she agrees.


And finally, the incest subplot has been trivialized -- almost to a comedic degree, which now gives it even a new way of seeming strange.

"It's OK, I understand," Dexter tells Deb, referencing the icky love she professed for him in the last episode. "It makes sense. It's logical -- like  the way I love M&Ms even though I know I shouldn't."

Huh?


Dexter even reassures Deb that "you're not crazy." And you know how much that means coming from a psychopath.


"Dexter" airs Sunday nights at 9 p.m. ET/PT on Showtime.