'American Idol' Las Vegas: Ballad hell
Guys provide a snooze fest, but judges remain on target picking winners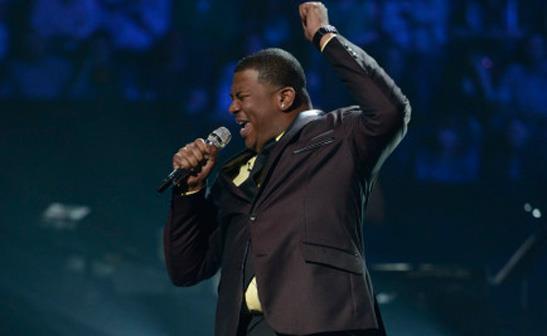 Finch's fervent finish: Curtis Finch Jr. was given the sweet spot (the finale) on Thursday's episode and dazzled the judges with his range and skill. Too bad about the boring song choice.
Pondering it some more, I think I figured out why I liked Wednesday's initial "Idol" Vegas sudden-death show so much. It was like a bonus episode of the finals, the real head-to-head competition, with the added instant gratification of same-evening results. Add open-choice repertoire (one of greatest strengths of "The Voice" is the way it avoids ill-conceived or overused theme nights), a chance to see the judges at work, and, well, what's not to like?
Bing: More about 'American Idol' | Video: Watch clips | Photos: See highlights
Thursday's show, for one thing. The format was still a winner, but the performances were, overall, less than stellar, and the songs stank up the joint. Any episode featuring 10 songs, eight of which were ballads, is a license for an unbridled nationwide outbreak of unplanned napping. It got to the point where you were lighting up with excitement for anything with a little tempo or a ghost of liveliness, even if it really wasn't that great.
Paul Jolley led things off with … if you guessed a ballad, you were in safe territory. He sang Keith Urban's "Tonight I Wanna Cry" (interesting that nobody's singing Mariah songs but Keith is getting plenty of tributes), a pretty drab song. Paul hit the big notes solidly enough, but if this is the kind of country he's planning to sing, he'll be a long-term drag. Keith liked his voice but thought he oversang it, Nicki more or less agreed, Randy liked his potential and Mariah went for the "intimate" first half (the part that wasn't oversung, in other, more direct words).
Johnny Keyser changed things up (not really) with another ballad, Jason Mraz's somewhat uncharacteristic "I Won't Give Up." Passable song, passable vocal, nothing to hear here. Keith thought it was Johnny's best, but Nicki emphasized his looks -- never a good sign. Randy thought it was just OK, while Mariah loved his commitment and overall sexiness.
The entertainment quotient of the episode was upped dramatically by JDA (aka Josh Jada Davila), who sported the evening's most fetching outfit, topped off by an oversized brooch and bottomed off with heels, and promising that if he sticks around, he'll be a drag as well. He sang Adele's "Rumor Has It" with drama, abundant dance moves and an adequate vocal. Keith praised his showmanship, originality and humility (that last one was sarcasm) but thought he was too studied. Nicki loathed the vocal but called him a superstar performer. Randy thought he didn't concentrate enough on the vocal, while Mariah thought it was all fantastic.
Kevin Harris, who may have been seen fleetingly in Hollywood, chose Bryan Adams' "(Everything I Do) I Do It for You," direct from the "Idol" cliché lending library, impressing with his high register but not with his song-picking abilities. Keith liked the song choice and said Kevin's "range is crazy" but harbored reservations about the big finish, glory notes and the whole basic concept. (Contestants, please take note.) Nicki also liked the song choice and the falsetto, but wasn't captivated by his personality. Randy was bored and thought it was karaoke; Mariah didn't like the song choice but said he was a born singer.
Otis Redding's "(Sittin' on) The Dock of the Bay" usually qualifies as a ballad, which would have brought the night's total to nine, but Chris Watson did it as a mid-tempo number, which was refreshing. The vocal itself was pleasant but not earth-shattering. Keith was not impressed; Nicki liked his "soulful, raspy" voice but not the song choice; Randy thought he didn't do anything with the song; Mariah thought the song was "surprising" and the vocal wasn't tiptop, but liked his audience connection.
Devin Velez bilingualized Beyoncé's "Listen," a tiresome "Dreamgirls" ballad, and the Spanish seemed like a good move. After a shaky start (in English) his big voice impressed, although, like just about everyone, he can't keep singing material this dull. Keith was enraptured by his voice, Nicki thought it was smart to sing in Spanish, Randy thought it was amazing and well-controlled, and Mariah also loved the Spanish but advised him not to critique himself during his performances -- a sound idea.
Our second previously unseen contestant, teenager Elijah Liu, picked Bruno Mars' "Talking to the Moon," which is, at least, a rather pleasant ballad. He sounded noticeably Bruno-esque, but that's a high standard to aspire to, and his falsetto in particular was shaky. Good to have a teen-pop voice in the mix, though. Keith thought the song choice was perfect and the vocal shaky. Nicki called him the "most marketable face and voice I've seen tonight." Randy decreed that it wasn't a great vocal and there were "no moments." Mariah was struck by his range and control and also deemed him marketable.
Eccentric Charlie Askew went for another ballad, but it was an older, less conventional one, Elton John's "Rocket Man." Overall, he was the most interesting performer and singer of the night; he strained his voice a little at times, but his smooth glide into falsetto orbit was impressive. Still, I worry that the singer who proclaims, "I glorify weirdness" may become annoying over time. Keith described him as what would have resulted had "Freddie Mercury had a love child out of Woodstock," and praised his fearlessness and originality. Nicki thought it was the night's smartest song choice and said Charlie's weirdness and awkwardness excited her. Randy had reservations but liked his originality and uncontrollable nature, while Mariah loved the song but wasn't thrilled with the vocal.
Keith chalked up his second cover of the night as Jimmy Smith sang "Rainin' on Sunday." Composer Radney Foster is a great songwriter, but this ballad isn't one of his best (memo to contestants: Keith has a bunch of excellent up-tempo songs in his catalog too), and the vocal was strictly average. Keith thought it was a really good job, but Nicki and Randy were a bit bored, and Mariah wasn't wowed by the vocal.
The prize final slot was given to Curtis Finch Jr., who elected to close the proceedings with a ballad, Luther Vandross' version of Leon Russell's "Superstar." Curtis probably has the best voice of tonight's cast, but his performance was strictly cabaret, deep vocals ranging up to a big, showy falsetto, sort of Joshua Ledet without the down-home charm. The judges were predictably ecstatic, although Keith did note that parts of the song were "over-performed." Mariah was moved to tears (or so she said; there was no visual evidence one way or the other), but she and Randy advised Curtis to loosen up and relax a little.
Once again, before the results were announced, I grouped the singers into yes or no categories based on my interpretation of the judges' comments. I may not have interpreted them entirely accurately this time. I had Jimmy, Chris and JDA as near-certain rejects, which they turned out to be, but also slotted Elijah in the negative group (with a question mark). I thought Curtis, Charlie and Devin were the most likely to go through, and they all did, but I thought Johnny probably had it made too, and listed Kevin and Paul as tentative "yes" men.
Kevin was sent home quickly, so I thought the battle for the final spot would be between Paul and Elijah. Elijah was up next, and was approved for further competition, so I thought Paul was history, but he came up rather swiftly and was revealed to be the first candidate on whom the judges had deadlocked. According to the rules, that meant Interscope chief exec Jimmy Iovine would make the decision, and after chiding Paul for singing the wrong song poorly, he gave him the thumbs-up.
That eventually brought matters to a final choice between Johnny and Devin, which, given the rapturous response Devin generated from the judges, didn't seem all that dramatic. And indeed it was Devin who was sent through.
Eliminated: Kevin Harris, JDA, Johnny Keyser, Jimmy Smith, Chris Watson.
Best performance: Curtis sang better, but Charlie was the only one to "Rocket."
Fortunate son: I thought Elijah deserved his yes vote, so Paul's overdramatic presentation and poor song choice qualify him for the luckiest winner of the night.
Back to the women Wednesday, and let's hope for a severe reduction in ballads.
What did you think of Thursday's episode? Connect and sound off on Facebook and Twitter
"American Idol" airs Wednesdays and Thursdays at 8 p.m. ET/PT on FOX.