'Glee': I Don't
The glee club prepares for Emma and Will's wedding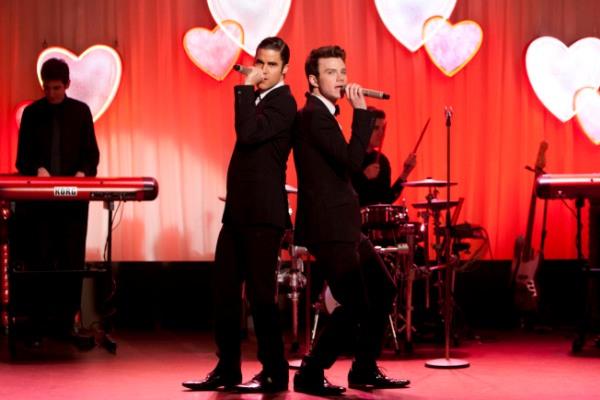 During last week's episode of "Glee," Finn and Emma prepared the glee club for Regionals with a lesson on channeling their inner divas, while in New York, Rachel and Kurt challenged each other to another sing-off. (Kurt won, much to Rachel's chagrin.)
Bing: 'Glee' | Cory Monteith
Happy Valentine's Day, Gleeks! Rachel has returned to Lima (sans Brody) for the Shuester/Pillsbury wedding, and while having coffee with Finn, he throws a bombshell on her: he kissed Miss Pillsbury! Rachel attempts to console him, but he's torn about what to do. She suggests that since he's always wanted to be an actor, he should "play the role of the supportive best man."
However, Finn is not satisfied with this response and goes to Emma's office for advice. She's a complete OCD-wreck, scrubbing and straightening. She apologizes for not having a pamphlet for him, and warns him not to say anything to Will about their kiss. As if on cue, Will comes into the office for Finn, but not before kissing his fiancee.
The pair arrive in the music room to applause from the glee club at Will's return. After thanking Finn for his leadership during Will's absence, Will reveals this week's assignment: WEDDING! Instead of giving a toast, Finn is asked to sing and the rest of the glee club will also be the wedding singers. (Surprise! Not really, nobody is surprised, especially not Tina.)
Out in the hall, Marley gives Jake an early Valentine's Day gift - handmade cufflinks made from typewriter keys. (So sweet!) After Marley dashes off to class, Jake looks like a deer in headlights - Ryder guesses correctly that Jake hasn't gotten her a gift yet. But not to fear! Jake's been brainstorming gift ideas with Puck who suggests that since Marley has an eating disorder, Jake can save money not taking her to dinner and buying her lingerie instead for a fashion show. (Because "chicks LOVE fashion!") Ryder, who's a smart guy, has a better idea: Jake needs to do something (or a lot of things) romantic, and make Valentine's Day into Valentine's WEEK.
Meanwhile, Finn has asked Rachel to help him with his wedding toast/song. Rachel suggests she sing with him, taking the lead (because it's always about her) while he sway in the background. Finn warns her that she might not be able to handle singing with him since they have such amazing "musical chemistry." Rachel admits that Finn's looking good (he's been dieting), and after an awkward moment, she takes charge to pick out a song.
During history class, Jake and Ryder have been in cahoots for Jake to serenade Marley (in matching red tuxedos, of course). With the glee boys providing backup vocals, Marley and Jake sing Marvin Gaye and Tammi Terrell's "You're All I Need To Get By." After the song, Marley says (self-servingly), "That was amazing! So romantic!" Ryder, however, looks peeved with Jake getting all the credit for his idea.
The big day has arrived and former Cheerios Santana and Quinn are sitting in a pew together in the chapel venting: Santana hates weddings and Valentine's Day, and Quinn hates men.
Artie rolls into the chapel and introduces himself to a girl in a wheelchair, Betty, Emma's niece. Emma has asked that Artie look out for her, but upon meeting Artie, Betty immediately dismisses him, telling him she doesn't date "losers in wheelchairs." Harsh!
Meanwhile, Jake presents Marley with flowers as Ryder looks on. Marley is excited to see peonies in the bouquet, wondering how Jake knew they were her favorite flowers. Ryder pipes in (since Jake has no idea) and says that Marley told them in the choir room and Jake must have remembered. A relieved Jake thanks Ryder who continues to look peeved. (Maybe him giving up Marley wasn't such a great idea after all?)
Out in the parking lot, Kurt and Blaine are fooling around in the back of a Prius. But this doesn't mean they're getting back together! As Blaine says, they're just "bros helping bros." Mercedes interrupts them as the wedding is about to start.
In the bridal suite, Emma is trying to calm her nerves when Sue walks in wearing the same exact wedding gown. Emma doesn't even raise an eyebrow because she's in the middle of a meltdown when Sue tells her that she's only doing this to get back at Will for giving up his teaching position to Finn. Emma is worried "this isn't going to work," and Sue confirms this by calling Emma a "weird bird lady with OCD" and Will a "weepy man child" with a 19-year old as his best friend.
Back in the chapel, it's a glee alumni reunion! Will begins to sing, "Getting Married Today" from the musical "Company," and Emma sing-rants back that she doesn't want to get married. At the end of the song, she jumps into a taxi and speeds away, unbeknownst to anybody. "Here Comes the Bride" starts playing, but it's Sue that walks down the aisle, not Emma! Nobody really freaks out when Sue meets Will at the altar and breaks the news: "Emma has left the building."
In the deserted church, Finn asks Will why Emma might have left Will at the altar. Will guesses it's because he didn't help with any of the wedding planning (still in the dark about Finn and Emma's kiss). Santana interrupts and asks Will what they should do about the reception since it's already been paid for. (Also, Emma's parents actually seem happy there was no marriage.) Will says the reception should go on, and leaves to look for Emma.
At the reception, Santana and Quinn flash their fake IDs to score some booze at the bar, then bond over being awesome bitches. Meanwhile, Jake tells Ryder he needs one more romantic move. He admits to not having any ideas (after a failed attempt at a poem), so Ryder hands him a boxed heart pendant. "It's pretty but not too expensive so she won't think you stole it." Jake is now confident that he'll get laid tonight. Ryder is concerned, he doesn't think Marley is ready, but Jake says he's in love and Marley is too. Ryder peevishly watches as Jake hands the pendant to Marley.
On stage, Blurt (Blaine and Kurt) start rocking out to Depeche Mode's "Just Can't Get Enough." Rachel approaches Finn, assuring him that it's not his fault Emma left Will at the altar. While they dance, Tina watches Blaine and Kurt with dagger eyes from the back of the room. Artie asks Betty for one dance, much to her disdain, and she finally acquiesces.
Tina builds up the courage to confront Kurt, telling him she doesn't like what he's doing to Blaine. Kurt finally tells Tina what we've all been thinking: she's a hag, she's hag'd out, she's in love with Blaine, it's creepy and STOP. Tina's mad at Kurt for abandoning Blaine while she's been there to nurse his broken heart and his cold. Kurt accuses her of "Vapo-raping" Blaine when she admits to rubbing Vapo-rub on his "muscled chest."
Sue takes the stage with Emma's bouquet, snarkily encouraging the single women to gather around for the bouquet toss. Aaaaaand...it's Rachel who catches it!
Finn tells Rachel she shouldn't be catching the bouquet since she's not single. While Rachel tries to explain her relationship status with Brody to Finn (it's "complicated" since they don't want any "labels"), Finn plucks the petals off a daisy, playing "she loves me, she loves me not." He accuses her of not wanting to commit to Brody (even though they now live together) because she's still in love with Finn. Finn throws down the gauntlet, declaring that he and Rachel belong together and will end up together. He leans in to kiss her, but she tells him they need to sing their duet. She walks away and Finn looks down at the last petal. She loves him!
While Rachel and Finn croon to Bob Seger's "We've Got Tonight." They eventually hold hands on stage and walk into a hotel room together. Blaine and Kurt disappear into one as well, as do Marley and Jake. A drunk Santana and Quinn pair off, and so do Betty and Artie.
After...Blaine asks Kurt to deny that they're not back together, Kurt nonchalantly tells Blaine he'll see him downstairs. Meanwhile, Quinn and Santana agree this was a "one time thing." (Okay, maybe a "two time thing.") In the next room, Betty and Artie have no idea how "good" it was, while Marley and Jake are the only ones with clothes still on.
Rachel left a sleeping Finn behind, and returns to her New York apartment to Brody who has bedazzled the place with Valentine's Day decorations. He realizes she's kissing differently and asks if she saw Finn. Because they're in an "open and modern" relationship, she tells him Finn is fine, then asks if Brody saw anybody while she was gone. Brody tells her he stayed at home watching weight lifting videos, but in actuality, we see him walking out of a hotel room with a wad of cash. (Oh??)
Back at McKinley, Tina apologizes to Kurt for verbally attacking him at the reception and for throwing herself at Blaine. They make up, inviting her to the movies. Tina self-deprecatingly calls herself "Hagatha Christie."
Marley finds Ryder in the halls, figuring out it was Ryder behind all the romantic moves, and thanks him for being Jake's Cyrano. She tells him that whomever he falls in love with will feel real to him, and he tells her it was already real. He grabs her for a kiss, and she pulls away.
In the teacher's lounge, Finn encourages Will to not give up on finding Emma, telling him she should be a Mrs. Schuester by now. He tells Will he'll be by his side taking the glee club to Nationals again as well, and they shake hands.
Back in the hall, Betty apologizes to Artie for being mean to him. He formally asks her out on a date, and the glee club starts singing Ellie Goulding's "Anything Could Happen." 
And it might! Rachel is frantically flipping through her datebook and the episode closes with a concerned look on her face holding a pregnancy test.
Do we think Rachel has a bun in the over? Tell us at MSN TV on Facebook and Twitter.
"Glee" returns with new episodes on Thursday, March 7 at 9/8c on FOX.