'Glee:' High school musical
Glee club members audition for roles in their next musical, 'Grease'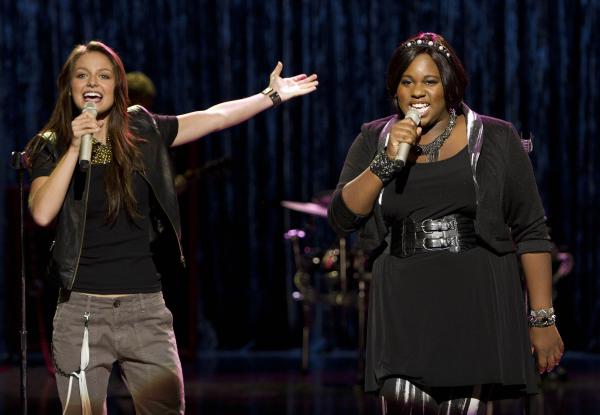 We last saw a slew of break-ups on "Glee" between Rachel and Finn, Blaine and Kurt and Kitty and Jake. Even things with Emma and Will are shaky since his acceptance to serve on a blue ribbon panel for arts and education will cause him to leave Ohio for a few months.
Bing: More on 'Glee' | Kevin McHale
This week's episode opens in a tire shop where Finn is working and Artie pays him a visit. Finn understandably feels like a big loser for being kicked out of the military and not having any direction in life. Artie proposes that Finn co-direct the high school musical with him, and threatens to quit if Finn doesn't join him.
At the high school, sign-ups for auditions are well underway. Blaine is devastated about his break-up with Kurt, so Sam tries to give him a pep talk. In response, Blaine wanders the high school thinking about Kurt and singing "Hopelessly Devoted to You" from "Grease." This becomes his audition song for the musical where we see both Artie and Finn in the auditorium as judges. Artie proclaims that Blaine would be the perfect lead as Danny Zuko, but Blaine tearfully declines as he can't play a romantic lead if he's heartbroken.
Finn tells Artie he thinks directing "is a bad idea" and walks away. Artie follows him in the hallway and tells him that he's "brought in the cavalry," just as Mercedes and Mike approach for a happy reunion.
Meanwhile, Emma and Will are arguing about his decision to leave for Washington and her refusal to accompany him. Will wants Emma's support, but Emma doesn't want to become the "dutiful 1950s housewife." Coach Beiste suggests that they "take a time out" and figure out "when to pass and when to punt." Will kneels in front of Emma and asks her as his "equal partner "to join him, and she agrees.
Back at the auditions, there are a number of girls trying out for the part of Sandy, but without Blaine, there are no viable options for Danny's role. Sam has his heart set on playing Kenickie, his cell phone ring tone is even "Grease Lightning," and Joe won't cut his dreadlocks. Finn suggests Puck's brother, Jake, but Artie says he's not interested.
Finn makes his way down to the football field to recruit for the male lead. He gets a pep talk from Coach Beiste who tells him he has a gift to "move people." After watching a player named Ryder break dance on the lawn, Finn sets his sights on him.
In the ladies' restroom, Wade barges in on Marley. He tells her he's not auditioning for the musical because he won't get the part he wants – Rizzo. Sue Sylvester interrupts with her usual snarky comments, and proclaims she won't allow Wade to create a "maelstrom" of gender confusion at the high school by auditioning for Rizzo. Marley defiantly states they're both auditioning, and they burst into an energetic rendition of Pink's "Blow Me (One Last Kiss)" on stage. The judges are impressed, but surprised when Wade tells them he wants the role of Rizzo.
Finn interrupts study hall to confront Ryder, who claims he has to study twice as hard to keep his grades up so he can stay on the football team. Finn is empathetic and tells Ryder to audition for glee club as a way to help with his grades. Ryder arrives at the auditorium and says he will dance, but not sing. Finn coaxes Ryder into singing and they both erupt into Foreigner's "Jukebox Hero."
In the hallway, Ryder introduces himself to Marley. As they flirtatiously chat, Jake jealously watches from his locker. Kitty approaches Jake and verbally assaults him, claiming that he had it coming for breaking up with her. Kitty then takes her insults out on Marley, and says she will also be trying out for the part of Sandy. Ryder tells her she's "kind of a bitch" to which she responds, "I'm single, by the way."
Kitty is signing up to audition and Jake asks her to sign him up, too – she knows he's only doing it to prevent Marley and Ryder from coupling up.  The pair auditions with a song and dance number to Neon Trees' "Everybody Talks." The judges are thrilled with their performance.
The judges are undecided about the lead roles and decide to do call-backs for Sandy and Danny. Finn decides to cast Wade (aka Unique) as Rizzo, just as Sue walks in and calls him to the principal's office. Sue goes on a tirade about Wade being cast as a female, while Principal Figgins is completely unaware that Unique is actually a male. Will and Finn make a case for cross-gendered casting, and Finn stands by his decision despite Sue's threats to make a big "public stink." In the heat of the moment, Finn hastily calls Sue's baby "retarded," and realizing his mistake, he starts to apologize as Sue stalks off.
In Emma's office, Coach Beiste warns Emma about lying to Will. She knows Emma doesn't want to go to Washington with him, but Emma refuses to get in the way of his dreams like his ex-wife did. Emma insists she will go, so Coach Beiste recommends that Emma finds something to do besides Will while they're in Washington.
Mike confronts Tina in the halls, and she is clearly angry at him since their break-up. She can't audition for the musical with him as the choreographer. He tells her not to waste her talent, but she walks away.
At call-backs, the judges want to see chemistry between the actors as well as their 1950s dance skills. Mercedes and Mike lead them in a rousing version of "Born to Hand Jive," and it's a glee-off between Kitty and Marley and Jake and Ryder.
Which audition did you like the best? Tell us on Facebook or follow us on Twitter. 

Finn sits down with Wade and offers him the part of Rizzo, despite Sue Sylvester's "meltdown." Wade tearfully confesses he doesn't know his place in society, and Finn tells him he has to brace himself for what may happen after he takes the stage as a woman.
The results of the auditions are posted: Brittany has landed "Cha Cha," Tina will be "Jan" (she must have auditioned after all), Sugar is "Frenchy," Joe is "Doody," Sam is (unsurprisingly) "Kenickie," Wade is "Rizzo," and Blaine will be "Teen Angel." Jake is disappointed to score the role of "Putzie," while Ryder successfully wins the part of "Danny." Lastly, Marley will be "Sandy," and Kitty is enraged to find out she will be playing "Patty Simcox." (After all, "Who the hell is Patty Simcox?")  
After one more verbal barrage from Kitty to Marley, Sue walks up to glance at the results sheet. She sees that Wade has been cast as Rizzo and gives Finn a death stare.
At Will and Emma's home, she's cooking up a storm much to Will's surprise. He asks her to tell him what she's thinking, and she blurts out that she doesn't want to go to Washington with him. She tells him she's spent three years wanting to be his wife, but has no idea what being a wife means. Will is disappointed but understands, and they compromise on visiting each other on weekends for the next few months.
Will returns to the music room and finds Finn working on the musical. Will tells him he's leaving his teaching position for a few months, and Finn is shocked that nobody would be leading the glee club. In response, Will tells Finn he has what it takes to lead the glee club and offers him the position. 
"Glee" airs on Thursdays at 9/8c on FOX.