'The Voice' top 3 perform: Cassadee makes her case
The last woman standing is the one to beat in Tuesday's season finale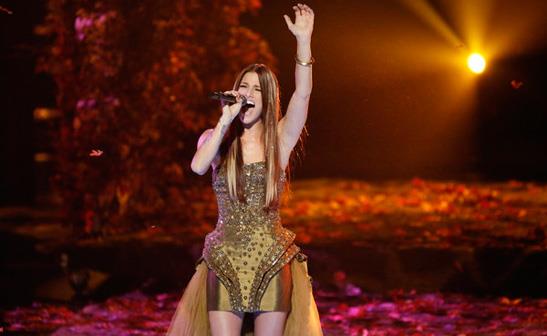 By John Kubicek
Four chairs, three singers, two coaches, one winner. Welcome to "The Voice" performance finale for Season 3: a 90-minute spectacle as Cassadee Pope, Nicholas David and Terry McDermott sing one last time for your phone calls, texts, iTunes downloads, carrier pigeons, smoke signals, semaphore votes, telepathic transmissions or walking up to your TV screen to lick the face of the person you want to win. I believe that covers all the different ways to vote this season.
Bing: 'The Voice' | Photos: See more action from Season 3

Will one of Blake Shelton's two remaining singers make him a repeat winner of "The Voice"? Or will Cee Lo Green capture the title for the first time before taking a break next season? More importantly, will Purrfect the cat or Lady the pink cockatoo make return appearances tonight or tomorrow? Let's find out together.
More: 'The Voice' on Buddy TV | Video: Watch clips and more
This is "The Voice"!

The episode begins in total seriousness, with a somber performance of "Hallelujah" by the coaches and contestants, all holding cards bearing the names and ages of the victims of the Newtown school shooting. It's absolutely beautiful and touching.
Wardrobe Watch
: Christina Aguilera is in a tiny top hat. Cee Lo Green still refuses to get dressed up. Maybe tomorrow.
The final three will all perform solo, as well as in duets with their coaches. They will also reprise their breakout performances from the season.
Nicholas David: "Great Balls of Fire" by Jerry Lewis and "Fire" by Jimi Hendrix
I guess Nicholas is hell-bent on proving that he actually can do an up-tempo song, even though they're always his greatest downfall. He starts at the piano, which is set on fire to go along with the theme. It's definitely better than "The Power of Love" or "September," but it's still not what we expect or want from him. It's silly and fun, and he dances like your uncle at a wedding. It was a shocking burst of energy, but is pure goofiness what you want from the most soulful singer on the show? The coaches are all happy that it was entertaining. I really don't think Cee Lo understands how to play the game as far as picking songs that will help his singers win.
Cassadee Pope: "Over You" by Miranda Lambert
It's a pleasure to listen to this song again. Tuesday I'll be posting my list of the best performances of the season, and this one is very, very high. It's a reminder of why Cassadee should and probably will win.
Terry McDermott and Blake Shelton: "Dude (Looks Like a Lady)" by Aerosmith
Blake invites Terry's family to his house. Terry's son is extra adorable, and the tears come when Terry's dad shows up, marking the first time the two have seen each other in four years. The duet is kind of a mess. Terry rocks out, but watching Blake trying to rock in a tie and vest is just preposterous; he looks like a high school social studies teacher doing karaoke. The two also seem to have some problems coordinating their singing. The best part may be a shirtless Adam Levine in a wig on guitar.
Nicholas David: "Lean on Me" by Bill Withers
This is much more what I expect from Nicholas: a soulful reprise of a classic song. Like Cassadee's reprise, it's inspirational and takes on a slightly different, more powerful meaning following the Newtown tragedy. At times like this, we really do all need somebody to lean on. Adam Levine thinks Nicholas looks like "principal of the School of Funky Stuff," a statement he follows up by adding, "That was the dumbest thing I've ever said in my life." Yes, it was. Stick to what you're good at, Adam: Shut up, put on your Anthony Kiedis wig and take your shirt off.
Terry McDermott: "Broken Wings" by Mr. Mister
He's singing this because it's his son's favorite song. Unfortunately, as I've said before, you should pick songs that are good for your voice, not ones that have personal meaning. It just doesn't quite fit him, and it's kind of rough in parts -- especially at the start, where something clearly went wrong. It got better as it went along, but there were still some issues.
Want more TV? Like us on Facebook and follow us on Twitter.
Cassadee Pope and Blake Shelton: "Steve McQueen" by Sheryl Crow
Blake hangs out at his house with Cassadee's very supportive mom, sister and boyfriend. This song definitely fits both singers, and Cassadee owns it, complete with a part where she sings into a megaphone. It's just some good, down-home country-rock fun -- though there's a noticeable lack of a shirtless Adam Levine in a wig. I was hoping that would be a recurring theme, and he'd appear in different wigs for each of the three duets.
Terry McDermott: "I Want to Know What Love Is" by Foreigner
There was no doubt this would be the song he'd sing again. Like Cassadee's "Over You," this one is going to be extremely high on my best performances list come Tuesday. This time around, the "big violin" (aka the cello) is replaced by several actual violins. It's just as deep and powerful as it was the first time, if not a little better. And it's about a million times better than his two other performances tonight.
Nicholas David and Cee Lo Green: "Play That Funky Music" by Wild Cherry
Nicholas' mom and dad seem like the world's most normal, average people, which is shocking to me: I was expecting some major-league hippies or something. The performance is definitely funkalicious, with ladies in cages and a Mini-Me version of Cee Lo. But it emphasizes everything wrong with Cee Lo as a coach. Rather than adapting his style to Nicholas (like Blake did with Terry), Cee Lo makes it all about himself. The moment the Mini-Cee Lo shows up to dance, he steals all the focus. Seriously, who was thinking about Nicholas after Mini-Cee appeared? This performance didn't feature Nicholas as the star at all.
Cassadee Pope: "Cry" by Faith Hill
The competition is over. You can spend two hours with me Tuesday night to enjoy some performances, but there will be no suspense when it comes to the results. With this masterful number, Cassadee Pope has just won Season 3 of "The Voice." This was the only new performance that came even remotely close to matching the greatness of the three songs that were reprised.
That does it for the performance finale of Season 3 of "The Voice." Tomorrow we'll find out the results (meaning Cassadee Pope winning) and get performances from a whole bunch of people, including Bruno Mars and the Killers. I'm hoping Avril Lavigne shows up to duet with Cassadee.
BuddyTV: A look back at favorite Cassadee Pope's journey to the finale
BuddyTV: Don't miss another episode! Keep up with your favorite shows, like "The Voice," using the BuddyTV Guide app!
"The Voice" live season finale airs Tuesday, Dec. 18 at 8 p.m. ET/PT on NBC.