'Nashville': No One Will Ever Love You Like I Do
Rayna and Juliette both take hits in the battle for Deacon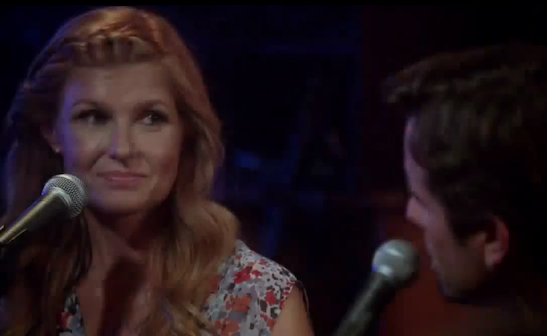 Rayna and her daughters hit traffic on the way to school. The commotion turned out to be 
about Juliette, who was shooting a video in Nashville's Music Circle. The diva vamped in a white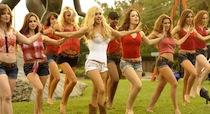 bustier and denim hot shorts as she performed her song "Telescope". Rayna wouldn't let her girls get out of the car to watch, but a pack of tweens stood by waiting for autographs. After signing a few, Juliette overheard someone on her crew ragging on her music, so she had him fired. She grumbled about being better than "pop music for preteens" and ordered her manager to do his part to get Deacon signed to her tour.
Bing: More about 'Nashville' | Watch clips and full episodes of 'Nashville'
Rayna, meanwhile, was still facing a failing album and low ticket sales and after telling her label head to kiss off, she wasn't getting much backup. But Watty had an idea. Gunnar and Scarlett's chemistry at their The Bluebird debut had reminded him of Rayna and Deacon in the old days. He suggested the two of them do an intimate tour and bring back that old magic, but Rayna reminded him that she and Deacon had been in love back then. 

When she shared the idea with her husband Teddy, he had the exact same reaction. Rayna wanted his support: The mayoral candidate wanted her support, as well. He listed a few events and mentioned the "vulnerability study," which was a preemptive background check the campaign wanted to do on them. She was not thrilled to give up her coveted privacy.

When Rayna got to work, Juliette was trying to lure Deacon into finishing off their song. The little diva then offered Rayna backhanded support for her "little... tour." Rayna countered it was for "people who love actual music." Before prancing out, Juliette reminded Deacon that her offer still stood. Rayna was flabbergasted by her nerve, but Deacon insisted he was just writing a song with her.
"Oh, I know where that leads - you and I used to write songs together, too, remember?" she snapped.
After a productive rehearsal, Rayna asked Deacon if he'd gotten an official offer from Juliette's tour yet. He insisted he was sticking with her, but as she drove away, she spotted him getting into Juliette's hot blue Chevy pickup.
Juliette took Deacon out to her gorgeous private land, which used to belong to Loretta Lynn. She made it clear she wanted more from life than doing whatever sells the most records. Then she unveiled a 1938 Martin 00-42 guitar. He was duly impressed, so she kissed him.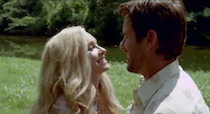 "This is not how songs get written," he said.
"Nah, this is what songs get written about," she countered.
By the time he and Juliette finished writing their song, "Undermine," Deacon wasn't just impressed: He was downright surprised by how good she was. Juliette tried again to lure him away from Rayna by saying he and Rayna were like an old married couple with "all the hassle and none of the benefits." Then she stripped and jumped into the water. Deacon followed, muttering that he was "a dead man."
In the city, Rayna apologized to her old friend Coleman for having to back her husband's campaign instead of his. He revealed Lamar had turned against him because he'd not only argued against her Daddy's idea to build a baseball field, but he'd done so in public. The lifelong friends parted on good terms, even though she was off to her hubby's fundraiser.

When Lamar had his own sit down with Coleman later, he wasn't as nice. He threatened Coleman, who shot that loyalty was a one-way street with Lamar and warned, "Whatever you give, you're going to get back."
At the fundraiser, Rayna tried unsuccessfully to make small talk with the wives. Then she jousted with her father about Coleman, the "vulnerability study" and whether she had something to hide - all the while, never losing her smile.
The next day, Rayna and Deacon were working out the stage set up for their tour when a hunky errand boy showed up with a gift from Juliette - it was the guitar, which the messenger suggested he get it insured for no less than $50,000.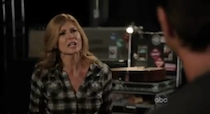 "What the hell is that?" Rayna asked, and a fight ensued.
Rayna accused Deacon of "running around with miss Sparkly Pants" while she prepared to tour music she hadn't played in a decade. He steamed that he's been playing those songs all this time at The Bluebird, but she hasn't bothered to come out and support him. She threatened that he was going to find out what it looks like when she doesn't have his back and stormed out. 
Juliette, meanwhile, was pacing with the phone in her hand, wondering why Deacon hadn't called to thank her. Her manager tried to distract her with an early cut of her video, but she hated it. She wanted Deacon to take her seriously and kicked her manager out.
While Juliette recorded a demo of the song she'd written with Deacon, Rayna faced her campaign inquisition. The questions were, of course, about her past with Deacon. The two had been serious for 11 years, but she'd turned to Teddy when Deacon's drug use got out of control. She broke up with Deacon when he went to rehab, which she paid for, and then she married Teddy while he was still there. She insisted there'd been no romantic relapse since rehab and excused herself.
Rayna told Teddy she wasn't onboard with his campaign, but she did want to see him happy. He agreed with sentiment, thus giving his blessing for the tour. 
The guys who vetted Rayna and Teddy, meanwhile, told Lamar their only concern was Teddy's bad real estate deal. During Teddy's inquisition, he revealed he'd never had an affair and then they'd rehashed his professional blow out, which saw him resign from the Music City Credit Union just before his big real estate deal fell through. He got defensive, insisting there was no connection, but the guys were suspicious. "I'd bet five to one there's something fishy in that old mess," one of them told Lamar. Lamar figured Teddy's secrets would make him easier to control. Teddy, meanwhile, was sipping whisky and burning papers in the fireplace.
Juliette showed up at Deacon's in a sexy blue convertible, baseball cap and jeans and handed him the demo of their song. She told him he couldn't return the guitar because she wanted him to play it on their track. 
"Something about you makes me want to grow up," she cooed as she sashayed back to her car.
Want more TV? Like us on Facebook and follow us on Twitter.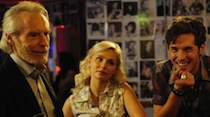 At The Bluebird, Watty offered to cut Gunnar and Scarlett's demo if they could put together two more songs. Before Scarlett could share her big news with Avery, however, he huffed about missing another chance at his big break, so she held back her news. 
When Gunnar tried to follow up with Scarlett later, she blew him off by inviting him to Avery's gig. They both showed up to cheer on Avery as he and his band rocked the song "A Twist of Barbwire." After the show, a fan recognized Juliette and Gunnar from The Bluebird instead of Avery. Even worse, the girl assumed Juliette and Gunnar were a couple. Avery wondered the same thing. She insisted they they were just making music and when she slipped about Watty's interest in them, she tried to play it down.

"Watty Wyatt discovered half this town, so take my word for it: It's not nothing," Avery sniffed, before congratulating her and skulking off.
Later, Scarlett tracked down Gunnar, who was performing "I'll Be There (If You Ever Want Me)" at a two bit motel with his super countrified band. She teased him for wearing fringe and then got serious, saying she wouldn't give up her life with Avery for a chance with Whatty. After seeing Deacon and Rayna perform together at The Bluebird, she agreed to make music, because their Bluebird duet was something else! 
During Deacon's regular set, he said he was calling up a "special friend" from the audience. Juliette glowed, thinking he was talking about her. But it was Rayna, who was the epitome of country casual in jeans and a flowered top.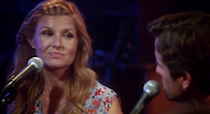 Juliette stewed as Rayna and Deacon bantered and then sang "No One Will Ever Love You" like no one else was in the room. Their chemistry sent Juliette running and left the former couple sitting in the car afterwards in a stunned silence.
"I wish we hadn't done that song," Rayna sighed, before going home to hug Teddy and tell him she loved him.
"Nashville" airs on Wednesday at 10 p.m. ET/PT on ABC.