'The Bachelor': And then there were 4
Sean makes two big moves as we narrow in on the hometown dates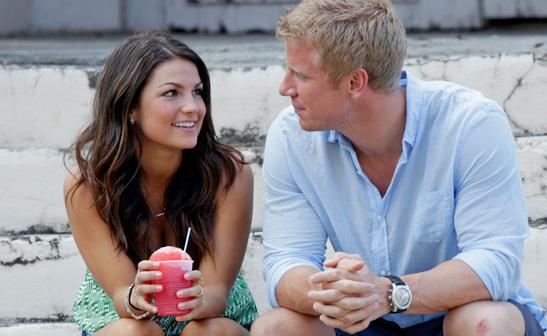 We're out of the Rockies -- and into the blue Caribbean, which means: bikinis for everyone. Specifically, we're in St. Croix, and we're getting "carried away" on our first date card -- which is all AshLee's. "Every time I'm with Sean I get carried away -- if not physically than emotionally," she says -- so hey, if nothing else, we know the right person got the right date. Tierra, obviously, is peeved that AshLee got the week's first one on one. Or just in general, about everything. She's particularly peeved that AshLee's 32. "When I'm 32, I want to be married with kids," says Tierra, who looks set to maintain her own record of saying something mean about every other woman on the show at every possible moment. 
But back to AshLee's date. They're on a catamaran. It's a pretty low-key date as far as these things go, except for AshLee's perhaps by-now inevitable dramatic revelation. This season has been chock-full of genuinely sad, dramatic revelations, from AshLee's adoption to Catherine's camp trauma. AshLee has an addendum: "All of these abandonment issues stem from the fact that my mom and dad didn't want me," she says. So at one point, she reveals over dinner, when she wasn't getting along with her parents, she did something really, really horrible. At least that's what Sean, or anyone else listening to this conversation would think, judging from her dire introduction to a final admission of a skeleton in the closet. AshLee's big secret? When she was 17, she got married. "It breaks my heart to tell you that and I'm crazy about you and I don't want poor mistakes in my past to affect our future," she says. AshLee is freaking out, y'all. Like seriously, hands-shaking, lip-trembling freaking out. "So you were a married high school junior?" Sean clarifies. It looks like he's actually cataloguing all the stuff that would have been one thousand times worse than what AshLee just told him. "That's ... young." Then he adds: "I thought you were going to tell me something terrible. I think you're perfect the way you are and I certainly don't view you as being broken. So take that out of your vocabulary." AshLee, as you can imagine, stops clenching every muscle in her body. They scream. Everyone's happy. She loves him and tells him that she hates Tierra. 
Speaking of, Tierra's up next -- unbelievably, given the amount of one-on-one time she seems to have snagged with Sean, on her first private date with him: "Let's explore our love on the streets of St. Croix," the card reads. Of course, this isn't to Tierra's liking: "I thought if I was to get a one-on-one -- I love boating and I love being on the water...." Lesley's take: "She's so miserable -- she's the most unhappy person I've ever come in contact with. I hate that bitch." 
Sean's slightly behind Lesley in his appraisal of Tierra: "Her smile can light up the room. [But] is Tierra the sweet girl I thought she was? Or the not so nice girl everyone says she is?" That will soon be revealed, but not until after Sean and Tierra have their shopping date in St. Croix, which looks extremely boring and involves buying some bad souvenirs. There seems to be fewer sparks between them than previously -- which makes Tierra suspect that someone (whose name rhymes with BashLee) spoke out of turn. Tierra tries to do some quick damage control. "I am falling for you, and I hope you know that, and I hope you go home tonight and really take that into consideration," she says. Sean asks if she wants to go swimming in the night sea, and Tierra says no -- an opportunity Courtney Robertson, for one, obviously never would have turned down. 
Next up is the group date. It's easy to forget how awkward this date is when we can talk about the two-on-one -- but in its own, harem-y way, this one is worse, because ostensibly these women are presumably still all in the running -- there's no cannon fodder on this date like on the two-on-one. 
We begin at 4:42 a.m., when Sean breaks into the women's apartment and surprises them with a pre-dawn, pre-makeup photo shoot. (They all look fine.) Blissfully low-maintenance Catherine says: "I just need to pee and I'm good to go." We drive out to the island's -- in fact, America's -- most easternmost point, where we watch the sunrise. We then take a road trip to a sugar mill, a cafe, a treehouse, and then a beach on the western side of the island -- for the sunset, obviously. Sean keeps talking about what a great road trip he's having, but the whole thing seems weird and strained, up to and including the point when Lindsay is the come-from-behind winner for the evening's rose, beating out Desiree -- who clearly thought she had successfully isolated him the rest of the day. "I didn't know if I should keep the girl in the wedding dress on the first night, and fast forward -- and I am crazy about the girl in the wedding dress." Score one for Lindsay. 
The week's last date is Lesley's. An early front-runner -- because she actually seems cool, smart, and funny -- Lesley has apparently fallen out of favor in Sean's eyes. "Our relationship is not where it needs to be at this point, and I need to figure out can we get there," Sean says. "Lesley exudes confidence in every area except our relationship." Of course, Lesley sees it differently: "I really am grateful for our natural progression," she says. Of course, a natural progression is not what anyone ordered on this show, so the bells of doom quietly begin chiming for Lesley as this date -- a walking and talking, do-very-little date -- moves forward. 
When we're finished with that decidedly milquetoast affair, Sean has a surprise for us: He's asked his sister Shea to come and help him sort things out. Specifically, he's thinking through her warning that a woman (read: Tierra) who can't get along with the other females (read: all of the female human race) is trouble. Little does he know this, but as he and Shea talk through it, Tierra is, at that very moment, getting into another massive fight with AshLee. "I just wanted to ask you if there was anything you wanted to say to me," Tierra asks her. AshLee is all, no, uh-uh, thanks so much. But then she tells Tierra that the real problem is her "character." "I'm a 24-year-old woman, you're 32 years old," Tierra yells back, repeating her favorite theme of the evening. "Men love me. I hope when I'm 32 years old, I'm married and I don't have to sit around with 20-year-olds, gossiping." Ugh. AshLee reminds Tierra about her unfriendly nature: the snide remarks, the raised eyebrows. "AshLee, that's my face! I can't help it! I'm not rude," Tierra says. Tierra reminds us that her parents said that she has "a sparkle and don't let those girls take your sparkle." Then she tells AshLee that she "can't control my eyebrows" or "what's on my face, 24-7." 
It's into this massive mess that Sean goes to fetch Tierra -- so she can meet his sister. But you can see it happen: Sean takes one look at the now-hysterically crying Tierra and just gives up. They talk briefly, he goes outside, and he returns to talk to her again. It's oh-ver. "It was not my intention to come here and upset you," he says. "I wanted to introduce you to my sister. I wanted her to meet you, but I know how emotionally taxing this has been for you. I'm crazy about you and I have been since the very first night and because i care so much about you, I think it might be best if you know you go home now." Tierra, obviously, is beyond furious: Tierra could basically set things on fire with her mind at this point. "Do you feel like saying goodbye to the girls?" he asks her, while everyone at home laughs. "Nobody will take that sparkle away," Tierra tells herself, as her minivan pulls away. 
Sean's completely had it -- so we basically skip all remaining tasks (oh, "Amazing Race" starts on Sunday?) and go straight to the rose ceremony, ditching the cocktails. Sean has had several moments of clarity -- and AshLee, for whatever reason, becomes (or at least seems to become) completely convinced, for no discernible reason, that she's about to go home. All of us, though, know differently. As for those roses? Lindsay already has one. Tonight's remaining three go first to Desiree, then to Catherine, and then to ... AshLee. Obviously. Lesley -- smart, savvy Lesley -- is going home. She seems to take her dismissal better than Catherine, who quickly falls apart even as she is smothered in hugs from Lindsay and Desiree. Why? Who knows. "If he doesn't want Lesley, I don't know what he wants right now -- this is extremely tough for me. My beliefs are shattered about what he wants." For her part, AshLee seems almost equally weird about the results: "I can't describe the overwhelming love that I have for him. This is my husband." Her adamant statement is made a bit weirder by the stalker-y music on the soundtrack. Basically, the only one who comes out of this rose ceremony looking good is Lindsay -- which is a pretty big accomplishment, judging by the fact that she was (as she and Sean keep reminding us) almost sent home on night #1. 
Next week, by the way, looks awesome. Hometown date fistfight, anyone?