'New Girl': A parking spot and a pee stain
Every roommate is searching for something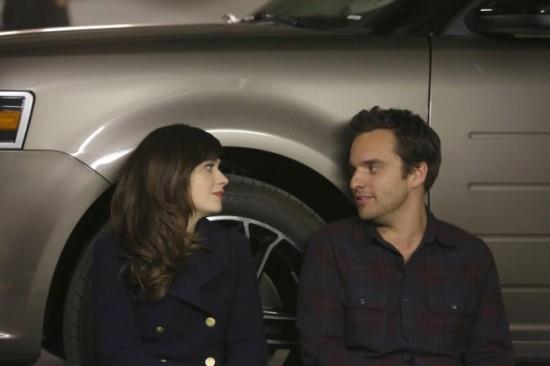 Much as I expected the big kiss to be swept under the rug, it just isn't happening. Not even close. While Jess and Nick brushed their teeth side-by-side convincing themselves, and each other, that they can't believe how nothing has changed, by the end of this week's episode they would be admitting something did, plus come fairly close to kissing again.
Bing: Lamorne Morris  | Brenda Song    
When Schmidt bursts into the bathroom to announce that he has discovered there is actually a parking spot for apartment 4D, Jess and Nick all but welcome the startling entrance, which results in Schmidt tearing the towel rack clear off the bathroom wall. A sit-down commences; who will get the spot? Schmidt believes it should go to him, especially since he is "on 24-hour grout watch." Nick thinks he deserves it since he pays for the Wi-Fi, which he pronounces "wiffy." Winston and Jess play the race and gender card, respectively.
But, once Winston is texted by his latest conquest, Daisy (Brenda Song), he is out of the apartment ... and running. What follows between the remaining three roommates is a staring contest, which Nick loses in record time. It being Nick, he shakes off the loss right then and there, but that's when he is informed that he is now officially the swing vote. "Destiny's a lady," Jess tells Schmidt, smirking. He accepts this, but adds that "victory has a penis," totally out-smirking her, per usual. If I'm not mistaken he cited Scott Caan as the man behind said quote. Even if I'm wrong, can you blame me for thinking the writers of this show capable of such a throwaway line?
Want more TV? Like us on Facebook or follow us on Twitter. 
While Jess and Schmidt both work Nick for his vote, Winston finds himself in his undies and without a condom. This leads to a riotous search for a prophylactic, culminating in a penniless Winston both shouting at a convenience store clerk to "throw a brother a loosie" and barging in on Cece, who lives close by, to see if she or her male caller have one to spare. He leaves armed and hella dangerous yet somehow can't find his way back to Daisy's apartment.  
Back within the walls of 4D Schmidt finally deduces that something has happened between Nick and Jess, just by the way they are interacting. "The stench of filth and lust is all over this room," he bemoans. But is the bemoaning because Nick didn't tell him about the kiss, or because Jess is now presumably the shoo-in for the parking space? Nick can't take the pressure and decides he wants the spot for himself, which leads to the three of them in an amazing race of their own – to see who can get their vehicle into the spot first. It is a three-way tie (two vehicles and Nick in a chair) and they each say they've got all night in them.
After a while Nick is starved and Schmidt has to pee. Nerves are frayed. Schmidt is going on about how the three male roommates all signed a "No Nail Oath," as far as Jess is concerned. Nick tells Jess he wishes he never kissed her. She responds by taking herself out of the race for the spot. Schmidt urges Nick to go after her, legs twisted beneath him, as he has clearly peed himself.
Nick catches Jess just as she is about to leave the apartment to feed fish sticks to the cats that surround her car on a daily basis and endeavors to clear up what he meant, which is basically not that he regrets the kiss, but moreover what it has done to them. She is still so insulted by the "No Nail Oath" that when Nick tells her it was his idea because he didn't think he could stay away from her they almost kiss again. Enter a soaked Schmidt who proceeds to recite the document he, Nick, and Winston all signed. He then suggests him kissing Jess might make things even, or in some twisted way just make things right again. This makes sense to them all somehow and the worst TV kiss in history results.
As Winston busts in on the lip-lock, he can only be aghast at the fact that he didn't make it happen with Daisy and it appears as if everyone else was getting some. Just when I thought Jess would now plant a kiss on Winston, too, he instead gets what was really his due: the coveted space.
 "New Girl" airs Tuesdays at 9 p.m. ET/PT on FOX.