'New Girl': An ending from left field!
Jess derails a boy's night out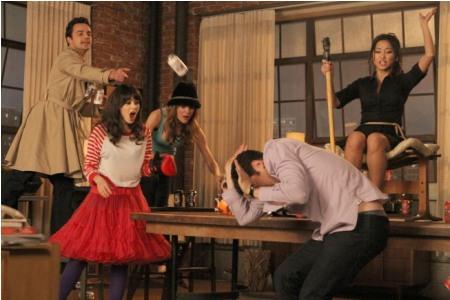 It all begins with a trench coat. Sure, it was delivered to the loft by mistake, and it's for a woman, but Nick takes a shine to it just the same. No one else can understand his fascination with it, which, on some level, surely makes Mr. Miller even fonder of it. Even Schmidt, fresh from some alone time in his bedroom where he simply cannot make anything happen  – lamenting, "I just don't do it for me anymore" – is confounded by the coat. That doesn't stop him from demanding a night out on the town due to his dry spell, trench coat be damned. Everyone is in, including Jess. Until she's out, that is. See, while Jess declares herself "the best wing-woman," Nick must break it to her that she is actually a "cooler," in inadvertent you-know-what-block. He cites examples; she concurs, staying home.
Bing: Brooklyn Decker | Brenda Song    
By the time the guys are kicked out of what Schmidt refers to as a disco Jess is outrageously bored back at the loft, with a Nick dummy having been drummed up, a melon for the head. She dances for it, runs around the loft in various stages of undress, all until she hears a scratching at the door that frightens her. She calls Cece repeatedly, but cannot get her. Same with Sam.
At their tried-and-true watering hole, Schmidt, Nick, and Winston scramble for sex. Winston, interestingly, stumbles upon who looks to be a keeper, a clever, snarky gal named Daisy (former child star Brenda Song). Schmidt and Nick are vying for the attention of the over-heated Holly (Brooklyn Decker), a girl who is sexually aroused by other people's misery. Nick takes the lead; when she assesses him as someone who hates himself he jumps at the diagnosis, saying he definitely doesn't like himself and that, yes, it borders on hate. Enter "The Cooler."
Want more TV? Like us on Facebook and follow us on Twitter.
Jess gets Nick on the phone and manages to talk him to hightailing it back to the loft to save her. They all go back, girls included. What else can Jess do now but come up with a rousing game of "True American," that results in some chugging of alcohol and much stripping – especially Holly. Even so, somehow it is Jess and Nick who wind up in a "7 Minutes in Heaven" scenario, where only some deep kissing can set them free. Nick can hear Schmidt seizing the moment, assuring Holly he is, in fact, the sadder of the two, while Nick shouts from behind a locked door that Schmidt has a 401K and a 6-pack while he is, sadly, "furry and chubby." To no avail, as Schmidt lands the lip-lock, with his Cece sob story, of all things.
Cece walks in on the kiss, as she retrieves Jess's many frantic messages after watching a movie with a would-be suitor who also happens to be a cry-baby with low self-esteem. Schmidt begs Cece to confirm their story for a suspicious Holly, and Cece does so, just so Schmidt can get some. It is a bittersweet scene and, moreover, the lead-in to a scene ten times as touching. But, first things first.
Nick can't bring himself to kiss Jess, even after Sam, too, shows up, having gotten Jess's messages, subsequently joining everyone else in their chanting of "Kiss, kiss, kiss!" Winston gets his, from Daisy, but an increasingly frustrated Nick finally breaks. "Not like this!" he shouts, which silences Jess, her wide eyes asking the question everyone watching the episode is asking at this point: Like what then? You've actually pictured how a kiss would happen? (Okay, that's two questions.)
Ultimately, Nick climbs out the window to get out of it and Sam whisks Jess into her bedroom. Later, the same sound that caused Jess's initial panic recurs, causing both Jess and Nick to meet in the foyer, Nick still clad in the trench coat, apparently sleeping in it. They open the door to discover it's a dog. The owner comes running after him, a woman who recognizes the coat as something she has been waiting for in the mail. In short, Nick loses both the coat and the girl.
But, you see, he doesn't. He abruptly grabs Jess after closing the door on their new neighbor and plants a kiss well worth waiting for on her. Afterwards, as every fan of this show's jaw remains dropped, he says two words: "Like that." He goes back to bed, leaving Jess stunned, while Sam steps out in the hall to get rid of the Nick dummy with the melon for the head because it freaks him out. The credits roll over the abandoned dummy.
Where on Earth can they go from here? My guess: Jess and Nick will blow it off next week, chalk it up to late-night delirium and trench coat loss. But we all know better.
 "New Girl" airs Tuesdays at 9 p.m. ET/PT on FOX.