'Grimm': Hank's 7-year itch
Revisiting an old case while Renard and Juliette inch towards ... something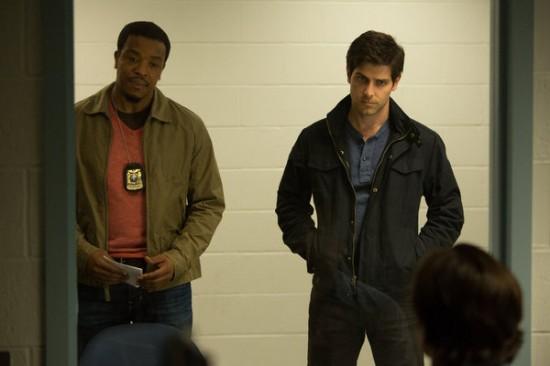 With only one episode to go in 2012 I can only hope we get even the slightest bit of resolution as far as the Renard/Juliette "Prince Alarming" storyline is concerned next week. Alas, the second-to-last episode of the year focused on Hank rethinking an old case now that he's hip to all things Grimm & Wesen.
Bing: Griffin Russell Hornsby  | Jason Gedrick
Seven years ago Hank arrested an Iraq vet named Craig Ferren (played by the always reliable Jason Gedrick) after considerable bloodshed and Fessen going on about two brothers having "teeth like needles and yellow eyes." Post-traumatic stress, no? It still landed the guy on death row, with the looming execution nagging at Hank, especially as he is now acutely aware of the fact that the very creatures Ferren described not only do indeed exist, but actually walk among us daily, particularly in Portland.
With Nick on board, Hank and his Grimm do some research and come up with something called a Windigo, a creature circa 1759 and certainly fitting the bill. But, how to free Ferren? In fact, thanks to Hank's revelation and subsequent prison visit, Ferren is reliving the night two Windigo eschewed paying him for some plumbing work and instead tried to feed on him and is breaking some very real sweats in his tiny cell.
Want more TV? Like us on Facebook and follow us on Twitter.
Ferren's plight dominated the episode and I can't say that I was happy about this. A throwaway scene wherein Renard is bedridden, fighting off becoming whatever it is he is becoming, and Juliette confiding in a friend that she has feelings for another, felt an awful lot like a dangling carrot. Plus, Monroe still manning Rosalee's spice shop and pledging to help Renard get "de-obsessified" (whatever that is!) only added to the "give me/us something" fervor. Maybe, hopefully, next week.
Meantime, back at the case: Ferren is a dead man walking while his wife looks on in horror. Hank has zeroed in on a Windigo relative of the deceased as the proverbial clock is ticking, with Nick in tow. They've discovered numerous bodies buried beneath where the Ferren bloodletting took place lo those seven years ago, and a last minute stay of execution plea from Nick gets through, but not before he's attacked by a Windigo himself. Now, keep in mind, the guy's head can't be that much in the game since his beloved Juliette had just given him what was basically a preliminary "we have to talk" talk hours earlier. When Nick finds out it's his boss playing speed bump to him getting back together with the love of his life there are going to be fireworks aplenty. Will we have to wait until next year? Sadly, it looks that way.
A gripping, impeccably-choreogra​phed fistfight caps every episode of "Grimm" and this one was no different, only to end with Hank emptying a round into the Windigo after Nick punched him right through a window. Portland's Governor called off Ferren's execution shortly thereafter, no explanation involving Windigos required.
"Did you see what I saw?" Ferren asked Hank afterwards, with Hank deftly avoiding answering. "You did," Ferren added, satisfaction etched on his face, a palpable relief.
Then, cue Renard and Juliette at Rosalee's spice shop. Monroe's expression, and reaction, upon seeing Nick's quasi-fiancee clearly echoed the fans: "Oh boy" were the final words uettered in the episode, the final shot Monroe's stunned expression.
This second-to-last episode to the Fall season began partially with the crawl, "The beast was simply the Call of the Wild personified" (every episode, as fans know, kicks off with a quote of some sort); but was it intended for Ferren, his "victims" ... or Renard?     
 "Grimm" airs Fridays at 9 p.m. ET/PT on NBC.