'The Vampire Diaries': When mourning comes
Silas is on the loose, but Elena and the gang battle some bigger demons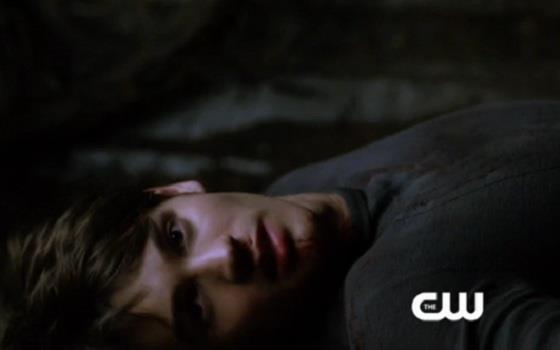 Last week on "The Vampire Diaries," the race for the cure came to a screeching halt as Elena's look-alike, Katherine, randomly appeared over Silas's crypt and sacrificed someone to awake the long-buried mummy – and that someone happened to be Jeremy.

Witchy Bonnie watched in hour as his cold, lifeless body fell to the floor, and that's when Elena finally arrived to cradle her brother in her arms, trying to revive him. And the cure? Well, that was long gone.
Bing: "The Vampire Diaries" | "The Originals" 
This week, we learned that Jeremy was indeed wearing his no-kill ring, the one Bonnie had crafted for him when they'd first learned there were vampire is in Mystic Falls and she was a witch. But I don't know. There just seemed to be something so permanent about the way he flopped to the ground, the deadness in his eyes. The brothers Salvatore didn't seem uber-optimistic either. Which can't mean good news right? "Jeremy was one of the five," Stefan told Damon. "A hunter." And Damon knew what that meant: "He's supernatural. The ring won't work."
Back at the Gilbert house, Caroline was scrubbing the floor, trying to get the burn mark from where Kol died out. But she forgot all about that when she saw Stefan come in carrying Jeremy, who still looked very dead. Elena sat vigil by his side.
Damon, still on the island at camp, was aware of someone, something, watching him. That's when Rebekah showed up. He told her that Katherine took the cure. And killed Jeremy. And that Bonnie was missing. "And beware of the immortal Silas. He was asleep in that cave. But he's awake now." Minutes later, they were attacked by that other vampire hunter, Galen. But Damon knocked him out. Holding a knife to his throat, he asked Galen what he knew. Rebekah appeared and reminded Damon that they couldn't kill him. But they could tear him apart, piece by piece. Then cure him, and do it again. Until he told them what he knew. So he might as well. He said that he'd been tracking, trying to get to Silas, when Katherine found him. She already knew about Silas – she'd learned about it from Hayley. In New Orleans.
Bonnie awoke on a bed of hay, alone in the woods. A fire by her side. Shane appeared. "It was Silas, Bonnie, he helped me. You did it, Bonnie. He's risen." She rebelled against this news, and the idea that Silas would help all those sacrificed. But when Shane told her that Jeremy was dead, that Silas had drained him, she was speechless. Then she cried, and the fire flared. "Silas needs you," Shane said. "And you're going to help him. And then you're going to see Jeremy again." They walked, trying to find the way home. Shane told him that Silas was back, but he couldn't do magic – he could be witch or vampire, but not both. That's why Bonnie was key: she needed to tap into the power of the three massacres via expression. Wait, three? There were only two. "You and I are going to complete the third massacre," Shane said. "But it's okay. They're going to come back." He told her it would mean she could see Jeremy again. And her Grams. Bonnie ran. But she tripped over something. Jeremy. Bloody and dying. She said she could help him. But he disappeared. "He needs your help," Shane said. And she said she'd do whatever it takes.
At the house, Elena heard Stefan and Caroline assessing just how far gone she was – sitting in silence, holding her vigil. "I'm not in denial," she told them. "I know that he's supernatural. But did you see? His tattoo is gone. Maybe that means he's not supernatural. Maybe there's a chance. There's hope. There's absolutely no way that my brother's dead."
Minutes later, Caroline called Tyler. She didn't know where he was, but she needed to talk to him. And he was on the run from Klaus, as was Katherine. No chance of finding her. So Caroline said she'd busy herself with calling people and making casseroles. But then they smelled it. "It's his body," Stefan said. "He's starting to decompose."
Want more "Vampire Diaries"? Check out our episode guide. 
Meredith Fell arrived to examine the body. As Elena babbled on about Jeremy's previous deaths and how he'd revived, Meredith looked sad. Then she told Elena, very carefully, that Jeremy died of extreme blood loss, and his neck was broken. His muscles had tightened past the stage of rigor mortis. They needed to prepare the body for the funeral. But Elena was in denial. "He's not dead," she said repeatedly, finally jumping forward to attack Meredith. "There is no science here. It's magical. We need magic. We need to find Bonnie. Bonnie can fix this." That's when Matt arrived. And he looked at Jeremy, and he broke down. "Matt, it's fine, it's okay, Bonnie will be here soon, and she'll fix everything. And it will be fine."
Elena finally started being a bit more coherent when Matt sat down with her for tea. She told him Bonnie was missing, that Damon was off looking for her. "Doesn't Damon hate her?" She said he didn't hate her. "I think he actually kind of loves her." Damon logic, they both agreed. Matt asked Elena to go with him. They ended up at the stoner pit. He showed her this wall of graffiti. On the wall was a name: "Vicki." His sister. Long dead. And another scrawl – Jeremy's initials and Vicki's. "After they found Vick's body, things didn't feel over. There was no possible way she was gone forever. And then she wasn't." He said that maybe not accepting Jeremy was gone probably meant he wasn't gone. "It's okay to have hope. Because sometimes that's all that keeps me going."
Want more TV? Like us on Facebook or follow us on Twitter. 
Stefan and Meredith sat, as Jeremy continued to decompose, and talked about death. "Sometimes I think the denial is the worst part for people like us," she said. "We know the truth. We can see the collision course they're on, and all we can do is brace ourselves for impact."

Damon called. He hadn't found Bonnie. But he was needed at home. "I can't go back without Bonnie," he lamented. Then he turned around, and there she was. "I could actually hug you right now," he said. Then did. She gave him a look, coy, odd. "Shane told me what to do Damon. I can bring Jeremy back."

Stefan called. He said Damon had found Bonnie. And that there was a way. There might be something.
Rebekah dragged Galen back to the cave, and he warned her, if he found the cure, to use it to kill Silas. But she said that was his plan, not hers. He told her she'd better be careful. He was up there, and he was hunting. "How do you hide from the devil when you don't know what he looks like? Who knows. Maybe I'm him. Mark my words, if you don't use the cure to kill him, it doesn't matter if you're human or vampire, you're dead." As Rebekah walked away, leaving him behind, he reminded her, "You've all brought this on yourselves. May you rot in it!" 
Caroline was calling Tyler again, babbling, when Damon and Bonnie arrived. Damon immediately told Stefan Bonnie was out of her mind. About the massacre. And Shane's brainwashing. How, as Kasia's descendant, she could "drop the veil" between this side and the other side. Bonnie told Matt and Elena the same thing, but she made it sound way more hopeful. "There will be no other side," she told them. She could bring back everyone they'd lost.
Caroline said Bonnie was talking like a crazy person. "You are not killing 12 people," she said. "And you sure as hell invite every monster who's ever died back into this world." As they shouted, something clicked in Elena's head. And the phone rang. "I'll get it," she said. It was April Young. Looking for Jeremy. She told April: "I'm sorry. He's dead."

She went upstairs, where Jeremy's body still lay. Damon followed. "He's dead," she said. "He's dead. And he's been dead this entire time. I can smell him. How long has he smelled like that?" Damon said he could help. "How are you going to help me? How?" She asked Damon to carry him downstairs. She told Damon to put Jeremy on the sofa. She took a can of oil and started spraying it around the house. "We're going to have to do this the old-fashioned way," she said, confusing them all. "We need a cover story. So we'll burn the house down with him inside of it."
She told them: "This is the truth, Stefan. I don't want to live here anymore." She told them their loved ones weren't coming back. She told them there was nothing there for her anymore. "Every inch of this house is filled with memories of the people I loved that have died. There's nothing left for me here." That's when she finally broke down in tears. "Please make it stop, please make it stop." But it was Damon who had to help her. "Let me help you," he said. "Turn it off. Just turn it off. And everything will go away. That's what you have to do. What I want you to do. Turn it off." And so she did.
Caroline called Tyler. Again. This time she left a message. "Jeremy's dead." She thought he would call and she could tell him, but he didn't. "I need you. There's no way yesterday was the last time I'm ever going to see you or talk to you. So just call me, Tyler. Please."
Plus: Love is on the air -- real-life TV couples! | TV's It Girls

As Matt drove her home, Bonnie told him it would be okay. She'd bring Jeremy back. Shane was waiting at her house. "They don't think that I can do it." Then she asked him a question: the supernatural dead would return. But what about the humans sacrificed? The 12 people from the Young farm? He said they were a necessary sacrifice, for the greater good, they'd passed on, they found peace. "We'll do this together, you and I. We are the beginning."

In the dark, on the island, Rebekah was still combing through the woods, finally finding shore. Near the boat, she found a body. Turning it over, she discovered it was Shane. Dead. But then he grabbed her leg. "Silas," he said.
Later, Matt sat in his car. Crying. Mourning. All his losses. 
And Elena picked up that cracked picture frame, a smiling photo of herself and her little brother. "It was a mistake, her humanity, Damon, it was the only thing she had left." Damon said, "Humanity means nothing when you have nothing left to care about." To which Stefan replied: "She had you." Damon said: "She lost her brother. I'm not enough. Not this time." Stefan said he knew they'd had their differences, especially when it came to Elena. But he wanted Damon to know…. He didn't have to say it. "I know, Stefan."
In the living room, Elena lit a match. The brothers Salvatore came into the room, told her not to do it. "We can find another cover story," Stefan said. "If you burn down the house, it will be gone. What if one day, when this is all over, you want to come home again?" To which she replied, dropping the lit match, as the house began to burn, "I won't." And they walked away, leaving Jeremy behind.
"The Vampire Diaries" airs Thursdays at 8 p.m. ET/PT on the CW. 
Are you sure you want to delete this comment?