'New Girl': Nick's father makes a surprise visit
While Schmidt and Robby team up for a cause: Cece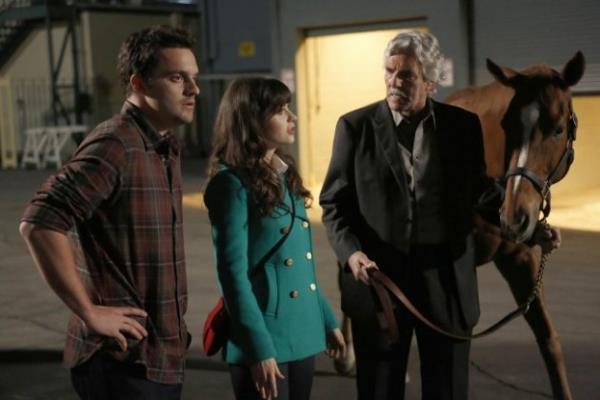 It started so innocently with the roomies gathered around the table playing a curious and fairly juvenile game involving a blindfold and Nick fishing his hand around inside a coffee mug, trying to guess what is in it (mistakenly, I might add). And then, his ne'er do well father shows up unexpectedly. It takes elder Miller about three minutes longer to charm Jess than it does for Nick to guess accurately what it is in the mug (a tampon wrapped in something and then dunked in something -- seriously, does it matter?).
Bing: Dennis Farina  | Other "New Girl" Parents    
Nick is not a fan of his dad, Walt Miller (played by the always-reliable Dennis Farina) and is surprised at his arrival. Winston, on the other hand, who has remained enamored with "Pop-Pop" since you, much to Nick's chagrin, is excited. Turns out, Walt is a hapless con man who once gave the boys a box of hats to sell, but Chicago Bills was, unfortunately, misspelled. Nick is so peeved at his father's impromptu visit, wherein Walt instructs him to sleep on the couch while he takes his bed. Schmidt, meanwhile, knows Nick will "angry fix" the sink even before he stomps into the kitchen to do just that. Then it's off to bar, where Walt regales the gang with tales involving his son's little penis, and, ultimately, the race track.
It's there that Schmidt runs into Cece's ex Robby, hidden beneath a baseball cap and spying on her on a date. Schmidt is spying too, and an unlikely duo is born. They decided they will both work together to win her back (and then Schmidt will smite Robby, of course). He even tells him as much. Robby is not big on that last part but agrees to Phase One of said plan nonetheless.
Want more TV? Like us on Facebook and follow us on Twitter.
Nick is busy lamenting his father's unpredictability at the track but it falls on deaf Winston ears, who receives a smack every time he refers to Walt as Pop-Pop. Simultaneously, Walt has managed to woo Jess into a con, playing his veterinarian niece who gives a horse that's for sale a thumbs-down in order for Walt to get the beast on the cheap. Jess also throws in $500. Needless to say, Nick is disgusted when he learns this, especially when he can't get through to Jess that she's been played. She holds steadfast in her belief that Nick and his father just need to talk.
Back to Schmidt and Robby who show up at Cece's apartment chanting "Cool Guy Power," only to find that she is moving forward with her mother's arranged mate scenario and that both families are all gathered and breaking bread. She is mortified at both her exes barging in, even more so when Schmidt starts saying all the good things there are about Robby, including the fact that he always has gum. They are ushered out, but the alliance remains in tact. Smite and all.
As for Walt, he has arranged to sell the horse he just got on the cheap, and give Jess her money back, plus interest. Nick's not buying it and sees to it that he and Jess go along. When he breaks out in a sweat during the transaction, the would-be buyers demand he strip in order to ensure that he isn't wearing a wire. They take off anyway, as does Jess, believing this will force father and son to mend fences. And they actually do!
Even so, Jess catches Walt slipping out first thing the next morning, despite the fact that he made plans to spend the day with Nick. "People don't change," Nick tells Jess while she is now angry fixing the sink. And when it comes to Nick, Jess is increasingly glad.
 "New Girl" airs Tuesdays at 9 p.m. ET/PT on FOX.