'Glee:' Super glee club
Glee club members unite as super heroes to reclaim their stolen Nationals trophy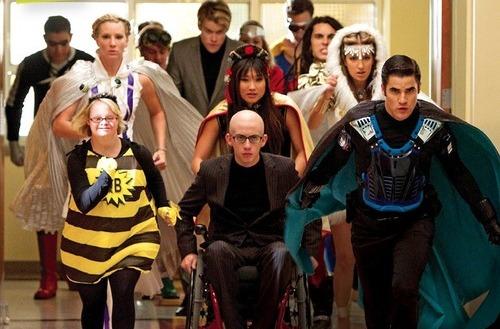 During last week's episode of "Glee," Kurt and Rachel return to McKinley to watch the glee club's production of "Grease." After an awkward run-in with their exes, they walk out arm in arm back to New York. Meanwhile, Will leaves McKinley for Washington, leaving Finn to lead the glee club.
Bing: More on "Glee" | More on Darren Criss

Blaine calls a roll call of the "Secret Society of Super Heroes Club," and we are introduced to the students dressed as their alter egos. They include Asian Persuasion (Tina), Blond Chameleon (Sam), Tarantula Head (Joe), Sweet and Spicy (Sugar), Night Bird (Blaine), Dr. Y (Artie, who couldn't be Dr. X due to copyright infringement), Queen Bee (Becky) and the Human Brain (Brittany).
"Chai Tea" runs in and announces there's an "emergency in the choir room!" The super heroes run through the halls of McKinley and discover that their Nationals trophy is missing. They watch a video of a Warbler with a pixilated face confessing to taking the trophy.
Which super hero alter ego was your favorite? Tell us on Facebook and follow us on Twitter.

Back in the halls, Jake asks Marley to hang out with him on Friday night, but Ryder steps in and says that Marley is watching him play in the football game.  The two start name calling then physically fight, and Finn steps in to stop them, with negligible assistance from Tina as "Asian Persuasion."
In the choir room, Finn welcomes Ryder and Kitty to the glee club, and reveals his game plan for Sectionals. He proposes their theme to be "Foreigner," they will sing only Foreigner songs in a foreign language in costumes from around the world. Blaine scoffs at the idea (which wasn't well-received by the glee club anyway) and gets up to leave. On his way out, he tells everyone he's getting the trophy back from the Warblers.
Coach Beiste walks down the halls with Finn as her super hero persona: The Beiste Master. In the teachers' lounge, Finn voices his concern that the students don't see him as an adult and she convinces him to embrace his inner super hero.
Back at Dalton Academy, Blaine approaches Sebastian who he assumed was behind the whole trophy stealing. But instead, he's escorted to the library to meet the new captain of the Warblers, Hunter Clarington, who is on full scholarship at Dalton to help them win Sectionals. Hunter has stolen the Nationals trophy as bait to see Blaine, and offers him a spot back on the Warblers. Wearing the Dalton blazer again, Blaine is coaxed into joining them in a song: Kelly Clarkson's "Dark Side."
Finn, in costume as Treble Clef ("uniter of glee club"), announces that their next assignment will be "Dynamic Duets." Marley and Kitty are paired together, as are Jake and Ryder to build team camaraderie. Kitty has already chosen a song for her and Marley, and will be "Femme Fatale." Ryder's alter ego is "Mega Stud," and he and Jake launch into REM's "Superman," both as "Mega Studs." Vying again for Marley's attention, the two end up fighting in the choir room. Finn removes the pair, and tells them to confess each others' fears to each other as a way to build strength.
Blaine eventually confesses to Finn to singing with the Warblers again. He admits that "it felt right." Finn is anxious about losing Blaine, and his concerns are validated when Blaine says that the "Warblers" are his "birthright and his destiny."
Marley tells Kitty she can't do a duet with her because she feels self-conscious wearing a tight costume. Marley admits she's still purging her food, and Kitty reassures that if Marley looks even a little fat in her costume, she won't have to do the duet.
In the locker room, Jake slips Ryder a note with his "kryptonite." Ryder pushes it back to him and tells him to say it out loud. Jake admits that he's never felt like he belonged anywhere, being half-black, half-white and half-Jewish. Ryder begrudgingly confesses he doesn't know how to read.
In the girls' restroom, Kitty emerges meowing in a tight black spandex bodysuit inspired by Catwoman. Marley is wearing a headband and floral-based unitard, revealing that her alter ego is "Wall Flower." Kitty gives her a pep talk and renames her "Woman Fierce."
In the choir room, the pair belt out Bonnie Tyler's "Holding Out For a Hero," dancing together using Kitty's whip as a prop.  Amongst applause, Brittany realizes Blaine is missing. Finn reveals that Blaine has decided to finish his senior year back at Dalton Academy. Gasping, Artie says, "He's been overtaken by the dark side."
Jake tells Finn about Ryder's inability to read, so Finn brings Ryder in to meet with a district specialist. After being given a test, Ryder discovers that he's actually dyslexic. Now realizing he's not stupid after all, Ryder thanks Finn for his help, but Finn tells him to thank Jake instead.
In the cafeteria, Jake compliments Marley's mom, she admits that she's lost six pounds and shares that Marley talks a lot about him. A couple of students walk up, calling her "dump truck." Jake defends her, and is threatened by a group of students. Ryder and a couple of other super heroes arrive to back him up, and the students disperse.
On Hollywood Boulevard, Puck is posing for photos for tourists as "Puckerman." He receives a call from his brother, Jake, asking for advice on winning back Marley. Puck advises Jake to play it cool, and have his "Puckerman pheromones" win her over.
Sam asks Blaine why he and Kurt broke up. Recounting the night he cheated on Kurt, Blaine admits that after doing it, he realized Kurt is his true love. Sam encourages Blaine to tell Kurt, and then asks him for one day for the glee club to convince Blaine to stay.
Strumming his guitar, Sam starts singing David Bowie's "Heroes," and is joined by Blaine. We see the glee club painting over graffiti at the high school and spearheading a Thanksgiving clothing drive – heroes for one day. Sam then asks Blaine what his decision is and he asks "one more mission, are you in?" Masked, the duo race to Dalton and steal the trophy back.
Ryder approaches Marley and tells her he has to reschedule their date because he's seeing a dyslexia specialist early the next morning. Marley is clearly disappointed, and tells Kitty that as the new superhero Marley, she's not going to sit home alone on a Friday night. Marley walks over to Jake and makes plans with him instead, much to Kitty's chagrin.
Back in the choir room, Blaine and Sam are triumphant with the trophy. Blaine announces that McKinley is his home, then hands the trophy over to their "leader," Finn. The students have made Finn a superhero "utility pack," a fanny pack complete with markers, antacid and a treble clef lapel pin to remind him that he is the "almighty Treble Clef: uniter of glee club." Moved, Finn vows to never let the students down, and huddles them together for words of encouragement. The glee club closes the episode with FUN's "Some Nights."
"Glee" airs Thursdays at 9/8c on FOX.