'The X Factor' top 12 perform: Divas in the house
Carly Rose Sonenclar channels her inner Celine, CeCe Frey gets lost in the wind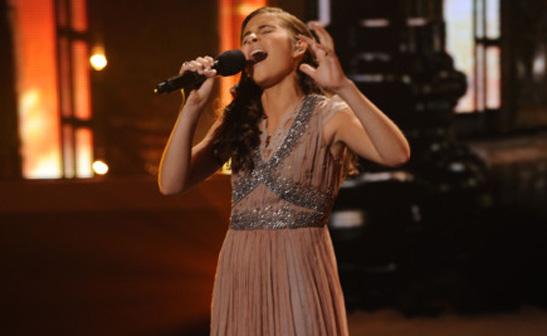 By Jilliane Johnson
It's Wednesday night! That's right. Push all your hump-day, work-week woes to the side, because we've got an all-new live performance episode of "The X Factor."
Bing: 'The X Factor' | Photos: Season highlights | LNOTV: Watch recaps
The top 12 perform for your votes on this night. But make sure to pay close attention when voting for your favorites. Thursday night's live results show is an important one. No, not just because Taylor Swift will perform. Two contestants will be eliminated!
More: 'The X Factor' on BuddyTV | Video: Watch clips and more
Wednesday night's theme: Divas
"I think it's going to boil down, in this competition, to true talent," says Britney. Umm, this is a talent show. Keyword being talent. Isn't that the obvious? Maybe Britney should just sit around and look pretty from here on out?
Khloe and Mario walk out to center stage hand-in-hand, probably so that Khloe doesn't slip in her 15-inch heels. She looks like a gold-leafed disco ball.
If you guys recall, last week Mario and Khloe announced the rankings based on America's votes. While Tate Stevens sat on top with the most votes, CeCe Frey was ranked at the bottom. Wipe all of that out of your mind because we're starting fresh this week.
Khloe calls Simon "one of the biggest divas of the night." Unfortunately, none of his acts placed very high on the leaderboard. Now, about this night's "Divas" theme: Emblem3 taking on a song by the likes of Celine Dion? I'm scared.
Jennel Garcia (Young Adults) -- "Proud Mary" by Tina Turner
Diva in training? She's no Tina Turner, but she sure is working this stage! Forget the big production of dancers and backup singers behind her. Jennel is skipping from side to side on the stage in a full routine, all while staying on key. Her hair looks good, too.
"You just returned to the competition," L.A. says. Britney goes as far to say, "Tina would be proud." Simon is even on board. Maybe listening to Simon's advice isn't such a bad idea after all, Demi.
Tate Stevens (Over 25s) -- "From This Moment On" by Shania Twain
OK, so obviously Tate can't be compared to a diva per se, but he commands the stage like the best of them. This particular song not only shows his passion for his wife and family, but his range, as well. An emotional Tate gives a really great performance as his wife looks on backstage.
Demi hates to say it, but continues, "You were so good!" Simon agrees. "That was better than last week," he says. The confidence from receiving the most votes is definitely giving Tate a boost. You really have to just love this guy, though.
BuddyTV: Top 5 memorable live performances from Week 1
Backstage with Khloe
Has Khloe gotten any better with interviewing the contestants? Not really, no. Arin Ray can't complete his statement because Khloe has pulled the microphone back too early. Too bad Mario is stuck in the middle of young, attractive women from the audience.
Diamond White (Teens) -- "Halo" by Beyoncé
Perfect song choice. I'm so glad Diamond was brought back because these performances were definitely worth seeing. Her vocals are on point, and she has some potential diva in there, too.
"This week is kind of perfect for you," Demi says, "because you are a total diva in the best way possible." Simon believes we're witnessing a future star. I can see it.
Diamond mentions to Mario that she welcomes an alter ego, of sorts, to the stage when she performs. Khloe chimes in, offering the names of her personalities: Khloe and Khlo-Money. Wow.
Beatrice Miller (Teens) -- "Time After Time" by Cyndi Lauper
First of all, why is she wearing a beanie that reads, "YOLO (You only live once)"? It's a bit distracting. Now, with Beatrice simply sitting down and singing on this night, her vocals are stronger. She hasn't done much to change the arrangement, but it's a good performance. I would move her up from the No. 10 spot from last week.
L.A. doesn't like the song choice, saying it didn't do enough for her. Simon likes the song, although he found it boring. And Britney just can't get the songs right for her. "Simon, she has more talent in her pinky than all of your acts combined," says Britney. I knew Britney had a soft spot for Beatrice.
LYRIC 145 (Groups) -- "We Will Rock You" by Queen and "E.T." by Katy Perry featuring Kanye West
Simon announces that the song selection was changed at midnight the night before, giving them only a few hours to prepare for this performance. I don't know what the song was before this, but this change was genius! This mash-up is awesome, and their stage presence gets the crowd on their feet.
"You bring an energy this show needs," Simon says. The energy from the stage seriously needs to make its way down to the judges' table because three out of four judges gave this performance a thumbs down. L.A. wasn't aware that Freddy Mercury was a diva, Britney thinks the group should stick to hip-hop and Demi is confused. What do you think of the performance?
Arin Ray (Teens) -- "Crazy for You" by Madonna
Whoops! Wrong music cued. Let's hope this doesn't mess Arin up during his performance. The passion he's emitting on stage is apparently for his "friend" Normani from Fifth Harmony. Yes, it's a budding "X Factor" love connection.
"You taking on that song is like asking a cat to eat a tiger," Simon says. Wait, what did he say? Anyway, as you can imagine from Simon's comment, the judges weren't too crazy about this performance. Arin did what he could with the song. But come on, Britney. Out of all the Madonna songs, and after kissing the woman, this is the only song you could think of? Fail.
Paige Thomas (Young Adults) -- "Last Dance" by Donna Summer
Yeah, it may be a disco tune, but Paige has the vocals to really bring it home. The opening is, by far, the best part. Once the dancers scurry over and the beat kicks in, things get a bit tougher. She sticks with it, though. It's her best performance yet.
L.A. agrees with me, saying, "That was the best yet!" Simon brings up an interesting topic: He says that the dancers were distracting. Demi actually explains that she wanted something completely different on stage. "I like my dancers, Simon," says Paige. Spoken like a true diva.
Fifth Harmony (Groups) -- "Hero" by Mariah Carey
We knew Mariah would be represented on this show at some point during this episode. Simon got it right, having Fifth Harmony take on this particular diva. Their harmonies are impeccable.
"I think Simon is doing amazing with you guys," Britney says. I get the feeling that L.A. agrees, but he just doesn't want to admit it. So, instead, he nitpicks their performance. These girls could go all the way.
Carly Rose Sonenclar (Teens) -- "My Heart Will Go On" by Celine Dion
Move over, Celine! This 13-year-old girl has just outdone a true diva. She's just won the show. Yeah, I know we're weeks away from the finale, but Carly Rose is, without a doubt, a winner.
"We could be looking at the winner," says L.A. That's the only comment you need with a performance like this. I feel sorry for those who have to follow that last note!
Khloe vs. Mario: Who's the bigger diva?
"I can't compare with you," Mario says. Yeah, I agree.
Vino Alan (Over 25s) -- "Let's Stay Together" by Al Green
Vino lends a gritty feel to this soulful classic, and it works. Sure, he could do better. But for what he's given, he does all right.
"I have to admit I was a little bored," says Demi. Simon says that Vino's voice is designed for a moment that he hasn't achieved yet.
Khloe flubs ... again!
While explaining to viewers at home how to vote, Khloe mutters, "You don't want them!" She giggles and rubs on Vino, who looks at her with a confused stare, attempting to make a joke of it all. No, we saw you, and you really need more coaching at this hosting gig.
Simon has a very important announcement to make about his last group to perform on this night. "I'm not trying to get anyone to vote for them or anything, but I just want to say that they saved a group of kittens from drowning in a lake last week," he says. Simon is, by far, the best mentor, and he's pretty creative, too!
Emblem3 (Groups) -- "No One" by Alicia Keys
Last song I would have ever picked for these guys. Does it work? With Simon on your team, of course it does! It's a slowed-down, reggae-infused take on the song. Keaton could still use some dance classes just to learn some basic moves.
"I totally get why the girls are swooned by you," says Britney. "You guys are complete heartthrobs." I suppose that means she likes the quality of the performance?
CeCe Frey (Young Adults) -- "All by Myself" as performed by Celine Dion
The song hasn't even started yet, and she sounds emotional. This is definitely different from her usual spectacles on stage. It's simply CeCe and a microphone. She's softer with long, flowing locks, dressed in a ball gown. The money moment is the power note which she nails, but then the wind machine comes on. It cuts her off as soon as she gets started.
While L.A. struggles to give his criticism, Demi chimes in, "Sorry, she was better than Vino." That was pretty rude. When Britney gives her comments, Demi is quiet. But why? "Nobody talks to the queen that way," she says. Demi just knows that she has to try harder for CeCe because she'll most likely be going home soon.
Well, all drama aside, your top 12 have performed, and it's time to vote. Who will you vote for? I can tell you who won't get my vote. CeCe Frey won't. Not after that failed attempt at looking sexy in front of the wind machine. It took the good notes right out of her mouth, just like Mario takes the teleprompter's words right out of Khloe's before the show ends!
The top 12 have performed, and Thursday night two acts will go home on the "X Factor" results. Make sure you tune in to see who gets the ax, in addition to a performance by Taylor Swift.
BuddyTV: Don't miss another episode! Keep up with your favorite shows, like "The X Factor," using the BuddyTV Guide app!
"The X Factor" airs Wednesdays and Thursdays at 8 p.m. ET/PT on FOX.