'New Girl': Jess Gets PMS and a job!
'Menzies,' Mister Miyagi and monsters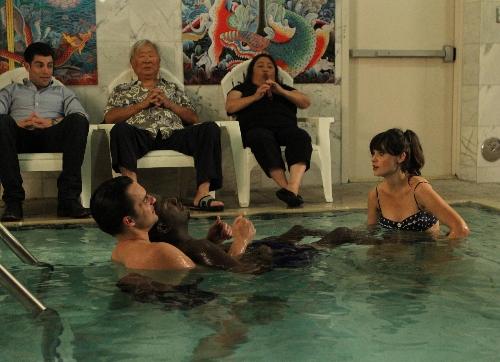 Anyone that has watched even just a few episodes of "New Girl" this season knows Nick, Schmidt and Winston have been less than patient with Jess's new found unemployment and her ensuing TV marathons and sporadic showering that has resulted. The latter notwithstanding, when Jess tries to pay for the gas bill in this latest installment with a five dollar bill and a library card Schmidt decides tough love is the way to go and has the gas turned off, which means no hot water. Logic is not necessarily a Schmidt strong-suit.  
Bing: Catch up on "New Girl"  | Carla Gugino
It is also a risky move considering Jess has PMS and defies all three of her roommates to look her in the eyes and tell her to get a job. That said, she does try to. She goes on quite possibly the worst job interview ever, where she winds up whimpering over a photo of a puppy in what appears to be a coffee cup and then full-on bawls upon finding out the dog has since died, hilariously crying, "Puppy in the cup!"
To make matters worse, she is informed by the newly-single Winston that he is suffering from sympathy PMS and screams at him for trying to steal what she refers to as her "menzies." Meantime, Nick has befriended a non-speaking older gentleman on a park bench, due to the fact that his friends have told him he is always mean and it hadn't dawned on him that this was the case until they said so. He pours his heart out to this seemingly wise (to Nick anyway) Mister Miyagi of sorts -- an older Asian man who ultimately takes Nick into his arms for a soothing water massage. This, apparently, is the key to his calm.
Want more TV? Like us on Facebook and follow us on Twitter.
Schmidt navigates Jess and Winston's emotional crises by simultaneously courting his new sexpot boss Emma (played by Carla Gugino, who should do more and more comedy) and exploiting the fact that Cece got turned off by her boyfriend Robbie referring to her as nice. Schmidt assures her she isn't and manages to steal a kiss, but Cece comes to the realization that Robbie just might be right, even while Schmidt declares that both he and Cece are monsters and, furthermore, that he is fine with it.
In the end, despite her saying that it feels like a fat man is sitting on her uterus, Jess scores a second interview, gets the job, the gas gets turned back on and the whole lot of them celebrate with one big water massage together. Don't you and your three besties do the same?
 "New Girl" airs Tuesdays at 9 p.m. ET/PT on FOX.