'Girls': It shouldn't happen to a dog
Adam and Booth show their cruel colors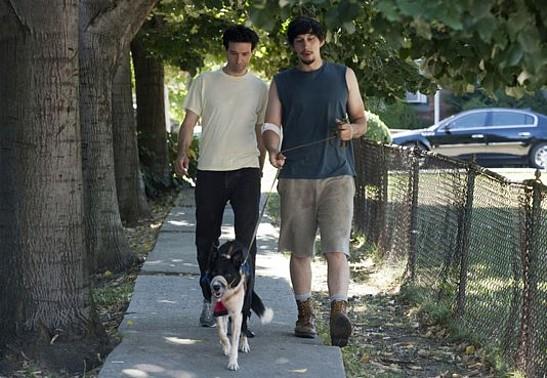 The "Girls" action switches to the boys in Sunday's episode, "Boys," in which both Marnie (Allison Williams) and Ray (Alex Karpovsky) find themselves treated like the muzzled dog in the main plot.
It begins with a trip Ray takes to see Adam (Adam Driver). He needs his copy of "Little Women" back, the one Hannah (Lena Dunham) leant him. (It's inscribed with notes from his godmother.) Hannah didn't want to go because, well, Adam is a psychopath who might murder her.
Bing: 'Girls' | More on Lena Dunham
Adam invites Ray to look in his apartment, where he discovers the bathroom is occupied by a vicious dog who bit Adam and whose name is Dog because Adam only recently stole him. (His owner tied him up outside a coffee shop and Dog wanted Adam to rescue him.)
Ray convinces Adam to return Dog, which means that now Ray has volunteered to accompany him on the assignment, since the owner is huge. (Ray agrees because he likes the idea of being considered "extra muscle.") They muzzle Dog and take him on the Staten Island ferry.
Ray and Adam bond. Adam asks Ray how things are going with Shosh (Zosia Mamet), who obviously thinks her boyfriend is behind the curve in the doing-things-with-yo​ur-life department. (She assumes he would rather own a coffee shop than manage one. Wrong.)
The bond breaks, however, when Ray asks how Adam can like someone as self-centered as Hannah. Adam disagrees and speculates that Ray is trying to convince him that Hannah is a bad person because Ray secretly wants her. Perhaps Ray has already had her. They fight. Adam accuses Ray of dating Shoshana because she's safe and he knows it won't work out; they're just "babies holding hands." Adam leaves Ray holding Dog.
Hannah has been assigned to write an ebook about her "lost generation." The publisher -- who once edited a magazine Hannah admired -- needs it in a month. She pukes outside the restaurant where the offer is made.
Hannah's initial attempt at writing the book is interrupted by Jessa (Jemima Kirke), now her roommate, who tells her the book won't matter -- either to her or whomever reads it. They argue over which of them is depressed.
For the benefit of anyone who didn't already realize how much of a jerk Booth (Jorma Taccone) is, he reams out his assistant for taking a scoop out of his ice cream. The assistant quits and Booth asks Marnie (Allison Williams) to take her place as the hostess for an art party he's throwing.
At the party, Booth offers Marnie $500 for hosting. She says he shouldn't have to pay his girlfriend. He says he didn't realize he had one. He explains that he had sex with his old assistant, too. Marnie cries. Booth gets mad because he fears that Marnie is attracted to him because of his work. "This is why I can't hang out with anyone!" he screams.
Marnie calls Hannah once she gets home and they lie to each other. Marnie claims she's still at Booth's and having a great time. Hannah claims she's getting a lot of work done on the book.
Want more TV? Like us on Facebook and follow us on Twitter.


Ray returns Dog to the address on the dog's collar. A woman says it's her father's but she doesn't want Dog because he's got problems. She says her dad saw Ray steal Dog and will be back soon to deal with him. Ray insists that she take Dog. She hits him with her purse and calls him a jobless Jewish loser. ("I'm Greek Orthodox!" he replies.)
Ray takes Dog to a park. He wonders whether his new best friend realizes how much of a loser Ray really is. Ray cries.
"Girls" airs Sundays at 9 p.m. ET/PT on HBO.