'Downton Abbey:' The road less traveled
The season finale ends with a shocking twist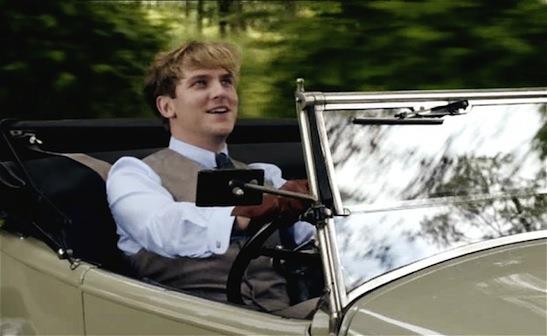 The Season 3 finale was the most shocking episode of "Downton Abbey" to date – and ended with the sudden death of another Crawley. We last saw the Crawleys in September 1921, when they hosted the village's annual cricket match. The finale opened a year later, in September 1922. In the first scene the staff at Downton was busily packing for a family trip to Scotland. We saw at once that Mary was pregnant, and soon learned that something else was cooking between Edith and her editor Michael Gregson.
Bing: 'Downton Abbey' | More on Dan Stevens
With the gentry gone for 10 days, Carson asked the staff to polish the silver and clean the house from top to bottom. New maid Edna quizzed Mrs. Hughes on Sybil and Tom's past – "She was a wonderful person. And a beauty," Mrs. Hughes told her. In other words, back off. Tom was the only Crawley to remain at the abbey, and so Edna wasted no time in trying to get close to him. And she wasn't the only one with a crush – village grocer Mr. Tufton took a shine to Mrs. Patmore.
Rose had obviously cleaned up her act in the year since we saw her pawing at a married man. Susan and Hugh (a.k.a. Shrimpy), Rose's parents, are even stuffier than Lady Violet at her worst, and it soon became clear how strained their marriage was. Anna, Bates, Mosley, and O'Brien bristled at the stiff formality belowstairs at Duneagle Castle, where the MacClares' servants addressed them by their masters' names rather than their own. The Bateses, at least, had a pretty good time in the end. Anna learned to reel, and she and Bates were even able to sneak away for a picnic.
Shrimpy told Robert that he was about to take a post in India while the men were out hunting, and Susan told Lady Violet, her aunt, that she wasn't too enthusiastic about the plan. O'Brien listened eagerly to Miss Wilkins, Lady Susan's maid's, complain about her future overseas, and then managed to wheedle her way into Lady Susan's bedroom to set her hair for dinner.
Edna followed Tom to the village pub and suggested that he should join the servants for dinner instead of eating alone. Meanwhile, Mrs. Hughes did her best to persuade Carson to let the staff attend a fair in the next village.
Michael Gregson came to Duneagle Castle and had to run the Crawley gauntlet. Mary disapproved of the attention he paid to Edith, whereas Matthew seemed pleased for his sister-in-law. Gregson admitted to Edith that he came to Scotland for the sole purpose of getting to know her family – remember that he is not free to marry, since he has a wife in a mental institution. Gregson told Edith that he loved her and wanted to be in her life, but she told him she just couldn't see how that would work.
Robert and Shrimpy went deer hunting before joining the ladies for a picnic lunch on the day before a ball to be held at Duneagle Castle. Meanwhile, Matthew and Gregson went fishing. Gregson told Matthew he was in love with Edith but unable to divorce. Matthew was sympathetic, but encouraged Gregson to tell Edith goodbye at the ball since he couldn't see Edith "throwing herself away" to be with him.
Tom did finally join the staff dinner and ended up offering to drive everyone to the fair. Mrs. Hughes took him aside and told him the gesture wasn't necessary, but it was certainly appreciated. "If someone is trying to make you feel awkward, that person is in the wrong, not you," she said.
At the fair Jimmy won a bit of dough by betting on the Downton crew to win a tug-of-war – and Mrs. Patmore and Tufton get quite friendly. Unfortunately, Mrs. Hughes saw Tufton flirting with other women at the fair. Jimmy flashed his money around and stumbled into a culvert, where two of the men from the losing tug-of-war team jumped him. Thomas came to his aid, but got badly beaten up for his trouble!
Dr. Clarkson and Isobel Crawley also went to the fair together. Over lemonade the doctor asked Isobel whether she ever thought of marrying again. She cooly declared she was happy on her own, but he seemed about to press on with a proposal until their cozy chat was interrupted by Jimmy.
Susan gave Rose quite a dressing-down as she prepared for the ball at Duneagle, and then Susan and Shrimpy got into a screaming match just before the festivities began. Susan also gave Miss Wilkins a hard time about not being able to do hair as well as O'Brien did. Miss Wilkins spiked O'Brien's punch as revenge. What goes around comes around, right? Unfortunately it was Mosley, not O'Brien, who drank it and then distinguished himself ball's token drunken idiot.
Over billiards, Hugh told Robert that he was about to lose Duneagle Castle because he failed to modernize the estate the way Robert – actually Matthew! – did at Downton. Later, Robert admitted to Cora that he had finally realized how invaluable his son-in-law was to the family, and that he was sorry he had been the last to see it.
After the ball, Mary told Matthew she wasn't feeling well and that she would return to Downton early the next day, but that she wanted him to stay so that the rest of the family would stay put.
When Mrs. Patmore came to tell Mrs. Hughes that Mr. Tufton had declared his love, poor Mrs. Hughes had to set her straight. Mrs. Patmore seemed pretty relieved not to be boiling the man's cabbage, so all ended well there. 
Edna barged into Tom's room while he was undressing, on the flimsy pretext of telling him that Thomas was much better. He asked her to leave and she...brazenly kissed him! Less than 24 hours later Mrs. Hughes gave her the boot. When Tom asked Mrs. Hughes to give Edna a good reference She told him how well he had done fitting into his new role as estate manager and how proud Lady Sybil would have been of him. Tom burst into tears, confessing to Mrs. Hughes how much he missed his wife.
The morning after the ball Susan asked Cora if Rose could live at Downton when the MacClares headed to India. 
Mary felt labor coming on and went straight to the hospital from the train station. At the hospital, Isobel held Mary's hand in a sweet moment between two women who haven't always gotten along well. She gave birth to a baby boy, the first little boy to be born at Downton for a long, long time, and the heir that Lord Grantham had always hoped for. Matthew told Mary how happy she made him, and that he had fallen more in love with her every day of their marriage, as they cooed over their new son. But happiness never lasts long for the Crawleys – on the way back to Downton from the hospital, distracted Matthew drove straight into a truck and was killed instantly. In the last scene, Mary, knowing nothing of her husband's fate, smiled down at her new baby.
This season brought more sorrow – and change – to Downton Abbey than any other. Two members of the Crawley family have died, but a new generation was founded as well. And it wasn't all bad news -- Bates found his way back to Anna, and Edith found an unconventional love after her disastrous aborted wedding. Will the next season bring more hope than heartbreak? We'll have to wait a year to find out.