'1600 Penn': A ball and a bill
Skip wants romance and Emily has to dance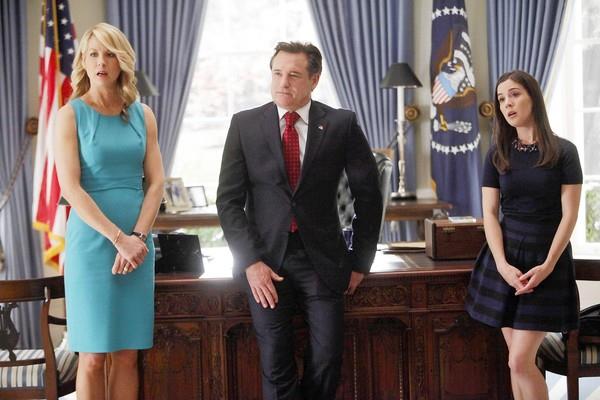 As the leader of the free world (Bill Pullman) tells his pregnant daughter just a few minutes into the third episode of the new NBC series, "Your brother will eventually do something so odd and embarrassing your pregnancy will be old news." Truth be told, the pregnancy already seems old news. That said, brother Skip almost does exactly what Dale said he would at the episode's outset, if not for at least one night.
Bing: Jenna Elfman  | Stacy Keach as "Frohm Thoroughgood"    
It all begins in the kitchen, Becca digging deep into the fridge, talking cravings, which Skip instructs her to fight, as it is merely the "fetus fighting for dominance." Then Skip realizes what time it is – the exact time he seemingly greets a girl from the mailroom every morning, Stacy Kim, who he is crazy about. Suffice it to say, it is not going well.
Eventually, Emily, who Skip has nicknamed Momily, will tell him to just go for it, to ask her to the upcoming White House Ball, but not before she sits down for a "Today" show interview alongside the President, pushing an education bill she has put together. The anchor has more of an interest in her fashion sense and past as a dancer. The bill doesn't get the exposure Emily wanted it to get, and is now in the hands of a wheelchair-bound good ol' boy named Frohm Thoroughgood (Stacy Keach, uproarious). Skip Googles him and likes what he sees until he gets to the pictures of Thorogood with a fire-hose in his hand and "surrounded by people dressed as ghosts."
This is when Emily presses Skip to ask Stacy to the ball. He does, after asking the mailroom clerk for permission to do so. She accepts, but makes it clear that they are going only as friends. Victorious, Skip joins Becca on the couch to boast, beginning, "You know how some guys are good at picking girls up at bars? Of course you do. Well, that's not me."
Want more TV? Like us on Facebook and follow us on Twitter.
Meeting Thoroughgood does not go well, and the ball, for the most part, even worse. Emily spent the night before reminiscing about the old days, when she stumped for her now-husband in Nevada, and just wants the country to forget she ever danced professionally, and it is clear Frohm only sees just that: a former dancer. But a deal is struck: Make a nice toast and Thorogood will vote in favor of the bill. Emily scrambles to find one nice things to say.
But, not before Becca is besieged by Thoroughgood's wife to discuss how bastard children fare in school. Marshall, who had a secret relationship with Becca – was the very guy she was rebounding from when she got pregnant, in fact – saves her by saying she has to do an interview about abstinence. "Hormones and parked cars," Becca explains. Even Skip gets off on the wrong foot, introducing his Asian date to Frohm, who promptly describes her as a "spicy dumpling," and inquires if Skip is still hungry a half hour after they are done making love. "You will show her some respect!" barks Skip.  
Leave it to Skip to cap that chivalrous moment with a moronic move: he gets on mic, requests the song "Lady in Red," which the band doesn't know, settles for something else in order to woo Stacy, but she storms out, embarrassed. As Dale predicted, Becca's pregnancy is forgotten, at least as far as coverage of the ball is concerned. Emily makes her speech, toasts Frohm, but he reneges, dismissing her again as a dancer. This is when it dawns on her that if he can't vote at all the bill can get passed. What to do? Dance, of course! The leggy and gorgeous First Lady (who Elfman happens to be nailing) snaps up Skip's hand, and boxes Frohm in while the crowd cheers them on and he never makes it to the vote. Furthermore, Stacy returns just in time to catch Skip trip the night fantastic. And that's just what she's beginning to think he is: fantastic.
 "1600 Penn" airs Thursdays at 9:30 p.m. ET/PT on NBC.