'Modern Family': Daddyshack
Mitch and Jay forge father-son golf bond, Luke perfects his sing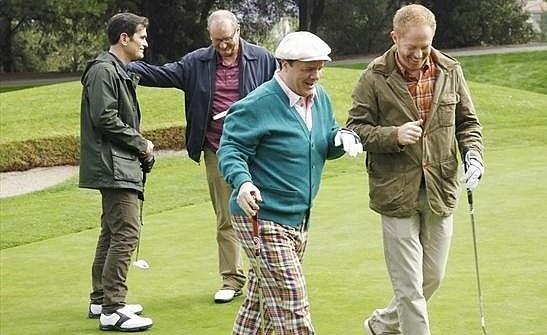 In Wednesday's episode, "A Slight at the Opera," Phil (Ty Burrell) wants golf lessons. Knowing only the trampoline, he feels, holds him back in business. He asks Jay (Ed O'Neill) to be his golf Mr. Miyagi and they hit the local links.
Bing: More on "Modern Family" | More on Sofia Vergara

Coincidentally, Pepper (Nathan Lane) carts up to the same green with Mitch (Jessie Tyler Ferguson), whom he's been schooling. This is no accident. Mitch has been desperately practicing for six months to beat his dad at his own game.


Phil invites them to play as a foursome (the first time that word has ever creeped Jay out). But Mitch cracks under the pressure. Pepper slaps him by the lake he's fishing a golf ball from.


Manny (Rico Rodriguez) volunteers for the lead in Cam's (Eric Stonestreet) middle-school production of "Phantom of the Opera." A boy named Marcus has taken ill from, according to Manny, "chewing all that scenery." But Manny can't hold a tune, and there is someone who certainly can. Luke (Nolan Gould) -- who is painting the set -- sings like a nightingale.


Cam knows what he must do. He offers the role to Luke. But Luke passes; he's too nervous. So the job falls once again to Manny, who has either forgotten or ignored every note that Cam gave him. Then the press shows up (a vicious 13-year-old girl with a notebook) and the vultures circle, quite literally. (The music teacher Cam replaced is parking his car outside.)


Phil sinks a beauty, shifting the game pressure on Mitch. But Mitch beats it and takes the $100 prize. Phil is genuinely proud of being beaten by his own son. He offers to play with Mitch again. Jay regrets missing the 20 years of golf they could have gotten in if he wasn't such a hard-ass. Then they all cart away while crying to the strains of Harry Capin's "Cat's in the Cradle."


Want more TV? Like us on Facebook and follow us on Twitter.


Back at home, Haley (Sarah Hyland) and Dylan (Reid Ewing) babysit Lily (Aubrey Anderson-Emmons) and baby Joe as Claire (Julie Bowen) busies herself staging a fake accident to make Phil feel guilty. (Don't ask; it's really not important.) The young couple realizes they're good with babies. Having kids is fun and easy, they decide. But before Claire can even implement her plan to wake the baby and have him scream some sense into them, they're already having a typical parental blowout about which one of them gets to have all the fun with the baby and which one does all the real work.


Alex (Ariel Winter) helps Gloria (Sofia Vergara) tote dry ice to Cam's show. But the theater isn't open yet. To kill time, Gloria takes her to a nearby psychic. Alex indicates her lack of belief in unquantifiable phenomena -- until the psychic begins describing the boy she sees in Alex's future. He is described as as a knight.


Hold on. She's only playing the psychic for fun. Alex lays the works on the lady, including inquiring about the whereabouts of a pet rabbit that never existed.


Before the lights dim on the play, Phil's dad (Fred Willard) surprises him by driving up from Florida. Then a handsome boy sits next to Alex. He's wearing a shirt emblazoned with his tennis team. The teams name is the Knights. Hmm.
The lights dim. The lead sings. It's Luke. He's spectacular. Phil cries.


Phil ends with a real-estate meeting built around a sport he knows. He and his client ink a deal while trampolining.


"Modern Family" airs Wednesdays at 9 p.m. ET/PT on ABC.