'New Girl': The cabin in the woods
Jess and Nick go on the double date from Hell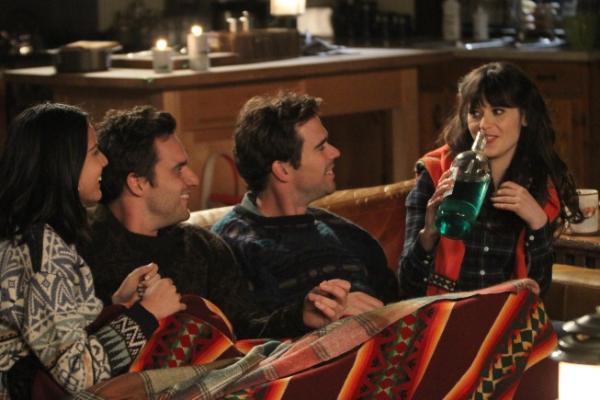 I would say that "New Girl" picked up right where it left off last month, except for the fact that it really didn't – not by a long shot. Sure, Jess and Sam are finally an actual couple, so much so that they are even going away for the weekend to stay at Sam's boss's cabin. It's all making Jess a little nervous, so why wouldn't she ask Nick, of all people, to join her, with stripper gal-pal Angie? Double up on the sexual tension, right? But, the disconnect isn't there; that comes later.
Schmidt, meantime, catches a glimpse of Winston chatting up some strangers at a bar, all of whom are black, and finds his roomie significantly looser than he's ever seen him. He dubs this version of his buddy "Pixar Winston," and it leads him to ask both Nick and Cece if they are allowing Winston to "be his blackest self." Try as they might to dissuade him from pursuing this any further, they – and we – know that just won't be the case.
Bing: "New Girl" Catch-Up  |  Winter Season Preview  
Back at the cabin, Angie is a loose cannon, breaking into Sam's boss's locked bedroom and retrieving rifles, which leads to some reckless shooting at cans out front. By the time an apprehensive Jess joins in the fray she shoots out the power. This leads to Angie doing even more pillaging and she comes up with a bottle of absinthe this second time around. Sam and Jess chug and it gets ugly. Quick. So much so that when Jess goes upstairs, Nick knows that it's to vomit. He tells Angie he's got work to do and she genuinely takes that as a cue that they will be swapping partners for the evening. Nick and Jess come back downstairs to find Angie climbing all over Sam, who is drunkenly protesting.
This is where the disconnect comes into play. Jess goes on a tirade that Nick isn't being true to himself, shouldn't put up with Angie's outrageous ways, even while in the very last episode to air she was saying the exact opposite: imploring Nick to be with Angie for these very reasons, because she was wild and unpredictable, and Jess believed her friend could use that. Guess not when it involves a play for Doctor Sam. Furthermore, their recovery from being drunk on absinthe is astonishing. Like, half an hour.
Want more TV? Like us on Facebook and follow us on Twitter.
Speaking of partying, Schmidt urges Winston to spend a night being his true back self, which leads to ribs and crack. Yep, even though Winston has a yen for some Indian food he decides to torment Schmidt. After the rib dinner he tells Schmidt he really wants some crack and they actually go out in search of it. Winston is shocked at how far Schmidt is willing to go once he's got his mind set on something. Fans of the show, of course, know better.
In the end, Nick wakes up to a "Dear John" letter, Angie having left him at the cabin, ostensibly taking his money, too. Their heart-to-heart just the night before about meeting somewhere in the middle is clearly something she knows she'll be unable to do. For now? We'll see. And Winston and Schmidt's crack hunt ends with frozen yogurt instead. Schmidt's order? "Chocolate and vanilla swirl," he says, trademark smirk in tow. Winston slams the door on him.
 "New Girl" airs Tuesdays at 9 p.m. ET/PT on FOX.