'New Girl': A bathtub and a baby
Jess wants one and Schmidt wants the other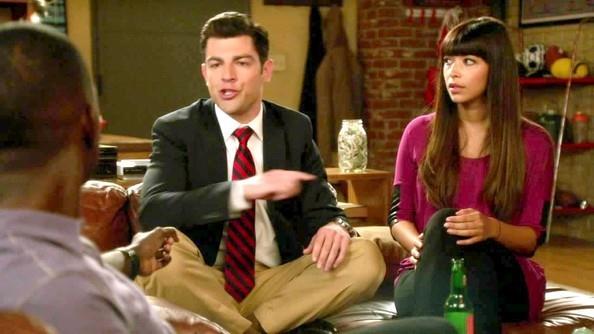 Not as heavy on laughs as recent episodes, but certainly heavy on heart. The latest episode of "New Girl" picks up right where we left off: Cece is all biological clock-talk and boyfriend Robbie's lackluster reaction results in him being sent packing. Cue Schmidt, poised to parent, bringing Cece a pigeon in a box (it was supposed to be a dove and to fly out when she opened the lid) after rehearsing saying, "you my boo," in the bathroom mirror repeatedly at home. Astonishingly, his declaration of love works. Despite the fact that Cece is sure her mother will hate him, plus wants to arrange her daughter's marriage much like her own was, they make plans for dinner. 
Bing: Olivia Munn   |  Jeff Koper
Schmidt's seizing of this moment is lost on Nick, who can't possibly fend off Schmidt's attempts to hug him before leaving with any more slaps. It is also lost on both Jess and Winston who are hell-bent on getting a bathtub. Winston, curiously, would rather sneak the tub in and say Jess did it behind the boys' backs than come clean (pun intended) that he'd like one. It may have something to do with Schmidt thinking bathtubs are "medieval filth cauldrons," but not likely. Even more curious is what Winston refers to as "the willies." What we ordinary folks qualify as panic attacks, he calls "the willies" and results with him stripped down to his underwear. A trademark flashback reveals his driver's exam played out in this very same way.
So goes the bathtub caper. Jess and Winston attempt to sneak it in and it winds up damaging the apartment. Even quirky landlord Remy (yes, the return of Jeff Koper!) can only do so much to dress the situation up, all the while seemingly suggesting a three-way (again). Jess and Winston's solution? Feign a break in and blame it all on meth-heads.
Want more TV? Like us on Facebook and follow us on Twitter.
Meanwhile, Nick is smitten with a girl he's nicknamed "Thirsty" where he tends bar, who he later discovers to be a stripper named Angie with a violent boyfriend (a co-worker's husband to boot). Played by Olivia Munn, seen these days on HBO's "Newsroom," Angie is perfect for Nick, an "eye-roller" who cracks a bottle over her boyfriend's head without blinking an eye. She looks to be around for another episode or two, much like Carla Gugino has been as Emma, Schmidt's boss. Emma manages to ruin Schmidt's dinner date with Cece by forcing him to try every flavor of a new vodka in an effort to land an account. He gets the account, but not the girl. Wasted and laid out on Cece's lap, he hears her call her mother and leave her a message that she's ready to be fixed up.
Returning home to find Jess and Winston, the victims of a second break-in from the meth-heads, Schmidt tells them to just get the tub already, breaks the news that his heart is broken, and it genuinely appears to be. Further (potential) complications include an ending scene where Nick and Angie engage in an intense liplock, suggesting Jess's eggs, too, may not hatch any time soon.  
 "New Girl" airs Tuesdays at 9 p.m. ET/PT on FOX.