'Californication': Going down
Airplane crashes, Hank smashes, inspiration flashes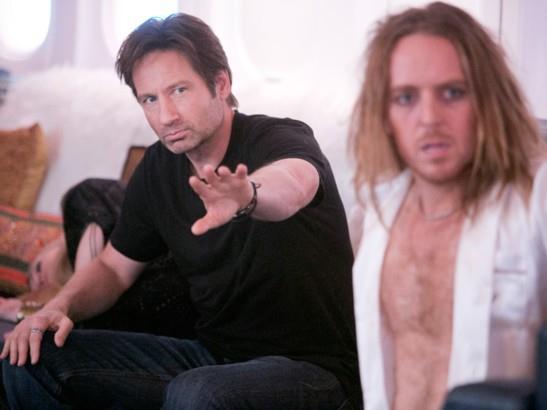 In Sunday's episode, titled "In the Clouds," Atticus (Tim Minchin) fetches Hank (David Duchovny) to Air Force 69, his private plane. He hasn't written any songs for the Broadway adaptation of Hank's "A Crazy Little Thing Called Love," and producers in New York expect pretty much the whole thing yesterday. He thinks Hank can open a vein and bleed out a story of unrequited love.


Bing: 'Californication' | More on David Duchovny


Mrs. Fetch (Sarah Wynter) has her own proposition for Hank. She needs a real man from the real world. Atticus' roadie (Steve Jones) witnesses this and offers to open a vein for Hank with his switchblade.


Faith (Maggie Grace) boards. It seems Atticus desires her muse services as well. Hank asks about that previous offer she made to muse him. She's not sure. But she also rejects Atticus, who creeps her out with his sense of entitlement and the fact that he drugged his wife so she wouldn't interrupt.


Faith isn't alone. She brings along her new BFF. It's the dead rock star's widow, Trudy (Alanna Ubach). Hank introduced himself to Trudy with his, ahem, behind a gravestone at the dead rock star's funeral a couple of episodes back. Charlie (Evan Handler) gets to know her pretty much the same way, when they share an adjacent seat. Charlie, who is wearing eyeliner to fake being rock 'n' roll, admits that he is afraid to fly. While "staring death in the face," he realizes that he still loves Marcy (Pamela Adlon). Trudy, who is cradling her dead husband's ashes, scoots over to comfort Charlie. (The roadie is not pleased about this, either.)


The roadie catches Hank receiving his own comfort from the drugged Mrs. Fetch and Atticus bursts out of his lair to demand that the plane be landed and Faith ejected because she won't comfort him. (Is this a record for "comfort" appearing in a single recap?)


Want more TV? Like us on Facebook and follow us on Twitter.

Hank stands up for Faith, threatening to leave along with her. He also tells Atticus to get his house in order because his wife is "looking for strange." Atticus slaps him, meekly. Hank returns, inexplicably, with a nipple twister as the roadie attacks. Coincidentally, this is the moment the plane chooses to lose power and plummet.


The oxygen masks drop as Charlie screams and the female flight attendants employ emergency landing procedures, which apparently include making out with each other. Trudy drops the ashes and begins snorting them off the floor. Then she comforts Charlie from the other end as Atticus begins playing his piano.


Inspiration has struck. Atticus has his first song, and it sounds all right.


The plane rights itself before any of the hot messes on board ever have a chance to. Atticus apologizes to all his passengers. Mrs. Fetch wakes up. And Faith thanks Hank with for defending her honor the way you think she does.


Elsewhere in this strange episode, Hank asks Becca (Madeleine Martin) to return to college. But she can't because she's writing her first novel. She admits going through "an extremely slutty phase" that Hank doesn't want to hear about. He asks her to stay away from the hard stuff and to stop talking about "tasting and smelling" all that life has to offer.


"Californication" airs Sundays at 10:30 p.m. ET/PT on Showtime