'The Walking Dead': Andrea's Reunion
The Governor and Rick prepare for an impending battle while Andrea tries to intervene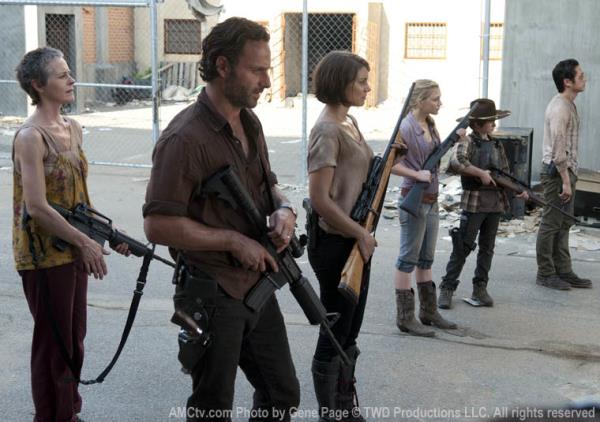 During last week's episode of "The Walking Dead," the Governor plans a surprise attack on the prison, leaving Axel dead and walkers rampant around the outer yard. All the while, the survivors start to question Rick's ability to lead their group as he goes mentally unstable.
Bing: "The Walking Dead" | Laurie Holden
This episode opens with the prison survivors strategizing their next move against the Governor - some wnat to run, others want to stay and fight. Merle is locked up and warns the others that the Governor will be back with more men. Hershel pleads with Rick to step up and be a better leader. Outside, Carl approaches Rick. The son tells his father that he deserves a rest and to allow Hershel and Daryl to lead the group.
Back in Woodbury, Milton and the Governor are tallying up their townspeople to see who is capable of carrying a weapon. Andrea walks in and confronts the Governor about attacking the prison. He lies to her, telling her they opened fire first. She's angry with him and asks to see her friends in the prison. He tells her that if she goes to the prison, she should stay there. Out in the streets, the Governor's men are starting to build an army with its residents.
The prison survivors are conflicted about Merle staying with them. Glenn wants to see him go, but Rick says they don't have a choice but to have him stay. Hershel visits Merle in a cell block, and Merle reveals his thoughts on the Governor's next move . Merle believes the Governor will kill everyone, Rick being the last.
Carol tells Daryl she's glad to see him back. Daryl is a bit surly, calling the prison a tomb. Carol advises Daryl to be wary of his brother and not allow him to bring him down. Meanwhile, Merle confronts Michonne, hoping to make amends with her and "let bygones be bygones," while Carol watches.
Andrea tells Milton that she's sneaking out to the prison and not to tell the Governor. Milton begs her not to go, but she is adamant and asks for assistance.  Of course, Milton shortly after finds the Governor and reveals Andrea's plans to leave. The Governor tells him to help her as she requested.
Outside the gates of Woodbury, Andrea and Milton find a walker, tackle him and remove his arms, then his teeth. As they bind him, another walker appears, and Tyrese races up and kills it. Tyrese's group asks Andrea and Milton if they have a camp. Milton tells them he'll take them back to Woodbury, leaving Andrea with the "tamed" walker to go about her journey to the prison.
Andrea makes her way to the prison with the bound walker leading the way. Rick's men see her approaching and open the gates for her. Not trusting her, they search her for weapons with their guns drawn. Rick brusquely tells her "welcome back," and shows her into the prison. She reunites with Carol and the rest of the survivors, then gets a debrief on who has perished from their original group.
The survivors are clearly all upset at Andrea, but she wants them to call a truce with the Governor and encourages them to go back to Woodbury with them. She tells them that the Governor is preparing for war against them and is building a small army with his townspeople.
Michonne and Andrea finally have a moment alone. Michonne reveals that the Governor sent Merle after her to kill her, upsetting Andrea.
In Woodbury, Tyrese's group is welcomed by the Governor. He tells them about the attack, and they reveal how they just left Rick's prison, calling him a "whack job." Tyrese wants to "earn his keep" and Milton and the Governor see value in his knowledge of the prison's layout.
Andrea is holding Rick's baby, and is debriefed by Carol on how Lori and Shane died. Andrea sees how Rick has become cold and unsteady. Carol tells Andrea to sleep with the Governor, "give him the best night of his life," and end the battle by killing him.
The group shows Andrea out the door, giving her a gun and a car. Rick tells her to be careful. and they all watch her drive away.
Andrea returns to Woodbury and is also treated suspiciously by the Governor's men. She sees the Governor and reveals what she saw at the prison. The two embrace. Later, Andrea wakes up in bed next to the Governor. While he's asleep, she takes a knife and hovers over him with it, but is conflicted and steps away.
It's nightfall in the prison, and Beth starts to sing in the cellblock while the others gather around. Rick tells Daryl and Hershel that he's going on a run tomorrow, and asks Daryl to keep an eye on his brother Merle.
What do you think Andrea should do? Tell us at MSN TV on Facebook and Twitter.
"The Walking Dead" airs Sundays at 9/8c on AMC.