'New Girl': A Thanksgiving truly befitting this bizarre bunch
Jess stages her umpteenth 'Parent Trap' and a new Schmidt shows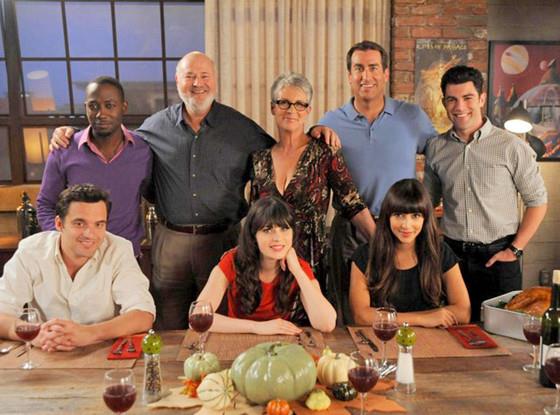 In an episode that is sure to be a reference point as far as this series goes, for as long as it goes, Jess invites her divorced parents over for Thanksgiving dinner, each getting a different shift. Mom Joan is due at 9 and Dad Bob at 2:30. Yet, somehow, they arrive at the exact same time. Could it be that because ever since they broke up Jess has been using ploys out of the beloved family comedy "Parent Trap" in an effort to get them back together? Yep. (This is particularly clever given Jamie Lee Curtis is playing Joan, who did a great job in the "Freaky Friday" remake some years back, alongside Lindsay Lohan, who also did a "Parent Trap" remake.)
Bing: Rob Reiner & Jamie Lee Curtis  |  Rob Riggle
Cece is well aware of Jess's plan, and promptly calls her out on it. Problem is, she can't exactly go to Joan, who remains convinced Cece scratched her van when the girls were teenagers, which Cece vehemently denies. Meantime, Nick does some rather twisted, agitation-fueled bonding with Jess's father (played by the venerable Rob Reiner) on the couch, hating all the same things and talking about a zombie novel he's writing that Bob points out is pretty much "Twilight" -- with a zombie. Not to read too deeply into such an off-the-wall sitcom, but it looks as if Nick is just like Jess's father. Further proof the Nick/Jess hook-up is coming. Or maybe not. After all, when Jess asks Nick to flirt with her mother just to make her father angry, Nick actually falls for Joan, her heart melting as Jim Croce croons in the backrgound, her go-to get it on music.
Out in the courtyard Schmidt's cousin has shown up, without his longtime girlfriend and declaring himself "the one true Schmidt." With Rob Riggle (formerly of "The Daily Show," and most recently seen in the "21 Jump Street" remake), the Schmidt-off that ensues is a but-guster. As they both shout "all day, all day," they strip their shirts off and wheelbarrow each other around, our Schmidt stopping just short of a punch to the testes. He is fine with coming up short, though, citing that "pre-Clinton manhood" is no more, declaring "exfoliation" the new manhood. A pepper-dicing competition results. Why wouldn't it?
Want more TV? Like us on Facebook and follow us on Twitter.
Before the night is over Bob and Joan do have a make-out in the bathroom, witnessed by Jess, but they shatter her illusions of a family reunion just in time for Cece to finally admit she did scratch the van and Jess to dump the turkey into the sink. It is a rollercoaster ride of a Thanksgiving, not unlike so many that take place in so many homes every year.
Joan and Jess have a heart-to-heart, with Mom assuring her daughter it's all "just life." Then she and Bob are down the hall, into the elevator and back to making out.
As for the one true Schmidt? Even though kissing Winston, the final challenge, is only taken on by Big Schmidt we all emerge certain of two things: One, as Big Schmidt readily admits, he is just a guy missing his girlfriend and lonely on a holiday; and two, there will only ever be one TRUE Schmidt.
 "New Girl" airs Tuesdays at 9 p.m. ET/PT on FOX.