'American Idol' top 9 results: A Jolley gone fellow
Lazaro survives disastrous night, Amber falls into jeopardy, Iovine testifies at length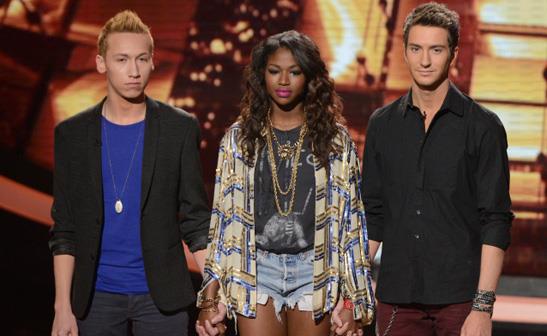 Goodbye, Jolley: Paul Jolley's brave attempt to fiddle with 'Eleanor Rigby' won him a ticket back home. The good news is that his Tennessee hometown just declared a Paul Jolley Day.
I was trying to figure out why "American Idol" opened Thursday's results show with a filmed sequence of Interscope chairman and "Idol" advisor Jimmy Iovine coming down heavy on a studio engineer. Turns out it was a prelude to 10 minutes of Jimmy coming down heavy on most of the contestants.
Bing: More about 'American Idol' | Video: Watch clips | Photos: See highlights
This was a fascinating slice of television. Jimmy gave detailed critiques on all nine Idols, and overall it was the best sustained analysis ever seen on a TV music competition. I won't recap it verbatim, but here are some of the highlights, in the same order they appeared.
Introductory notes: "Some sang really well, some not, but it seemed like the judges were complimentary across the board." He added that critiques are fine as long as you're consistent, but "what you can't do is coddle people."
Kree: "It's clear that she's great. She tends to oversing," he said, advising her to use her power more sparingly.
Burnell: "This whole thing about not knowing Beatles songs puts me off a little. 'American Idol' is a job, like singing is a job. In order to get that job, you have to prepare. Burnell was not fully prepared."
Lazaro: This was the most intriguing commentary of the night. After calling Lazaro's performance of "In My Life" "easily the worst," Jimmy contradicted the singer's explanation of his nervousness as a result of having to change songs at the last minute, declaring he worked on the song with Lazaro for five days. "Everyone on the show has the same amount of time to learn these songs," he continued.
Amber: Another frank declaration. After saying she did "a wonderful job" with "She's Leaving Home," he added, "Nicki seemed to feel that we gave Amber that song to sing. It's not the case. The show picks the genre, the singer picks the song."
Candice: "By far the best performance of the night." Later, he compared her expressiveness to that of Mariah and Whitney Houston.
Paul: "Paul has a really good voice, but for me he's not ready for prime time."
Angie: Here Jimmy deftly pinpointed a flaw in Angie's approach. "At a record company, we get a lot of young kids who come in out of high school; they just dramatize everything. Angie is too dramatic ... Everyone's saying how great she is, but I'm telling you, there is something wrong and we have to fix it." He then predicted that if the operation is successful, she could win it all.
Devin: "Devin has a great ear … but he has to learn how to consistently apply it … He has to work on his delivery and his consistency."
Janelle: "What a great song choice … It seems to me that all the talk has been around all the singers with the fireworks. Well, Janelle's restraint is explosive." He dubbed her his "dark horse."
(Lest I mislead anyone, I should point out that it wasn't 10 solid minutes of Jimmy handing down the stone tablets. There were excerpts of each performance and judges' reactions interspersed throughout.)
Amber was summoned to hear her fate, or so she thought – instead she was treated to rehearsal footage of her failing to negotiate a staircase shrouded in dense fog, a thoroughly questionable staging effect. Then she was told she'd have to wait for the results.
Instead, she and the rest of us got to see the first traditional group song of the finals. "Idol" viewers know by now to set their expectations very low for these exercises in time filling. Those expectations were fully met by the four guys slogging their way through the Earth, Wind & Fire version of the Beatles' "Got to Get You Into My Life." At least it wasn't a ballad.
Paul was called up to receive an oversized commemoration of a day in his honor proclaimed by the citizens of Dresden, Tenn. He then learned he was in the bottom three. Season 10 alumnus Casey Abrams sang a soul/jazz/scat version of the Beatles' "I Saw Her Standing There," playing stand-up bass as well, and – despite the distraction of a horrifying topknot – it was the kind of performance you could never imagine any of the current group of guys pulling off or even conceiving. (Possibly because it wasn't a ballad.)
The female group song was a ballad, "Here, There and Everywhere," sung better, of course, than the guys' number but definitely on the slushy side. More results followed: Devin landed in the bottom three and Lazaro, credibility issues and all, didn't. After a performance rated Wednesday's worst, not only by Jimmy and (probably) the judges but also the respected critic/fan poll at What Not to Sing, it's clear that Lazaro is surviving on sentimental backstory appeal alone. Starting tonight, that becomes a problem, because each time he sticks around, he's causing a better singer to be sent home. Figuring Burnell was probably safe, I realized a girl was going to be unfairly dumped into the bottom three later on. (My guess, not a remarkable feat of prophecy, was that it would be Amber.)
But before the remaining destinies were revealed, we had a return from last year's runner-up, Jessica Sanchez, including a montage of her "Idol" past and her glorious post-show career development, plus a performance of her new single, a duet with Ne-Yo called "Tonight." And a lively if conventional piece of turbo-pop it was – at least, unlike too many of her "Idol" songs, it wasn't a ballad.
Finally, it was time for the rest of the results, with the five remaining safe spots revealed one by one via a big screen: Kree, Candice, Angela (no surprises there), Janelle and … Burnell. So indeed Amber, who was in Jimmy's top three, was in the voters' bottom trio. Wrapping up briskly, Ryan declared Paul the recipient of the lowest number of votes, leaving Amber and Devin safe.
Paul chose to sing Heart's "Alone" for his survival song, but no way were the judges going to expend a save on him. The semi-final words of the song – "I hear the ticking of the clock" – seemed prophetic, and were. The score now stands at Girls 5, Guys 3.
Eliminated: Paul Jolley
Next week's theme: The music of Detroit, presumably meaning Motown unless they want to throw in Iggy & the Stooges and Ted Nugent. At least most of the Motown hits weren't ballads, but the producers sure aren't going out of their way to make the songs more current.
Did America get it right? Connect and sound off on Facebook and Twitter
"American Idol" airs Wednesdays and Thursdays at 8 p.m. ET/PT on FOX.