'Revenge': Penance
Mason gets the full story on Amanda and Emily's life swap, but pays the price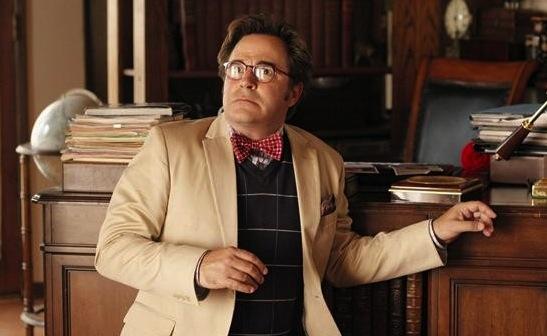 "Penance is a sacrifice, a voluntary sacrifice to show remorse for a sin. The more grievous the sin, the greater the self-inflicted suffering," Emily voiced as Victoria clutched the gun under her pillow, Conrad cut himself shaving and a disgusted Kara threw aside the morning paper that reported Conrad's freedom. "For some, the ultimate penance is death, but for others, it is simple a means to an end."
Bing: More on 'Revenge' | Watch clips and full episodes of 'Revenge'
Emily's morning thoughts and spy session were interrupted by a surprise visit from Mason. He immediately launched into the "irksome questions" that had him up early. He thought it strange that Amanda and Emily, two people from opposite ends of the social strata, were friends. He suspected the former cellmates were actually former lovers who had teamed up in their vendetta against the Grayons. He clucked that she might as well talk, because it was all going to be in his next bestseller. She warned she'd retaliate with a libel suit.
At brunch, Emily told Aiden he had 24 hours to position Daniel for the Grayson Global takeover, because prosecutors would be dropping Conrad's case. She was confident The Initiative was preparing to send an envoy to Conrad's investor's meeting and told him to be there for it.
Want more TV? Like us on Facebook and follow us on Twitter.
Over at the manse, Victoria gave Kara her credit card number so she could confirm her flight to Colorado Springs and get out of their hair. Then Queen V tracked down Conrad, who was moping on the beach. He was safe from The Initiative, as long as he hid their assets in his company. They were sending an attache with his new marching orders. Victoria wasn't ready to go down without a fight. "I say we drag them to hell with us!" she growled.   
Above the bar, Amanda and Jack got the baby down and were talking weddings when Mason called to invite her to lunch. He wanted her reaction to his Sapphic revenge theory. She ran to Emily and complained her plan was taking too long. Em promised it would be over in a day, but Amanda revealed she was engaged now and wasn't going to let Mason get in her way of finally having a family. Emily warned that killing Mason would kill her chances. She ordered Amanda to cancel lunch and threaten Mason with a restraining order. Once that was done, she sent Amanda back to her family and told her to be grateful.
Unfortunately, the family bar was just were Mason was going. He brought Amanda his photo of her and Emily in juvi. She insisted he'd misunderstood and frightfully spoke of protecting Jack and the baby. "None of it was my idea," she whispered, weaving a story of how Emily had been obsessed with her from first meeting and had used her in her sick game. She worried Emily would destroy her family and begged him to go someplace more private.
At the docks, Trey's baby brother showed up to ask about his new bar, The Stowaway, and gloat over the five boat slips they co-owned. Trey reminded him the slips had long-term leases, but baby brother said leases were made to be broken and told him to remember what he was doing there. Trey hedged, saying the Porter kids were good guys, but baby brother sniffed that the same couldn't be said about their dead old man. Right on cue, Jack showed up and was introduced to baby brother, aka Nate. Nate told Jack he was lucky to have teamed up with his brother, who had the Midas touch.
Aiden showed up at Nolan's office in New York. Nolan was still smarting over losing Emily to him, but Aiden needed his help infiltrating Grayson Global to draw out The Initiative. Their plan required Daniel ascend to power and to make that happen, Nolan had to let Daniel prove that Grayson owned a majority stake in NolCorp. "This might be your last chance to save Emily," Aiden said, because if Grayson started digging, they'd find out about Emily's past investment. Nolan grunted, pulled out David Clarke's framed start up check, broke the frame and handed over the check. Nolan had promised David he'd protect Emily, but he wondered what was in this for Aiden. Aiden had hurt her once and was trying to make it up to her.

"Hurt her again and I swear you will pay," Nolan warned before running to see Emily. She told him Aiden was another Takeda protege. "This one time at revenge camp," Nolan teased, but he got serious when he told her about the check. He wouldn't let her stop Aiden from using it. He didn't care about losing his company if it was to protect "the only family I've ever had." The sat down to watch Aiden's plan play out at Grayson manse, but Emily took off when Jack called and mentioned Amanda had returned from lunch with Mason.
At Mason's, Amanda was awed by the writer's board of connections. Mason promised his next book would clear her father's name and portray her as a victim of "sociopathic socialite" Emily Thorne. "Confession is good for the soul… and book sales," he said. She painted Emily as unhinged as she took as swing at him. Emily ran in and caught her arm. Then she sent Amanda home. Mason was so proud of himself for recognizing Emily as the mastermind, but Emily blew his mind by revealing what he'd missed: She was Amanda Clarke! "I believed you when you said you'd write the real story," she said. He apologized for betraying the truth just as Nolan called with news that her mother skipped her flight and was going rogue in a rental car. "Time to make amends," she told Mason.
Mason called Kara with urgent info about her husband's murder. When they met in Bel Aire Cove, he gave her Gordon's pocket watch with her photo in it and told her to go as far away as possible. Then he revealed her David Clarke had been a victim. Emily screamed at him via earbud, saying Kara was off her meds and not ready to hear what he had to say, but he laid it all out, revealing the Grayson's paid him to perpetuate their lies. Emily was so mad she hit the dashboard before calling Aiden to warn him her mother was on her way to the Graysons.
Aiden didn't answer, because he was knee deep in revenge business. Aiden had called Daniel with the news of the check and told him it was time to strike. Daniel trusted Aiden and told Ashley he planned to call the vote of no-confidence within the week. After a bit of a tet-a-tet with his mother, Victoria reminded him she was his strongest advocate.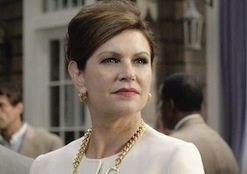 Then Conrad's big investors' lunch began. He introduced Victoria to Helen Crowley, who happened to be the mysterious Initiative rep who'd gotten him out of jail and one of their biggest investors. Once Aiden arrived with the check, Ashley kept Conrad busy with guests, while Daniel pulled aside the big wig - including Helen. He revealed he had proof of Grayon's multi billion dollar stake in Nolcorp and asked them to back him as the new CEO and let him triple Grayson Global's net worth inside a year. Victoria walked in just in time to hear.

In another part of the manse, Kara turned off the security cameras. Emily was frustrated to find her spy access limited. She called Aiden again. He'd identified Helen as the Initiative rep, but Em was more concerned with her mother. When she realized the master bedroom cameras were off, he told her to turn the rest of them off and ran upstairs. "Trust me!"
Conrad's speech was going terribly, so he was relieved when Victoria called him to their room. She burst in after him with "bad news," but before she could tattle on their son, Kara popped out with her gun. Victoria promised to help her with her "demons." Kara said they were the demons and demanded the truth about David. Conrad took the blame, revealing that all those years ago, The Intiative had been planning to frame him, so he made a deal to frame the man who was stealing his wife, instead. Victoria tried to sneak out her own gun, but Kara had it, so instead she talked of her guilt. Then Grayson told Kara Gordon was the one who killed David. Victoria showed her the other half of her courtroom photo of David, which was, of course, was Gordon. "He was the worst of them," Grayson said. She had them kneel and blindfold themselves. Victoria and Conrad held hands, waiting for death. "I'm sorry Victoria," Conrad said, as Aiden chloroformed Kara and slipped her out.
Nolan went to Mason's and was not happy to see himself on the board of connections. When Mason came home later, he found the cops serving a warrant. Det. Duncan wanted to question him about Gordon's murder and a conspiracy to frame Conrad. As Mason noticed his board had been changed, an officer brought the missing black box from the plane crash.
When Kara came to, she was in the car with Emily. Aiden, aka Agent Mathis, explained that he'd asked for Emily's help. Then he gave her the pills they'd found in Gordon's pocket and warned that she was a target now. Her plan for the Graysons would have gotten her killed by the people her husband worked for, and maybe her daughter too. He gave her keys to a gassed up car and told her never to return. Em asked Kara if she had a message for her daughter. "I wish I could have been a better mother," she said as she got out of the car. As Emily watched her mother get in the car and drive away, she flashed back to her mother singing to her in the car on a rainy day. Aiden offered to stay, but she sent him away so she could tie up one more loose end.
Nolan asked Padma if she'd still want him without NolCorp. She said she would.
Emily brought Mason a deal. He would give a full confession and do time for crimes he didn't commit or be taken down by "a staggering amount of evidence." He believed a trial gave him a fighting chance, but she insisted she was his only chance. If he kept quiet, her future confession would set him free. He could use the time in lock up to work on a book covering the time between David's arrest and the day her vengeance is completed. "This is the book that we both know you were destined to write," she said. The fool fell for her offer.
"To properly do penance, one must express contrition for one's sins and perform acts that to repair the damage caused by those transgressions," Emily said.
Jack offered Amanda the wedding of her dreams, but all she wanted was a few friends on the boat he named after her.
Conrad told Victoria the cameras went dark when Kara vanished and they assumed it was The Initiative. She tried again to tell him about Daniel's move, but he told her it could wait till morning. He caressed her hair, kissed her forehead, called her sweetheart and told her he'd be right outside her door. She was surprised by his gentleness. 
Mason told his tale to Det. Duncan.

"It is only when those acts are complete that the slate can truly be wiped clean, and amnesty gives way to a new beginning," Emily concluded as she came home to find Aiden waiting for her. After a bit of back and forth, she threw herself at him and kissed him passionately.
"Revenge" airs Sundays at 9 p.m. ET/PT on ABC.