'Modern Family': Shear ex-tortion
Claire reunites with an old flame and a bad haircut gets covered up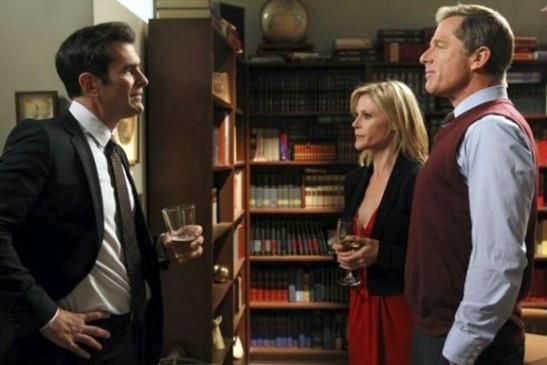 Claire (Julie Bowen) attends her high school reunion in Wednesday's episode, "Bad Hair Day." She's secretly happy Phil (Ty Burrell) has to play in Phil's (Ed O'Neill) bowling tournament and can't make it, because it could mean a peek at the road not taken with an ex who dumped her -- even though she claims never to have been dumped by anyone.


Bing: More on "Modern Family" | More on Sofia Vergara

Luke (Nolan Gould) has failed an assignment on the Revolutionary War. Phil signs the acknowledgement letter without reading it. (Wait, this information will pay off later.)


Jay boots Phil from the bowling team. He's replacing him with a new guy. "This is nothing personal," he explains. "It's bowling." After crying it out, Phil turns up at the reunion. Overjoyed is not an accurate description of Claire's reaction. She admits her curiosity about her old flame, but Phil thinks she's talking about another classmate (David Faustino, who, unfortunately, doesn't get to play a scene with O'Neill, his former "Married… With Children" co-star).


There's barely time for comedy before Phil discovers that the flame is Claire's still dashing, suave and much-taller-than-Fau​stino former professor (Maxwell Caufield). Claire issues a non-admission admission about being curious about where the road not taken might have led.


Then the professor's wife (Maribeth Monroe) enters. She's miserable with him and their life together. She's got a load of laundry in one hand and a mug of alcohol in the other. Claire is happy once again with Phil, who is happy to be just a rebound. "I'm not sure how that guy got to be a professor," he tells Claire. "He'd have to be pretty stupid to dump you."


Meantime, Manny (Rico Rodriguez) is depressed because he failed three auditions and Cam (Eric Stonestreet) won't give him a solo. Jay takes him shopping to cheer him up, but this makes him late for the bowling tournament. So he drops Manny off at a bus stop. Then he pulls up alongside the bus, encouraging his son to sing at the top of his lungs on the crowded bus to conquer his stage fright. It seems to help, although Manny's not exactly amazing.


Want more TV? Like us on Facebook and follow us on Twitter.


Back at home, Gloria (Sofia Vergara) throws away last year's bowling prize that Jay forgot about: a free spa day that expires momentarily. She has no time for such things because she's so busy being a good mother and helper. She even twists her ankle getting a feather boa for Mitch (Jessie Tyler Ferguson) because he and Cam are doing a photo shoot featuring Lily (Aubrey Anderson-Emmons) posing as various movie stars for their Oscars party.


Lily quits the photo session after six hours. So Cam and Mitch replace her with baby Joe --  whom they now have custody of while Gloria sees a doctor -- in a wig. Unbeknownst to them, Lily has glued the wig on. Cam tries steaming it off in the shower, but it doesn't work, so he cuts it into a Justin Bieber do. But this is ridiculous, so Mitch hacks the wig completely off, taking tufts of Joe's hair with it. The baby is now scalped.


Mitch agrees to accompany Cam on his dreaded visit home to Missouri farm country if Cam takes the fall for giving Joe and haircut and faces the wrath of Hurricane Gloria. And here's where the plots begin tying together neatly. Cam approaches Manny, offering him a solo if he agrees to take the haircut fall. Manny accepts, then approaches Luke, blackmailing him about his failing Revolutionary War project grade. Finally, Luke approaches Jay, noting how strange it was that the new guy he kicked Phil off the team to add happens to go by the same name as a pro bowler, information that could disqualify Jay's win.


Jay claims that his dad cut his hair when he was a kid, so he thought it would make for good bonding with his son.


After all that, Gloria is not even upset. That's because she took the spa day after all. She only pretended to throw the certificate out and twist her ankle.


"Modern Family" airs Wednesdays at 9 p.m. ET/PT on ABC.