'Glee': Glease is the word
Kurt and Rachel return to McKinley for the glee club's production of "Grease"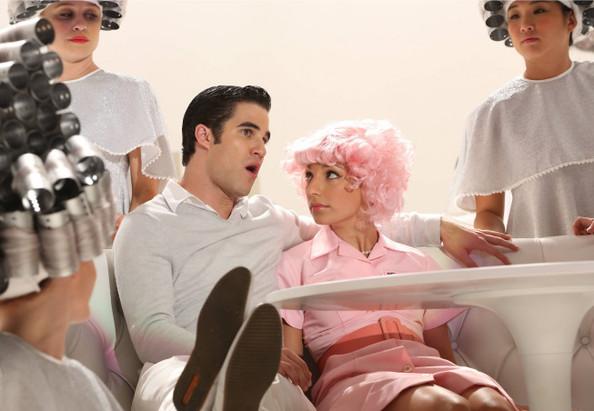 During last week's episode of "Glee," the high school production of "Grease" has been cast with Marley and Ryder taking the lead roles of Sandy and Danny. However, Will makes a bittersweet decision to leave McKinley for a few months for Washington, offering Finn his role as glee club teacher.
Bing: More on 'Glee'| Matthew Morrison
Will breaks the news of his sabbatical to the students, he'll be serving on a panel to rewrite the arts curriculum in schools nationwide. The students are shocked he's leaving them before Sectionals, and even more outraged when discovering that Finn is taking over his role. Just then, Sue Sylvester walks in and calls them to Principal Figgins' office. She states her case against having Finn teach the glee club and stomps out in a fit of rage.
Can the glee club win Sectionals without Mr. Schuester? Tell us on Facebook and follow us on Twitter.
Back at NYADA, Rachel is in the middle of a dance class and reveals to Brody that she has officially broken up with Finn and can now devote herself to her career. She has an audition for an off Broadway production of "The Glass Menagerie." Her dance instructor, Cassandra, overhears and tells Rachel she's not ready to audition for the notorious director. Rachel encourages her to also audition and "get back in the game." Cassandra dismisses her and offers Brody a teaching assistant role, which he accepts.
Backstage at McKinley, the girls are getting fitted in their costumes, and Marley is having a hard time getting into her outfit. Kitty appears and predictably makes disparaging fat jokes. We discover she's altered Marley's costume, making it seem like Marley is gaining weight. She then invites all the female cast members (including Wade) to a sleepover.
In the cafeteria, Marley asks her overweight mother when she started gaining weight. Her mother encourages her to start a strict diet together.
Meanwhile in the faculty lounge, Finn apologizes to Sue for calling her baby a "retard." Sue doesn't accept and bitterly tells him his class can't rehearse in the auditorium because she reserved it for cheerleading practice. As an alternative, the boys walk into a car garage and are encouraged by Finn to do "method acting." Expectedly, they break out into the iconic song and dance routine to "Grease Lightning." Finn and Artie applaud, but ask them to do it again with "double the energy!"
In the NYADA dance room, Kurt and Rachel are stretching and receiving "Grease" updates from Tina. Cassandra walks in and overhears them discussing the musical. When Kurt explains that Rachel's ex is directing his ex in a production, Cassandra tells them to go see it for "closure," even offering them her JetBlue frequent flier miles since they can't afford the flights home. (She's been banned from JetBlue after a Bloody Mary incident left three other passengers injured.)
At Kitty's sleepover, the girls are chowing down on donuts, but Marley refuses to eat one. Kitty takes her into the bathroom and condones purging, due to Marley's "circus fat genes." Marley is left in the bathroom while Kitty returns to the rest of the group, mocking Marley in a rendition of "Sandra Dee."
Finn is once again asked to the principal's office and he's dismayed to see that Wade's parents have also been called in. This is the first they've heard of Wade playing a female role in the musical, and they're worried about his safety from bullies. They pull him out of the performance, and Sue smugly leaves Finn without a Rizzo and ultimately without a show.
Moments later, Santana has returned to the high school and gladly accepts the role of Rizzo, claiming she was born to play the part. Tina bursts in wearing Rizzo's costume, excited to have the role, but is angry that Santana's already taken it.
Rachel and Kurt walk arm and arm back through the halls of McKinley, and are reunited with Mercedes who has been busy balancing classes at UCLA and providing back-up vocals. Backstage, Marley is still struggling with her costume, and Kitty appears and whisks her away to "help." Kurt and Rachel awkwardly run into Blaine and Finn, and exchange pleasantries. Finn tells them it's cool they came to support the show despite their differences.
The musical begins with Blaine as "Teen Angel" performing "Beauty School Drop-Out." After locking eyes with Kurt for a moment, he finishes the number to applause from the audience.
Ryder comes across Marley in the restroom trying to make herself vomit. After sharing a funny anecdote of his cousin crapping his pants in front of the whole school from using laxatives, Ryder tells Marley he doesn't' want to kiss girls with "puke on their breath." Marley looks at herself in the mirror and defiantly sings the last few verses of "Sandra Dee." (Take that, Kitty!)
Before Santana's solo, Brittany tells her how much she misses her and how she's not dating anyone ("guy or girl"). Santana reveals she accepted the part so she could see Brittany again. She takes the stage as Rizzo singing "There Are Worse Things I Can Do." We catch scenes of Cassandra and Brody dancing seductively together back at NYADA.
Backstage again, Mike tells Tina how impressed he is and regrets breaking up with her. Tina says being apart from him tested her, but she misses him too and hugs him. Marley emerges in her "sexy Sandy" outfit, wowing Ryder. She feels self-conscious, and Kitty sidles up to them, revealing that their local theatre critic is in the audience. Marley is clearly nervous so Ryder gives her a pep talk and then a kiss while Jake watches.
The musical closes with "You're the One That I Want," but Rachel sees herself and Finn as the lead roles. Emotional, Rachel calls Brody, but is surprised when Cassandra answers his phone. Cassandra gives her the impression that she and Brody were together, then goes off on Rachel's condescending and insubordinate behavior. Rachel hangs up, distraught.
Rachel runs into Finn in the hallway. He sees that she's upset and asks what's wrong. He tells her that she's been his "moose" during the whole production. She corrects him by saying "It's muse," but he was just playing dumb to make her smile. She won't tell him why he's upset, so he guesses correctly that she's crying over Brody. (He tells her she has "four different kinds of crying.") They make a pact not to talk to each other anymore.
Blaine runs up to Kurt wishing to talk to him. Kurt doesn't want to hear it, no longer trusting Blaine . Kurt and Rachel leave, claiming McKinley isn't home to them anymore.
In the music room, Artie is reading a rave review from the theatre critic. Will is now confident leaving McKinley's glee club in the hands of Finn. Will offers some final advice to Finn about Sectionals, but Finn interrupts and says, "I got this." They embrace and Will walks away with one last glance at Finn.
"Glee" airs Thursdays at 9/8c on FOX.