'Nashville': Tomorrow's gonna suck
Juliette tried to grow up and Rayna tried to loosen up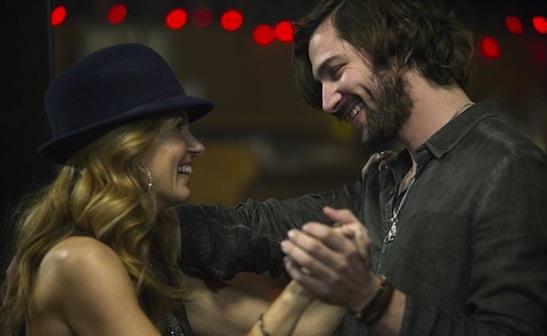 Teddy's request for a divorce left Rayna numb and unfocused. Ever the pro, she smiled through the press junket before her show and even handled an uncomfortable run in with Liam. Then Teddy called. He wanted to tell the girls about the divorce as soon as she came home. She wanted to wait, but he was afraid the girls would hear about their breakup on their own. When Rayna walked out on stage minutes later, she was in another world. Everyone could see it. She eventually snapped out of it and delivered a rocking show, but Deacon was worried. In 20 years, she'd never missed a cue. She wanted to unload on him, but wasn't ready to think about anything yet.
Bing: More about 'Nashville' | Watch clips and full episodes of 'Nashville'
Juliette was on a mission. She called her "family" together and told the crew she was ditching the "juvenile" parts of her tour. Glenn balked, but she reminded him she was the boss. After reviewing her plan, he told the crew they should come to him before making any changes. When Deacon called him out for going behind Juliette's back, Glenn recalled what a straggly teen she'd been when he found her. He'd turned her into a star. He was like a father to her. Deacon shrugged that fathers had to let their girls grow up. Then he jumped into Juliette's car. She was on fire with ideas for the acoustic set she was adding to her show. Deacon approved, but wondered how Glenn would take it. Juliette lost it when she found out Glenn was working against her. She charged out and woke her crew in the middle of the night by screaming in the hotel hallway. Then she screamed some more, reminding them that they worked for her, not Glenn. When she threatened Glenn, he quit.
New roomies Scarlett and Gunnar were thrilled to hear Rayna was thinking about signing them to her new label. Then Gunnar's brother showed up. Jason had ditched the gun and wanted a second chance. Scarlett didn't want a parole violator crashing on her couch and ordered Gunnar to send him back to Texas. He claimed Jason's prison term was his fault. He'd been the getaway driver, but when Jason pulled a gun, he'd panicked and run. Scarlett argued Jason shouldn't have put him in that position, to begin with. Then she agreed to let Jason stay one night. She was short with Jason at first, but softened when he revealed he'd taught his little brother to play guitar so that Gunnar would stop moping. They'd had a tough life. Gunnar said Jason had more talent than he did, but had given up his dreams to raise him. When Gunnar and Scarlet started writing, Jason joined in on the extra guitar. He was so amazing Scarlet said he could stay a few days. She would have felt differently if she'd known he was still holding that gun!
Want more TV? Like us on Facebook and follow us on Twitter.
Tandy was appalled to learn Teddy was still taking calls from Peggy. He told her to butt out, so she called Rayna. Rayna blew her off and when Liam showed up at her after party, let him convince her to let loose. She got drunk and dragged him out to the dance floor. When a local spotted her, they decided it was time to head back to the hotel. Outside his room, he laid a kiss on her. Things got hot and heavy fast, but she pulled back… and then followed him into his room! After another hot kiss, she went to the bathroom and started crying. Liam sat on the floor with her as she worked it out. She wondered if she and Teddy should stay married for the kids. Liam recalled how his parents had faked it in public and fought behind closed doors. The best day of his childhood was when his mother finally left his father. "Tomorrow is gonna suck," he admitted, but it would be the best thing for everyone. Rayna revealed she'd almost hooked up with him because with him, there was no drama and no stings attached. He reminded her they were hallway through an album, which was like being married. They agreed they should finish it.
Avery was upset over the direction Domino was taking his album. He also hadn't seen any money yet. Marilyn told him she'd spot him some cash for decent digs. Domino wasn't as helpful. He knew Avery was out of his comfort zone, but told him to get it done. Avery was more than primed for Gunnar's ex Haily, who show up to sign him to South Circle, their publishing company. Marilyn warned he'd be a fool if he sold his rights for a penny and urged him to be patient. She lost him, however, when he saw that she'd already replaced him with a new young thing. Over beers, Haily said she wanted to be in the Avery Barkley business and give him a chance to make the music he wanted to make. He was an easy sell. (Isn't he always?) He signed for $100,000.
The next morning, Deacon gave Juliette the cold shoulder. "Is that part of your plan to be seen as a more mature artist?" he sneered. He warned that if she kept talking to people that way, she'd end up alone. He certainly wouldn't put up with it. Then he got off the elevator and spotted Rayna and Liam being affectionate. She insisted they were just friends. Deacon didn't buy it. He stormed off, sniffing that he didn't want "a damn thing" from her.
When Juliette returned to her beautiful, empty home, she called her mom and invited her to come live with her after rehab.
Rayna and Teddy, meanwhile, told the girls they were divorcing. After the tears, Maddie dropped a bomb on her mother: Teddy was "still" seeing Peggy. She'd overheard him on the phone with her!
Find the 411 on the music in this episode on ABC's Nashville website.
"Nashville" airs on Wednesday at 10 p.m. ET/PT on ABC.