'Girls': House-cooling party
Old flames ice over in Season 2 premiere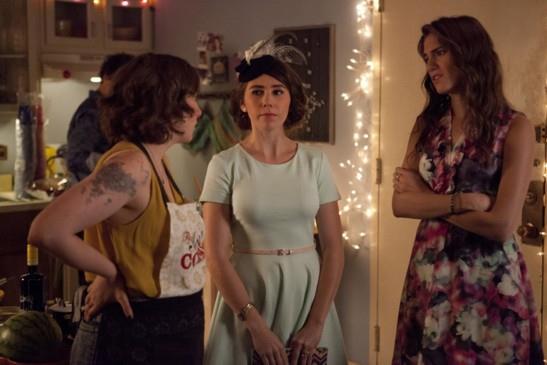 Most of the Season 2 opener, entitled "It's About Time," is set at a party thrown by Hannah (Lena Dunham) and her gay ex-boyfriend, Elijah (Andrew Rannells).


Bing: 'Girls' | More on Lena Dunham


But it skips over heaps of action we don't see. Adam (Adam Driver) has finally been replaced in Hannah's love life by Sandy (Donald Glover), a Republican she met while serving him as a barista, and who enjoys it when Hannah get naked as much as she does.


But Adam doesn't respect Hannah's decision to finally respect herself. He puts Hannah's continued visits to her apartment down to love, instead of the guilt they really represent for her role in his getting hit by a truck. (It happened after she told him she didn't want to live with him.) Adam reminds Hannah that she once told her that if she broke up with her, he shouldn't let her because she was just being crazy. ("I changed my mind," she says.)


Marnie (Allison Williams) has been replaced in Hannah's Greenpoint apartment by Elijah. This explains the party, which goes well until George (Billy Morrissette), Elijah's much-older sugar daddy, gets plastered and berates the attendees for being "a first grade party full of losers." Hannah ejects him.


Shoshana's (Zosia Mamet) party fears prove founded when she runs into Ray (Alex Karpovsky), who deflowered her at the end of Season 1 but, she repeats to herself, didn't devalue her by rejecting her afterward. ("Oh, hello," Shosh tells him. "Goodbye.")


Right after she explains how she respects herself too much to like him, they go at it again.

Want more TV? Like us on Facebook and follow us on Twitter.


Marnie is being downsized left and right. It started at her art gallery, a bummer that a visit from her needy and immature mom (Rita Wilson) does little to soothe. But she's also lost her boyfriend and now feels like she's losing Hannah. Hannah is not convincing when she assures her that she hasn't returned all her calls simply because she has two full jobs and a third -- changing Adam's bedpans, which she leaves the party to do.


Leaving Marnie alone with Elijah seems harmless enough until Elijah decides that he is now bisexual. Marnie knows how mad Hannah will be to discover that Elijah does like girls but only if they're her hot best friend and not her.


However, as we discover via intimate details, Elijah is only partially bisexual. ("You really don't have to try to be anything you're not," Marnie tells him. "Neither do you," he replies.)

Hannah returns to Sandy, who did not attend the party, and gets naked once again. The fact that Sandy is black is widely being interpreted to be Dunham's answer to critics about the show's previous lack of diversity. ("It's about time," they both say at the top of the episode.)


"Girls" airs Sundays at 9 p.m. ET/PT on HBO.