'The Vampire Diaries': Raising the Stakes
As Elena is haunted by Connor, Jeremy gets marked with the Hunter's mantle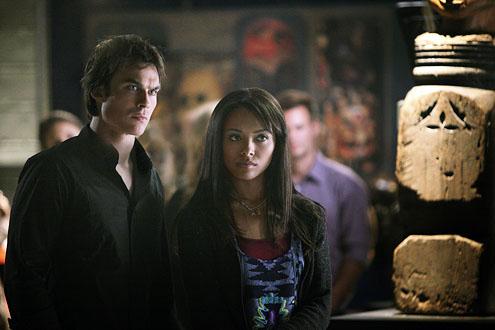 Last week on "The Vampire Diaries," Elena made her first kill – the hunter Connor – and it turned out that the legacy of The Five was passed on to the next generation. Which just happened to be her brother Jeremy. Oopsie. Isn't that going to hurt when the gang all finds out?

In any case, just as Stefan suspected, Elena was feeling pretty haunted by her kill. Like literally. Nightmares in which the word KILLER was scrawled on her mirror in blood. So she awoke to make herself some warm milk – do vampires still do warm milk – when she thought saw him, right there in the kitchen, all bloody. And chatty. "You're dead," she said. "Yes, I am. Was that the first time you've taken a human life." Freaking, she called Jeremy's name, but then the apparition of Connor grabbed her, so she took a knife and plunged it into his throat, killing him again. But when she came to, she realized it was actually Jeremy she had stabbed. Frantic, she checked his hand, and he was still wearing the never-die ring Bonnie had made him.
Bing: More on "The Vampire Diaries" Photos: Meet the cast of "The Vampire Diaries" 
Next natural step? Call Damon. She didn't want to talk to Stefan because he'd been lying to her, compelling Jeremy, etc. But she didn't really get a choice in the matter, because Damon had called his brother himself. That's when Jeremy came to, a bloody mess. When he asked what happened, Damon said, "Long story. Buy the e-book."

Stefan apologized again, but Elena didn't want to hear it. "This is my brother's blood on my hands, Stefan. Forgive me if I'm not in the mood to hear you talk your way out of this right now."

At Tyler's, Hayley was all about getting wasted, in mourning for her dead hybrid pal, Dean. But Klaus arrived, irritated with the whole Connor situation. Then Caroline showed up, returning all of Tyler's stuff, announcing their little split to the room. Which prompted Klaus, all pompous, to take his troops and go. As soon as Klaus left, Caroline asked if he'd bought it. "Hell, I bought it," Hayley said.
Elena, in the shower, saw a pool of blood at her feet. Downstairs, Damon and Stefan were arguing when Klaus called. "Let's accentuate the positive, shall we?" Klaus said. "The hunter was one of five. Surely we'll find another. But I'm concerned about your beloved. Have the hallucinations started yet." That got Stefan's attention. "When one kills a hunter, there's a bit of a consequence. Hunters were spelled by witches to kill vampires, if you kill one, he'll take you down with him. Connor's death won't prevent him from making Elena his final vampire kill."
Klaus suggested he'd lock Elena up, keep her away from sharp wooden objects. Stefan said she was stronger than that, but Klaus wasn't buying it. Back upstairs, Connor was visiting Elena again. "I'm rotting in an unmarked grave because of you," he told her. "You're a monster, and you deserve to die." That's when Elena made a run for it.
At school, Jeremy asked Matt if he saw the tattoo – the one that showed up on his hand after Connor died. "Does that make you the next chosen one or something?" Matt asked. April Young showed up with Professor Shane, who was doing some kind of exhibit. When he left, she asked the boys – again – about Rebecca.
Stefan and Damon downloaded to Bonnie what was going on with Elena – and she told them she'd ask Shane for help. She showed up at his exhibit, all about witches through history. April was there, and she said she remembered Shane – he'd known her dad. Shane was lecturing about some ancient witch named Silas, one who wanted to rise again.

Elena, meanwhile, was in a sealed room at Klaus's house. He told her he'd been through what she was experiencing. For 52 years, four months and nine days. "I was tormented in my dreams and every waking moment," Klaus said. "It's the only period of my life that I felt time." Elena asked how he made it stop. He didn't. Eventually it just stopped. He told her the hallucinations would get stranger. Connor showed up again, goading Elena. He told her he'd had a family. A brother. Parents. Then he asked about her parents. Said it was her fault they died. He said she never wanted to be this monster. She should just kill herself. When she resisted, he turned into Katherine. She told Elena that she was just like her now – maybe worse. "I was you before you even existed," Katherine said. "And when Stefan knew the real me, he hated me. And he'll hate you, too. But at least you'll still have Damon." Then she started on how Bonnie lost her Grams and it was all Elena's fault.
Stefan and Caroline plotted to get Elena out – and Tyler told Stefan how they'd broken his sire bond from Klaus. They'd helped another hybrid do the same. Chris. Who was still working for Klaus. As their mole. Plus, Caroline could work her magic. She went to the bar where Klaus was hanging and said he should give Elena back. Then she let him flirt, thinking the Tyler break-up was real. Meanwhile, at Klaus's, Tyler was chatting up Chris, convincing him to help them out. And so he did, letting Stefan right into the locked room. But when Stefan entered, all Elena saw was Connor. So she took a stake and plunged it into his stomach.
Damon, meanwhile, was drinking again – in Shane's office. Bonnie brought the Professor in and introduced them, and Damon said he'd studied the origin of the species. When Shane said he thought that was Darwin, Damon said: "Not that species." Straight to business, then: Damon showed him Jeremy's drawing of the hunter's mark. Shane told him the one who killed the Hunter would be haunted until the new Hunter arose, a Potential. Bonnie thought this was a lost cause – but then Damon revealed Jeremy's new dilemma. When Jeremy arrived, Bonnie informed him that to help Elena, he'd have to kill a vampire. "Great, give me a stake, I'll Damon right now." To which Damon said, "Easy Van Helsing, we'll get you one." That's when Stefan called, telling them Elena was MIA. Again.
As Caroline and Klaus sat at the bar, she got a text from Stefan. Then she told Klaus what she'd been up to – serving as a distraction and all – but that Stefan had lost Elena. She also told him they'd figured out how to stop the hallucinations.
As Elena paced, Connor and Katherine haunted her, telling her repeatedly that she was a monster and she deserved to die. Then Elena found herself back where it all started, back where it always ended. At the Wickery bridge. As she contemplated jumping, another ghost popped up. Her mother. "This bridge is where your life should have ended, not just once but twice. You know exactly what to do. That's right. The sun will come up and this will all be over. It's the right thing to do, Elena, you know it is."
"Because I'm a monster," Elena said, "and I deserve to die." So Elena took off her sun protection ring and waited for the light. But then she asked her mother about Jeremy. "You'll be a ghost that helps him, not a monster who hurts him."
She was convinced again, but then she heard Damon's voice. "Third time's the charm?" he asked. Elena nodded, half-gone. And that's when Damon realized she had lost her ring. He told Elena they needed to get her inside, but Connor was back.
Back at Klaus's, he reamed Chris for letting Elena go. But just when Chris thought he was forgiven, that he could walk right out, Jeremy appeared – and staked him. As Tyler and Hayley watched in horror, Jeremy chopped off Chris's head to finish the job.
That's when Connor's hold on Elena finally broke – and she realized, without her ring, she was about to fry. So Damon grabbed her and jumped into the river.
Elena awoke in her bed, her ring on her finger. Damon sat on the window seat, watching over her. "My head's clear," she said, and she remembered it all as if it was a bad dream. "You saved me. Thank you." Damon made an reference to "Heathers" – you know what they say about teenaged suicide, don't do it. Dated, yes, but he's a vampire, right? He could have kissed her then, but instead he told her that even though Stefan had lied, it wasn't what she thought. Everything he'd done, he'd done for her. To help her. Then he told her what it was all about: "There may be a cure."

At Tyler's, Caroline hovered as Tyler mourned another lost friend. "He was like me, Caroline, he was part of my pack," he said. "All he ever wanted was to be unsired by that disgusting piece of…" That's when he realized that Caroline must have negotiated to get Klaus to agree to give up one of his hybrids. And she had: she'd told Klaus she'd go out with him.
Want more TV? Like us on Facebook or follow us on Twitter. 
At the bar, Damon drank for two. One for him, and, as Matt pointed out, one for Alaric. Matt told him that he'd learned something from April about the explosion. He'd dug up the Sheriff's phone records – and Pastor Young had been calling the same number for a month. The day of the explosion, he'd called it ten times. It was Professor Shane's number.

Naturally, Bonnie was sitting in Shane's office at that very moment. He told her that witches were the most powerful of all the supernatural creatures. But that the new Hunter – and he knew she had one – when he completed his mark, she'd have to bring to Shane. Because Shane was the only one who could help.
Stefan went to go see Elena, and he knew Damon had told her. About the cure. She asked why Stefan had sent Damon to help her. And he said it was because Elena listened to Damon, she trusted him. Even when she couldn't trust Stefan.
Elena said she loved Stefan for fighting for who she was that night she died on that bridge. The girl she was now, she was different, darker. "Something's changed, between Damon and me. Much more than it ever used to be, everything I ever felt for him…" And Stefan finished the thought: "Your feelings for him have been magnified." He said that he couldn't do it anymore, this triangle, the competition between brothers. "I know," she said. And left it at that.
"The Vampire Diaries" airs Thursdays at 8 p.m. ET/ PT on the CW.