'The X Factor' top 6 results: Roughed but tough
Diamond White shows grit despite elimination, CeCe Frey finally exits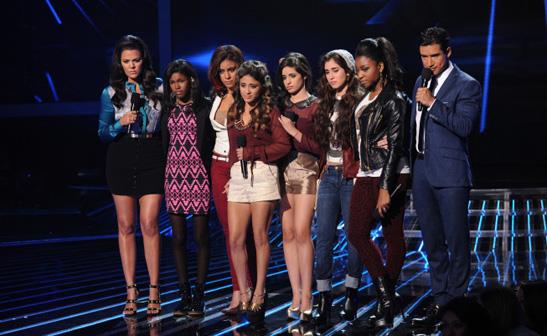 By Jilliane Johnson
FOX has prepared another mind-boggling live results show for us!
Thursday night on "The X Factor," two more contestants will be saying their tearful goodbyes. Tensions are running high as judges L.A. Reid and Demi Lovato are each left with only one act apiece. Let's hope that Britney Spears lent Demi a few of her "mind relaxers" after Wednesday night's obnoxious comments!
Bing: 'The X Factor' | Photos: Season 2 highlights
Before the hour is up, we'll have two guest performances. Crazed, party girl Ke$ha will slip and slide along the "X Factor" stage, as well as last season's winner, Melanie Amaro. So while observing all the "fluff" before the results, make your own predictions on who you believe will be leaving the competition!
More: 'The X Factor' on BuddyTV | Video: Watch clips
Montage time!
Unplugged performances montage
CeCe Frey thinks that some people will like her performance, and some won't. Obviously. Emblem3 believes that they are not a downgraded version of anything. Take that, Demi! L.A. thinks that this is the first time Carly Rose Sonenclar displayed her talent as a recording artist. He also didn't believe that Fifth Harmony showcased much harmony. Simon wanted to hear Diamond White sing another song rather than one she's performed before. Britney wants Tate Stevens to stick to his country roots.
Pepsi Challenge Montage
CeCe doesn't want anyone to take her leopard-print face marks from her. Demi wants to see Emblem3 command the stage more. Carly Rose has no words: She left them all out onstage. Fifth Harmony stuns L.A. and gives him serious harmony. They also receive a personal tweet from One Direction's Harry Stiles. I bet Taylor Swift will write a song about that one! Diamond sings about diamonds. Last but not least, Tate reminds Simon of Garth Brooks.
Guest performance:
Season 1 winner Melanie Amaro -- "Long Distance"
It's great to see Melanie back on the "X Factor stage." She looks beautiful, and her vocals undoubtedly match her appearance. While the song is very up-tempo and fun with a club, dance beat, I was really hoping for a ballad or something that displays her range better. The lyrics are very cute and catchy.
Another montage?
Now we have to watch the contestants show off some brand new headphones that Simon helped to create: the Sony X headphones. If you strive to travel into outer space, these headphones might complete your uniform.
One goes home
The act with the lowest number of votes is …
CeCe Frey (Thank you, America!)
"I hope I taught everyone at home to love who you are," says CeCe. Thanks for that. Perhaps she should become an inspirational speaker or Demi's personal assistant, because the two are joined at the hip. They hold hands, share leopard prints and cry on each other's shoulders. Commercial break, anyone?
By the way, Demi now has no acts left in her Young Adult category. This makes her only a judge and no longer a mentor.
Who's safe?
Groups
Emblem3
Teens
Carly Rose Sonenclar
Over 25s
Tate Stevens
So, this leaves Diamond White and Fifth Harmony in the bottom two. Both will have to sing for survival. Hopefully, Diamond won't sing "It's a Man's Man's Man's World" again.
Guest performance:
Ke$ha -- "C'mon"
Ke$ha's one of those artists whose music is best served if you turn the volume up on high, dance and prance around like a fool and have fun. Paying a fortune to see her live, during this economy? Not so sure. Also, this is prime time FOX. Let's leave the gyrating and such for a possible HBO special. Nice of her to invite tigers on stage with her to dance choreography, though.
Save me performances:
Fifth Harmony -- "Anytime You Need a Friend" by Mariah Carey
Harmony is here to stay! L.A. cannot deny these girls their harmonies on this night. Taking on a Mariah Carey song has the expectation not to be as good as the original. But they were pretty close.
Diamond White -- "I Hope You Dance" by Lee Ann Womack
The performance starts off sounding shaky and weak, but the chorus picks up. It's as if her confidence really kicks in. Britney's tearful. It was good. But was it good enough to stay?
Judges' votes to go home:
Simon -- Diamond
Britney -- Fifth Harmony (So obvious.)
L.A. - Diamond
Demi -- (It's all up to this one) Diamond
Eliminated: Diamond White
"I'm just happy. I'm thinking of Cher Lloyd right now. She came in 5th place, and she came and performed on the stage," says Diamond. This girl has faith that her name will be in lights, and it's believable. We'll see her again, definitely.
Top 4 rankings by vote:
4. Fifth Harmony
3. Emblem3
2. Carly Rose Sonenclar
1. Tate Stevens
Tate and Carly Rose flip-flop back and forth between spots 1 and 2. I'm actually surprised because Tate has had better nights. But he's good. No doubt about it.
That's it, folks. We finally have our top 4 of "The X Factor," as we now head to the semifinals. Tune in next Wednesday when Tate Stevens, Carly Rose Sonenclar, Fifth Harmony and Emblem 3 perform live for a spot in the finals!
BuddyTV: Vino Alan's season in review | Paige Thomas' season in review
BuddyTV: Don't miss another episode! Keep up with your favorite shows, like "The X Factor," using the BuddyTV Guide app!
"The X Factor" airs Wednesdays and Thursdays at 8 p.m. ET/PT on FOX.

Finally we get some results that are predictable and fair!  I was so sad to see Vino go home prematurely but all has been set right in the X Factor world.  Now I just want to see Emblem3 go next but I bet those teenagers will see to it that Fifth Harmony goes next.  I'm still rooting for Carly to win though, while my DISH coworker is rooting for Tate.  I like to talk about The X Factor results on the way to work when I pick him up, so I catch the show while I'm getting ready for work so I know what happened.  It is so convenient to watch in my bedroom, pause the show and pick up in the kitchen, then do the same in every other room of the house because I have a DISH Hopper Multi-Room HD DVR.  That allows me to have the freedom to make my TV watching fit my lifestyle and I get to watch TV more often.
Are you sure you want to delete this comment?