'The Americans': Out from the Cold War
A strong cast and immediate tension elevate new FX drama's pilot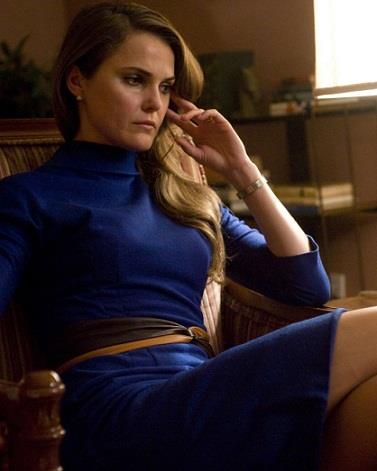 Welcome to our coverage of FX's espionage thriller "The Americans,"  a show that dares to ask the question: How does a young, attractive couple circa the early 1980s keep an arranged marriage alive while ensuring their kids don't see the bound and gagged KGB defector in the trunk of their Oldsmobile?
Bing:
"The Americans"
|
Keri Russell
That's just one of several topics addressed in tonight's nearly feature-length series premiere, which blends action, romance, period geopolitics and high-wasted Guess jeans to generally boffo effect.
So without further, "Who wants to sit on a bench and smash ice cream into each other's faces for family entertainment?" here are the five piping-hot things we learned from the pilot episode of this Cold War saga.
AGE REALLY AIN'T NOTHING BUT A NUMBER
Aaliyah and others may have popularized that timeless adage, but "The Americans" takes it to heart. After being introduced to Keri Russell's ass-kicking KGB spy Elizabeth Jennings in 1981, there's a flashback to her early operative training in Moscow two decades prior. Apparently, Russian-born international moles age more gracefully than statues. Russell's outward appearance as a teenager is more or less identical to her 30-something visage. If they avoided casting someone else as young Elizabeth to assert realism, they could have at least given Russell a markedly different hairstyle, a la co-lead Matthew Rhys in his flashbacks. Russell sells her adolescent self's frightful naivete with aplomb in those scenes, but still, we're talking about 20 years here!
THAT 'FELICITY' LADY AIN'T HALF BAD
We'll admit to premature skepticism about whether former
"Felicity"
star Keri Russell could carry such a dark and intriguing series. Consider us proven wildly wrong. It's definitely not time to crown her
Claire Danes
' thespian apparent, but Russell goes for broke in the premiere, flashing menace, sex appeal, vulnerability and volatility. Elizabeth could easily emerge from "The Americans" as an iconic female role, and while creator/writer
Joe Weisberg
deserves plenty of credit, it's Russell who brings the goods.
THE '80S WERE CHEESY, BUT NOT IN PERPETUAL DAY-GLO
There are plenty of Me Decade flourishes during "The Americans" premiere, from its clunky muscle cars to the requisite unflattering fashions. But unlike almost every recent series that's staged the 1980s' joie de vivre, there's a welcome absence of perma-brightness. If anything, the material possessions in tonight's episode are a nice visual contrast to the serious thematic business at hand, underscoring the tension between Elizabeth's homesickness and Philip's (Rhys) increasing urges to assimilate. "Pilot" doesn't excite all throughout, but it definitely excels at recasting the neon '80s as a real moment in global history, not simply the canvas for Brett Easton Ellis novels.
ALSO, THE '80S HAD MUSIC BESIDES NEW WAVE
We love New Wave, or any other genre that grew out of punk's jagged discontent and softened it with synthesized melodies. But often, when depicting the Reagan era, directors forget that artists besides Flock of Seagulls and New Order were releasing hit albums. Not Mr. Weisberg. The unmistakable opening rumble of Fleetwood Mac's "Tusk" sets the tone as Philip and a fellow spy hide out by an alley, waiting to kidnap an infamous defector. The song's surreal measures and paranoid marching-band rhythms chase Elizabeth and Philip down late-night D.C. streets as they race to get their hostage to a ship that's bound for the homeland. It's an inspired selection, and brings to mind some of
Paul Thomas Anderson
's subversive musical choices in
"Boogie Nights."
 It's another promising example of how Weisberg intends to undermine lazy '80s period recreation and startle us into the decade's reality. Good times.
NOAH EMMERICH WANTS YOU!
Need a familiar, sort-of handsome but not implausibly debonair man in his 40s to embody high-level law enforcement or similarly authoritative figures? Then star of big and small screens,
Noah Emmerich
, is your veteran actor. Of late, the
"Little Children"
/
"Truman Show"
supporting player has been rather busy on TV, popping up as a guest in
"White Collar"
and
"The Walking Dead."
 With "The Americans," he's finally plunged into series-regular territory. What do all three of these gigs have in common for the Divine Mr. Emm? He's either played an FBI agent or high-ranking CDC official. Why the slight typecasting? Because he's Noah Emmerich, goddamnit. Also because he's really good at being duplicitous, which comes in handy when, say, trespassing in your new neighbors' garages to confirm they're not KGB hours after charming them with congenial small talk. Or so we hear.
"The Americans" airs Wednesdays at 10 p.m. ET/PT on FX. And don't forget to check back here every Wednesday after each episode for the five things we learned that week, and feel free to share your thoughts and reactions in the comments below.