'American Idol' top 10: The final countdown
Dreary choices and performances saved by a master-class performance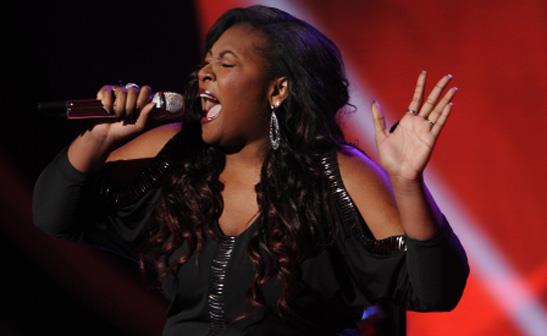 Gold Glover: There's a reason Candice Glover has gotten a lot of attention on 'Idol,' and she showed why Wednesday with a showstopping version of the classic 'I (Who Have Nothing).'
One of the worst themes ever, more terrible song choices … but one titanic performance on Wednesday's first finals episode of "American Idol" nearly made up for everything. And it wasn't the one Nicki called the best performance of the night.
Bing: More about 'American Idol' | Video: Watch clips | Photos: See highlights
But all in good time. The theme in question was Songs from Past Idol Champs. Fortunately, that repertoire included songs from their post-"Idol" careers, which have generally been vastly better. Unfortunately, it also included their coronation songs, the sickly tradition of almost-uniformly hideous inspirational ballads commemorating the Idols' victory (a tradition finally broken last year by Phillip Phillips' surprisingly listenable "Home," which not coincidentally was likely the biggest overall success of the bunch). But singing songs identified with past winners is an invitation for fans to recall better-loved contestants and, mostly, stronger versions. You can see why it might help the ratings-deficient show to look back to more glorious times, but the theme didn't help this season's contestants.
The first tipoff that it wasn't fated to be one of the show's stronger musical episodes was Curtis Finch Jr.'s choice of the Season 3 trophy song, sung by winner Fantasia as well as runner-up Diana DeGarmo. The mindless blandness of the ballad was enhanced by an appearance by the dreaded choir, who nearly drowned Curtis out at times. That wasn't necessarily a bad idea, since Curtis trotted out his usual array of gospel/soul man riffs, generating little excitement. Even the judges weren't as enthusiastic as usual; in fact, Nicki couldn't even be bothered to show up. (She was, according to Ryan Seacrest, caught in traffic and did not arrive until the second performance.) Keith pinged him for an excess of adrenaline at the beginning, and Randy seemed impatient to hear something "a little bit different" from all those inspirational ballads. Only Mariah gushed, expressing her happiness with the "choir feeling" and adding, "I want to hear more of that gospel tinge." It's hard to imagine too many people agreeing with either of her opinions.
Janelle Arthur smartly boosted the tempo with Montgomery Gentry's "Gone" (performed during Season 10 by Scotty McCreery). Her voice is still consummately unexceptional, but at least this was spirited. That won it mixed reactions from the judges. Keith liked the song choice and the Lee Ann Womack flavor of some of her runs, and Mariah was impressed with Janelle's "star aura." But even the perennially positive Mariah seemed to prefer Janelle on ballads, as did Nicki (inexplicably), and Randy thought the song didn't lead anywhere. The judges' war on up-tempo songs continues.
Devin Velez selected Carrie Underwood's "Temporary Home," a bad idea for at least two reasons: One, of course, is that Carrie, along with Kelly Clarkson, is very difficult to top; the other being that it's yet another ballad for a singer who hasn't deviated from that narrow path. Compounding the questionable decision was Devin's strangely lackluster, monolingual performance, not bolstered by a couple of minor clams from his pianist. Nicki loved it, felt it was in his comfort zone and sounded great, but the other judges were less enthusiastic. Mariah implied that it was far from his best but of course could not come out and actually say that, so she said instead that he had set expectations too high from previous performances. Keith, also normally reluctant to come right out and criticize, broke his rule and said it was the wrong song choice, not to mention "not one of your better performances." Randy said Devin "underplayed" himself and it was all way too safe.
Angie Miller took on Kelly Clarkson, specifically her Season 1 cover of Celine Dion's "I Surrender," and it was another bad idea for the same reasons cited in the Devin section above. Angie is showing a dangerous affection for the dullest middle-of-the-road swill. Coach Jimmy Iovine advised her that sometimes she reminded him of a beauty pageant, and – despite Angie's visible horror at that comment – that's what this sounded like. Her vocals were just OK, not up to Clarkson's (or Dion's) standard. You couldn't prove that by the judges' reactions, however; they raved. "Such an artist," swooned Keith. "Flawless voice," gushed Nicki. "Stellar," said Mariah in one of her welcome one-word critiques. And Randy got off his first "the competition starts now" and "in it to win it" of the finals.
Drawing once more from the McCreery Season 10 songbook, Paul Jolley sang Lonestar's "Amazed," a country power ballad with built-in modulation – exactly the kind of song that invites the sort of over-singing that the judges (and Wednesday, Iovine) have chided him for. Taking heed, he was much more restrained, but all that did was bring out the dreariness of the song and the unremarkability of his voice. Keith, however, deemed it one of Paul's better performances and song choices; Randy agreed but thought it was a bit too laid-back; Mariah agreed with Randy and advised, "Don't hold back"; while Nicki added helpfully that this was "the first time you've stimulated my sexual appetite." (She also cited his "uncanny ability to pick songs.")
So at the halfway point, we had heard four tedious ballads and one passably performed up-tempo tune. Yawns all around, but Candice Glover changed all that. She sang "I (Who Have Nothing)," a ballad that was a highlight of Season 6 winner Jordin Sparks' run, and also an emotional monument of a hit for Ben E. King (and later Shirley Bassey, the version Keith must have heard Down Under, and Tom Jones). It's an ideal song for a belter like Candice, and she delivered all you could ask in perhaps the season's best performance to date. The judges swooned, Nicki summing up the unanimous reaction by intoning, "You destroyed and annihilated it. It'd be in everybody's best interests never to perform that song again."
Lazaro Arbos had the unhappy luck to follow Candice, and he went for Kelly Clarkson's post-"Idol" hit "Breakaway." It's a pleasant mid-tempo tune, for that reason alone qualifying as one of his more enjoyable song choices, but again, Kelly Clarkson songs should have a Warning: Do Not Cover Without Expert's Permission label. As Randy observed, "It was too big for you." Lazaro came off far too low-key. Keith agreed that it "wasn't in your wheelhouse," and Nicki was even more candid, calling it "my least favorite from you." Even Mariah admitted that there were better songs for him.
In a night of lackluster song choices, Kree Harrison came up with the second delightful surprise: Roy Orbison's "Crying," the ultimate power ballad and range tester. Carrie Underwood blasted it in Season 4 --  big lungs to fill, not to mention Orbison's heroic original and k.d. lang's stunning cover. Although Kree probably has the power and range to play in their league, she didn't try, underplaying it, which made for a thoroughly pleasant listening experience but not the mind-melter it could have been (and may have needed to be after Candice blew the doors down). The judges were impressed, Randy saying how much he loved the "very subtle, very subdued" vocal, Mariah calling the number "one of the best songs ever written," and Nicki comparing the performance to waffles with syrup ("smooth and delicious").
The temporary uplift was countered by two of the worst song choices yet in a season that's had more than its share already. Burnell Taylor, advised by Iovine not to sing too many R&B ballads, picked one of the worst: Ruben Studdard's Season 2 coronation song, "Fly Without Wings," which is kind of a less-memorable "I Believe I Can Fly," if that's possible. His voice showed a few signs of strain, but the song is so dreadful the immortal Jackie Wilson couldn't have salvaged it. The judges continued their season-long love affair with Burnell, however. Keith praised his "unique timbre." Nicki professed to "love that song," although she preferred (as would anyone gifted with a pair of functioning ears) his India.Arie victory tune from the previous week. Randy implied Burnell was the best of the boys, and Mariah loved his choices "in terms of where you went melodically."
Then, astonishingly, Amber Holcomb picked the third coronation song of the night, Kelly Clarkson's "A Moment Like This," surely her least compelling single. Amber is clearly one of the best singers in the group, but even her typically accomplished vocal could not spark a light in this black hole of musical nothingness. The judges collectively lost all sense of proportion on this one, topped by Nicki's proclamation of "best performance of the night" and (more accurate) comparisons to early Whitney Houston. Mariah thought it was "magnificent," and Randy said that the song was the greatest "American Idol" finale song ever (a statement perhaps even more ludicrous than Nicki's, come to think of it) and that the girls killed the guys on the night. That, at least, is difficult to dispute.
Smoldering: Candice's performance towered over everything else like Everest over Death Valley.
Time's up: Paul was beyond bland, but Devin might have done himself irreparable damage with a poor choice and equally limp execution.
What did you think of Wednesday's episode? Connect and sound off on Facebook and Twitter
"American Idol" airs Wednesdays and Thursdays at 8 p.m. ET/PT on FOX.